'I Had a Terrible Breakup, Then One Trip Changed Everything'
I met my ex-boyfriend, four years my junior and charmingly French, on a dating app where I lived in San Diego. Our relationship contained the kind of magic that makes one think: This is how it's supposed to be.
We cooked together, cuddled on blankets in the grass, talked for hours, laughed often and appreciated and hated all the same things. My friends loved him. A few months into our relationship, he took me to Paris to meet his mother. Life was good.
But one day, following an unexpected betrayal, I had to break up with him. I burst into tears as I felt my future crumbling before me. It sounds clichéd but I really thought he was "the one." I called my friends and spent hours on the phone retelling the story. All of them were shocked. They had frequently told me how lucky I was to have a man who so obviously adored me.
During one particular call, a friend perked up as if she had the antidote to my grief.
"Come to Europe with us. We leave next Friday."
My initial response was that I didn't have the money, I couldn't take additional time off and there was no way my boss where I worked as a behavior analyst would approve a vacation six days out.
As it turns out, I was wrong on all accounts. Tickets were extremely affordable and still available for my friends' flight and, when I called my boss to explain that I needed space to personally and professionally reflect, she said, "Go."
With no excuses left, I packed my bags and left for a week in Greece.
Three flights and almost 24 hours later, we landed in Santorini. Our room had a balcony with a little bistro table that overlooked the sea. As I stepped outside and gazed down at the breathtaking blue and white coastline, I thought: I can't believe I almost missed this.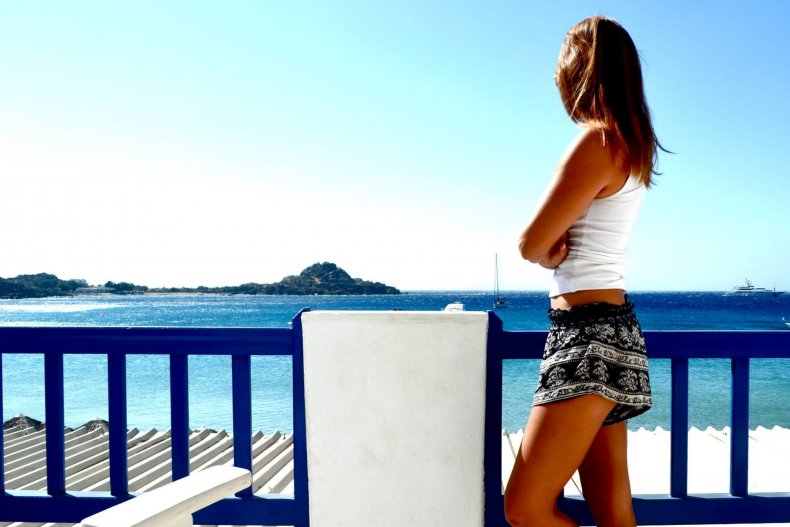 My friends and I hiked for hours along the coastline to Oia, one of the most beautiful places on Earth to watch a sunset. We shared wine and laughed with strangers. I discovered fried feta with lemon juice and other native fare.
One morning, I woke up early and walked into town. Standing on a cobblestone street, coffee in hand and camera strapped across my chest, I stopped in my tracks and burst into tears. It was a combination of gratitude and happiness that I hadn't felt in a very long time. It was also a feeling of relief.
For the majority of my life, I had told myself that I had to have a partner to make travel enjoyable, or even possible. I had also believed that being single past a certain age would make me unworthy.
I was 32 at the time, and many of my single friends and I had carried these worries for years. We had stayed in relationships simply for companionship, optics or to feel valued by society. Now, on this trip, we were three successful, happy, single women in our thirties, proving our previous beliefs wrong.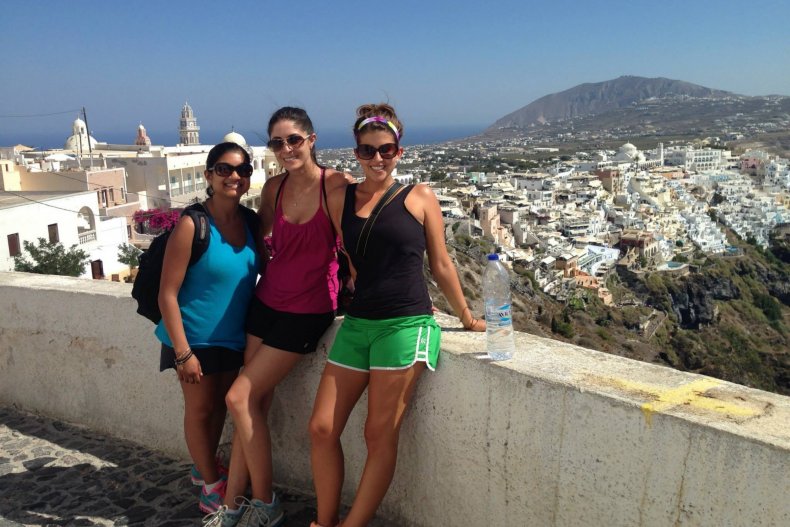 After a few days of peace and healing in Santorini, I was ready for an adventure. We island-hopped to Mykonos and stumbled upon a hidden beach by a beautiful restaurant, with hammocks and cabanas. While marveling at the beauty of this secret paradise, a man—13 years my junior and a former model—struck up a conversation.
"What brings you to Mykonos?" he asked.
"I suppose you could say I'm on a bit of a heartbreak recovery mission," I responded dryly.
"So it is my job to make sure you have an adventure, then!" His response carried a genuine and endearing sense of responsibility.
We spent the night skipping along the coastline, drinking champagne in a hot tub overlooking the island, and laughing like old friends until the sun came up.
At sunrise I returned to our hotel, happy but shoeless, having surrendered my sandals to the sea the night before. With a sense of what I can only describe as childlike liberation, I walked through the hotel's back door, onto the beach and dove into the water, splashing around in giddy amusement. Then I floated, belly up to the clouds, for what seemed like an eternity—a final release of all that was behind me. I felt free.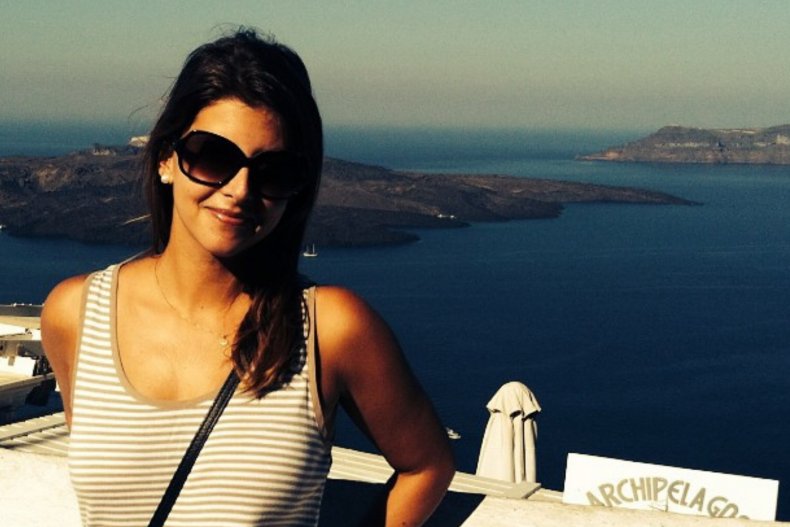 Days before this moment, I was despondent and heartbroken. Now, in a new country, living a completely different life, pure joy had taken over. I realized how quickly things can change, for better or worse, which gave me a hope that has never subsided. I began to marvel at just how big the world is and how many more of these moments I had yet to experience.
While my trip to Greece was less Eat, Pray, Love and more Cry, Fly, and Make Out with a Model, it was life-changing all the same. I no longer look for validation or fulfillment in just one person—or in any one area of my life, for that matter. I know that, at any moment and no matter what, I can rely on myself. I now feel capable of curating the life I want, no matter who comes along for the ride.
Gianna Biscontini is the author of F***less: A Guide to Wild, Unencumbered Freedom. She is also a behavior scientist, lifestyle design coach and founder of the cultural analytics company, W3RKWELL.
All views expressed in this article are the author's own.