'I Gave Birth To Twins, 8 Weeks Later We Made a Heartbreaking Discovery'
I found out I was having twins at around 16 and a half weeks pregnant. When I had my ultrasound there was a moment I'll never forget. The doctor asked if twins ran in my family and I felt my eyes opening really wide as I said no. She then told me: "They do now."
I was asked if I wanted to know the sex of the twins, and I told them to write it down on a piece of paper, but I was adamant that the twins were boys. That night when my husband and I opened up the note and saw we were having girls, I was so excited. I have four brothers so I had always wanted girls.
There was nothing particularly unusual about my pregnancy, and when I had my scheduled cesarean section, the girls came out looking just like me. The doctor even said they were "mini-mes." Amelia and Abigail were small, but not too small, and they were healthy. Everything was fine and we were excited.
Looking back on it, I try to hold on to those early days when we didn't know there was anything wrong and remember that there was a time when we thought everything was going to be perfect. Unfortunately, it was just a short period of time.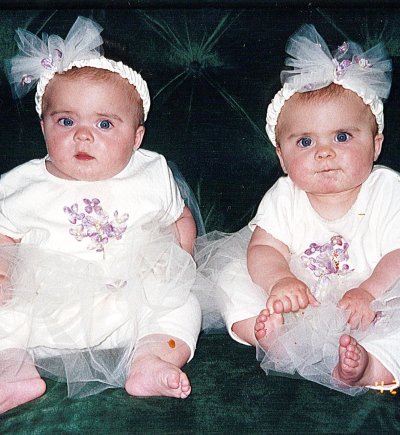 At about two weeks of age, Amelia started exhibiting a series of jerks where her hands and feet would come up at the same time. They weren't obvious seizures but we took her to the doctor's office and saw a pediatrician who was very proactive. I remember seeing her write down "possible seizures" and being so shocked. That hadn't even crossed my mind. Between two and six weeks Amelia had a number of tests, including an ultrasound on her brain, because her skull was still not fully formed. The doctor then diagnosed her with benign infantile seizures that we were told she would grow out of.
Just two weeks later, on Halloween, all of a sudden Amelia started having a different kind of seizure. My mom and I took her to the emergency room where she had a CT scan. We sat for a while after, and finally a doctor came in and told us that my daughter had tuberous sclerosis complex (TSC) but that he was not qualified to tell us about it. I was in total shock. My mom—and I will never forget this—wailed like I've never heard before or since.
Amelia was admitted to hospital on the spot and we waited for 24 hours until they could get a doctor who could tell us what the disease was. We had read by that point that her development would be delayed and that she would hopefully live to 35; all this horrible information. The doctor shared the facts of the disease—that it is a rare genetic condition that causes tumors to grow throughout the body and can impact development in different ways—but that's all she was able to provide. After waiting for 24 hours to see a neurologist, the doctor's parting remarks when we asked what we should do, was to "pray for a miracle." Because Amelia was so young and the disease is so variable they couldn't give us an exact prognosis, but it wasn't a good sign to have started having seizures that young.
All of a sudden, all I could think was: what about Abby? We were told that if she was identical to Amelia, she would definitely have TSC. I had really wanted identical twins, but immediately, I was backpedaling; I didn't want them to be identical at all.
After tests, doctors determined that Abby was identical to Amelia. So a lot of the twins' early years were us waiting for Abby to show TSC symptoms. The doctors said that the longer she went without seizures, the easier they would be to control if they happened. Abby did have some early seizure activity due to ear infections, but Amelia's seizures were devastating. One week we had ambulances coming for both Amelia and Abby; the first two years of their lives were chaos.
Amelia's development was so bad that at one point she wasn't able to eat. So my husband and I really pushed for brain surgery because she was deteriorating so much. At two-years-old she had a tuber resection, which did successfully stop her seizures.
Then, in 2006 when the twins were six, Abby developed a brain tumor, and we only had two weeks notice before her surgery. That was a little hard because Abby was a typical little girl. We had arranged with the Make-A-Wish Foundation for her to get a wish to go Disneyland, they even gave us a limo and a hotel. One day, I lay down in bed with her and told her about her brain surgery but that we were going to Disneyland, and a tear ran down her cheek. I thought it was remarkable that she really understood. But she had spent six years watching her sister.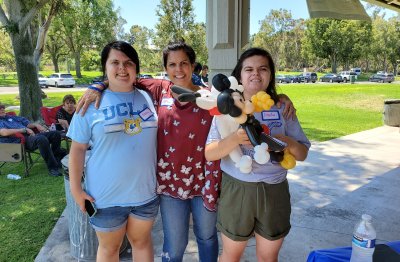 Both girls went to special education schools in Orange County where we live, so that we could work on honing in on what their needs were. Amelia has the developmental age now of a six or seven year old. Abby hit developmental milestones at more typical ages and went to high school and got a diploma. I don't think Abby could have gotten through what she did without all that extra support though.
The twins are very close, they have really never fought. Because Abby is one minute older, she has taken on that "big sister" role. She will protect Amelia through anything. So it's fun to see them together when they don't know that I'm watching them. If they're out in the world Abby will make sure Amelia is safe; she's a real protector.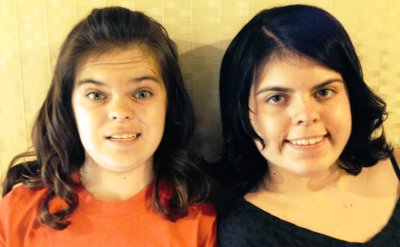 As the twins got older, we thought we were somewhat out of the woods, but all of a sudden, Abby started having seizures when she was 18. Abby had a lot of mental health issues so we struggled with finding the right medication combination for her because of the impact of the seizure medication. Then, at 20, Amelia started having seizures again after 18 years. Now the twins are 22 and thankfully, Abby's seizures are controlled, but we're still struggling to find control for Amelia. Amelia is working at the school she graduated from in 2021; they hired her to work there three days a week greeting people at the door and doing office chores. She's happy. Abby is taking community college courses and she's applying for the Pathway at UCLA Extension course for young people to learn independent living skills. She really wants to go to college and get a degree.
I would love for both girls to be independent. I know that isn't possible for Amelia so my wish is for us to figure out the right living arrangements for her. She's very social and loves people, so I can see her living in a group home or with one other person. Abby, meanwhile, really wants to get married and have a family.
One of the ways I have coped with this disease over the years is handling things as they come. In honesty, the worst part of the whole journey was the first hospitalization and trying to figure out what TSC was, so I would like others to know that there is hope. I remember saying that I was so glad my girls were born when they were, as opposed to 10 or 20 years before. Now, I'm seeing moms who have just had kids with TSC saying that they are glad their kids have been born now. TSC looks a lot different than it did even when my girls were born. I hope I can show others that the TSC community is a close knit one, where everyone supports each other. It's not all bad; there is hope.
April Cooper is vice president, community programs at the TSC Alliance. You can find out more at tscalliance.org.
All views expressed in this article are the author's own.
As told to Jenny Haward.