'I Hate it Here' Trends on Twitter in Texas After Greg Abbott Lifts Mask Mandate
"I hate it here" began trending on Twitter on Tuesday as Texans reacted to Governor Greg Abbott's announcement that he was lifting the state's mask mandate and opening up businesses to full capacity.
Unveiling the changes that come into effect on March 10, Abbott said: "With the medical advancements of vaccines and antibody therapeutic drugs, Texas now has the tools to protect Texans from the virus.
"We must now do more to restore livelihoods and normalcy for Texans by opening Texas 100 percent. Make no mistake, COVID-19 has not disappeared, but it is clear from the recoveries, vaccinations, reduced hospitalizations and safe practices that Texans are using that state mandates are no longer needed.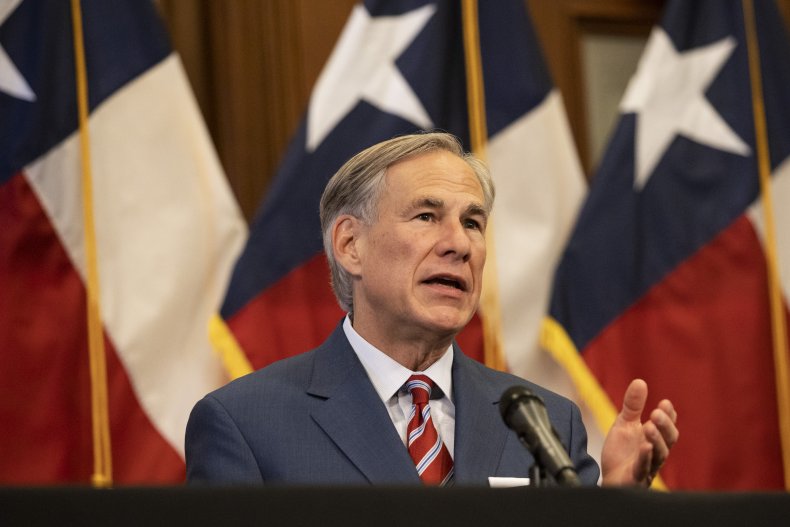 "Today's announcement does not abandon safe practices that Texans have mastered over the past year. Instead, it is a reminder that each person has a role to play in their own personal safety and the safety of others. With this executive order, we are ensuring that all businesses and families in Texas have the freedom to determine their own destiny."
Some Texans responded with anger on Twitter, resulting in the phrase "I hate it here" trending on the social media platform.
Twitter user Em wrote: "I hate it here. catch me double masking from now on." Kimmie shared an AP tweet on the mask mandate being lifted, posting: "So much for a 'Pro-lifer.' I can't even imagine the fear of restaurant workers, families with children with disabilities and the 97 percent of Texans that haven't received the vaccine yet. I hate it here #TurnTexasBlue #VoteHimOut"
Keyli tweeted: "I hate it here. I literally cannot wait to vote Greg Abbott out." Another Twitter user, @DeniseFlores, said: "I hate it here. I don't give a s*** who runs against Abbott in 2022. I'm volunteering my time and money to their effort. #txlege"
Rabia shared two screenshots—one of a March 1 article that reported Houston had recorded all major strains of COVID-19 and one of Abbott's announcement—writing: "Bruh it's been less than 24 hours, I hate it here."
Other Twitter users turned to memes to express their anger at the governor. Cat shared a SpongeBob SquarePants meme in which SpongeBob takes the form of Texas and asks Patrick, "What am I?" Patrick responds: "Stupid?" SpongeBob then tells him, "No, I'm Texas," and Patrick asks, "What's the difference?"
Cat captioned the meme: "SpongeBob knew what they were doing. lmao RIP Texas ig. I hate it here."
Twitter user @awoogaah wrote: "Greg [Abbott] is so f****** dumb. I hate it here" and shared a meme of a woman crying.
Another Twitter user, @mmmgingerale, posted a clip of Lord Farquaad from Shrek telling his knights, "Some of you may die, but it's a sacrifice I am willing to make"—adding: "Greg Abbott ending the mask mandate in texas looks different here. I hate it here [please] #VoteHimOut"
Under Abbott's executive order coming into effect next Wednesday, a county judge may implement local restrictions if a hospital region exceeds 15 percent bed capacity for seven days in a row. These restrictions, however, cannot include reducing business capacity to less than 50 percent. A county judge may not impose jail time on those who flout COVID-19 orders, including not wearing a mask.
According to the Department of State Health Services, Texas has recorded almost 2.3 million cases and more than 43,000 deaths since the start of the COVID pandemic.
Texas had administered 5,956,629 vaccine doses by Tuesday, according to the U.S. Centers for Disease Control and Prevention—3,735,197 people have received at least one dose and 1,984,483 people, or 6.8 percent of the state's population, have received two doses.
The graphic below from Statista illustrates by state the number of COVID-19 vaccination doses administered per 100 people as of March 2, 2021.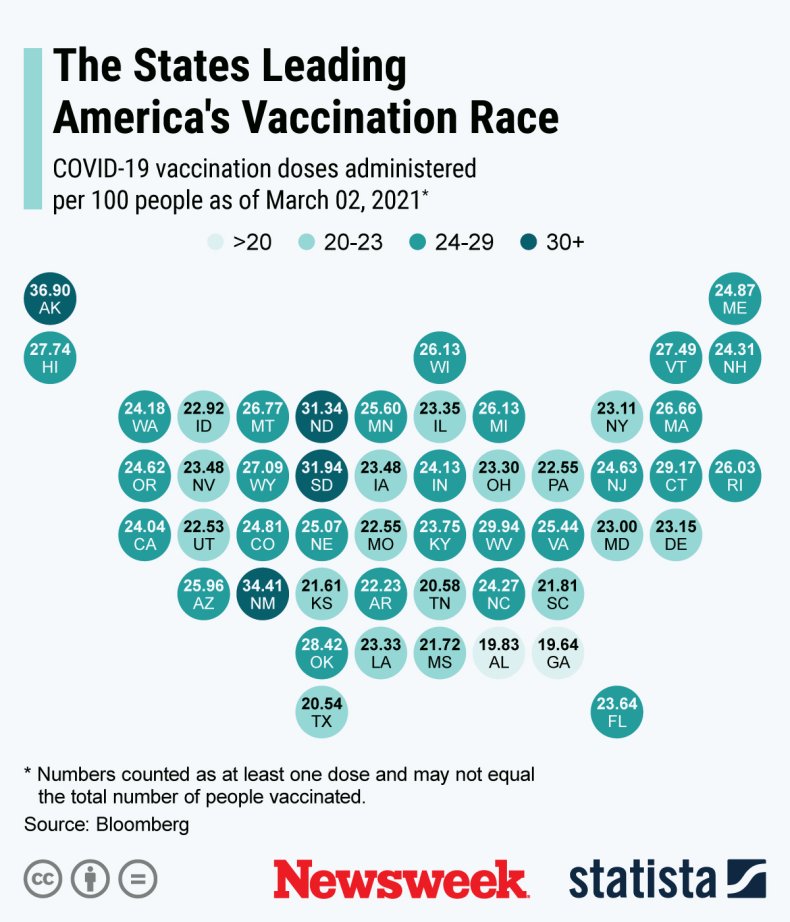 Update 3/3/21, 9:45 a.m. ET: This article was updated to include an infographic.