'I Have Never Seen Something Like This in Soccer Before' South Korean Soccer Players Describe Strange Match Against North Korea
A match between North Korea and South Korea's national soccer teams was played under strange circumstances on Tuesday.
The two teams faced off at Kim II Sung Stadium in Pyongyang for a World Cup qualifying match, but the game was played to an empty stadium and under a media blackout.
While many questioned why the media blackout was enforced, some members of the South Korean team spoke to the media on Thursday about the contest, which ended in a tie.
"The opponents were very rough, and there were moments when very abusive language was exchanged," said South Korean captain Son Heung-min. "It's too bad we didn't win, but the match was very aggressive to a degree that I think it's a huge achievement just to return safely without being injured."
Choi Young-il, the general manager for the South Korean, said that the North Koreans were playing as if they were "waging a war."
"I have never seen such aggression in football until now," he added, describing the North Korean players throwing elbows. Choi also said he felt the North Koreans were attempting to injure the South Koreans when competing for balls in the air.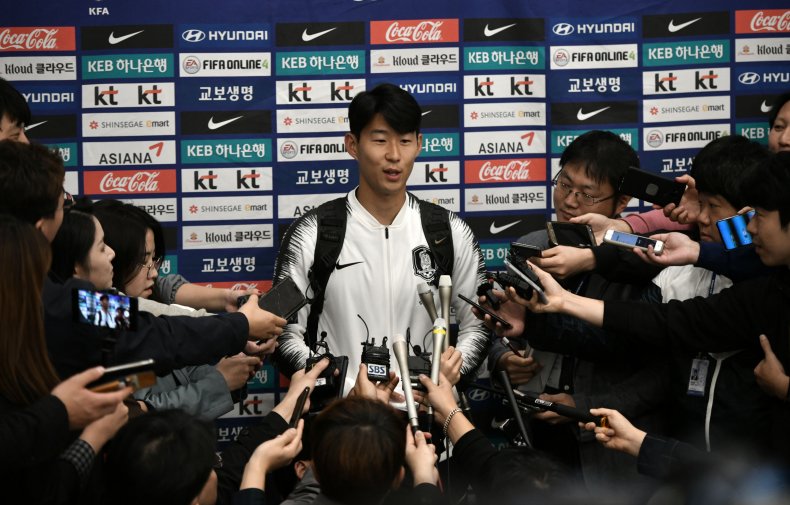 Choi told reporters that he was in discussions with the South Korean Football Association about submitting a complaint to FIFA, the international governing body for the sport. His description of the potential complaint focused on the living and playing conditions provided by North Korea, as well as the decision to bar fans and media.
According to Choi, the team was told to leave their cellphones at the South Korean Embassy in Beijing before entering North Korea. When they arrived, the team was sent to the Koryo Hotel with no option of outside contact. North-Korea-Travel.com states that the hotel has 44 stories, but Choi told media that the hotel appeared empty.
One of the few fans in attendance was FIFA president, Gianni Infantino. "I was looking forward to seeing a full stadium for such a historic match but was disappointed to see there was no fans in the stands," he said.
Although fans and media were not allowed at the game, North Korea sent a DVD to South Korean football officials. According to South Korean TV channel KBS, they attempted to broadcast the DVD, but stopped due to the poor quality of the video.
The two teams met prior to this match during the 2010 World Cup qualifier, but since North Korea refused to hoist the South's flag or play their National Anthem, they played the game in Shanghai.
South Korean football officials were unsure if the game would be played this year until the Asian Football Confederation informed them that it would go ahead. There will be a rematch between the two on June 4, which will be hosted in South Korea.