'I Have No Money': Internet Backed Student Stuck With Expensive Bar Bill
Commenters in a popular internet forum were quick to defend one man who explained how he was abandoned by a childhood friend, and forced to settle a large bar tab as a result.
In a viral Reddit post published on r/tifu (short for "Today I F****d Up), Redditor u/LackedSaucer938 said he was in the process of reconnecting with an old friend, when her actions halted their friendship in its tracks. Titled, "TIFU by agreeing to get together with an old friend," the viral post has received 29.5K votes and nearly 1,400 comments.
"Two days ago, I was hit up by a girl who was visiting my local area," the Redditor wrote. "She was only there for a week and I hadn't seen her since I was 7 [or] 8 so I agreed and thought it would be fun."
After initially meeting up with his childhood friend for a hike, u/LackedSaucer938 said he suggested the pair get drinks with a few other friends before she had to leave. Upon arriving at the agreed-upon bar, though, the Redditor said he became skeptical of his friend's intentions.
"Red flag no. 1, I show up at the location...and could not find her or her friend," he wrote. "Also there was a wedding happening at the venue she specified."
"Eventually I managed to bump into her and two friends and they thoroughly convinced me that they were as confused about the wedding as I," he added.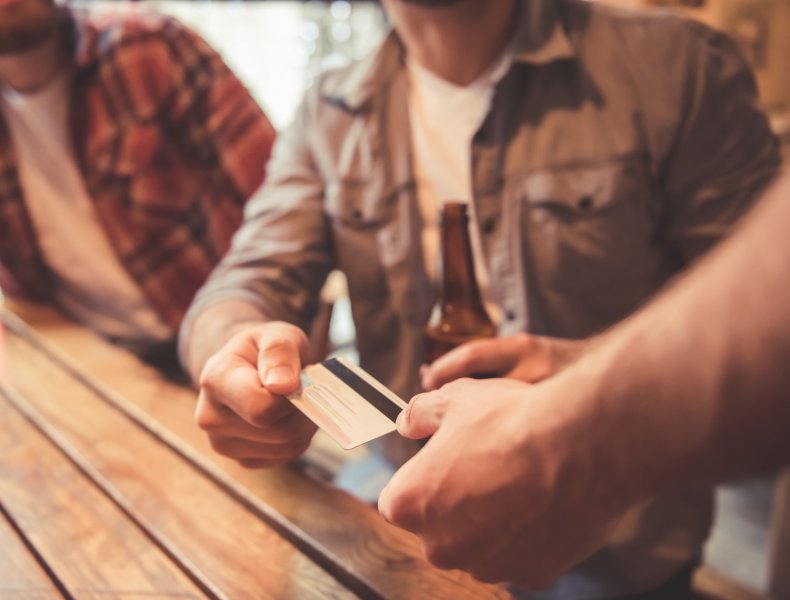 After relocating to a new bar, u/LackedSaucer938 said the group discussed how their bill would be split at the end of the night, and assured that everyone agreed to pay for what they ordered and nothing more.
"We talked about how we were going to split the bill. I was going to pay for my beer. The girls agreed to pay for the wine. One of the girls also ordered an expensive meal and said she would pay," he wrote.
However, when the final bill was delivered to the group's table, the original poster said he was abandoned and stuck with a much-too-expensive bar tab.
"They left me there telling me they were fetching this other friend back," he wrote. "I'm a student so I have no money either. If I'd tried to pay for their two bottles of wine, my beer and the meal then my card would have declined."
Although many outlets, such as Forbes and Food & Wine, have published guides to avoid paying a group's entire bar tab or restaurant bill, situations like the one detailed by u/LackedSaucer938 can be blindsiding.
While the classic thought is that customers who are unable to pay for a meal or drinks should roll up their sleeves and get ready for a long night of washing dishes, FDA regulations prohibit unauthorized personnel in commercial kitchens. And in most cases, industrialized dish-washing equipment requires training, according to Eat This, Not That.
In reality, customers unable to pay lofty bar tabs or restaurant bills are usually faced with a handful of good-faith options including paying at a later date, or leaving a cell phone or ID as collateral.
Sheryl Best, the director of guest relations at Echo & Rig steakhouse in Las Vegas, explained that collecting collateral almost always guarantees that customers return to settle unpaid bills.
"We ask the guest to leave behind an ID or a phone," Best told Eat This, Not That. "This assures they will be back."
For more serious cases, law enforcement can be involved and unpaid customers are sometimes tracked down by restaurant staff who rely heavily on tips.
Recounting a rare instance of a customer attempting to skip out on a large bill, New York City restaurant owner Rick Camac said his staff pulled out all the stops to ensure payment.
"When the server and busser found out...they literally chased [the customer] down the street, and came back with cash in hand," Camac said. "Servers and bussers, they take that stuff personally—I think they take it harder than ownership does."
In his original Reddit post, u/LackedSaucer938 said he was ultimately unable to pay the group's bar tab straightaway, but was treated with respect and patience by the bar's management team while he attempted to scrounge together the funds. His childhood friend, however, did not offer the same level of respect.
"The girl who I've known since I was tiny declined all calls and blocked me," he wrote. "I didn't know people were that awful. I couldn't afford it and they knew that."
Responding to the viral Reddit post, commenters encouraged the original poster to try to get his money back, and dragged his "friend" for leaving him in such a predicament.
"What a d**k move on their part," one commenter wrote. "Doesn't sound like a f**k up on your part though. You had no reason not to trust them."
"Now you do," they added.