'I Have Terminal Brain Cancer. I Just Did An Ironman To Inspire My 5-Year-Old'
Back in 1989 when I was around nine or ten years old, I watched a broadcast of an Ironman competition on TV. It was such an epic battle between the two main competitors that it is now known as the "Iron War." I remember watching as the competitors swam 2.4 miles, rode 112 miles and then ran 26.22 miles and thinking that they must be superhuman. It didn't even cross my mind that I could ever do anything like that.
More than 25 years later I had found my calling as a pastor with a church in Orange, California where I live with my wife Natalie, who is a professor of English literature. Shakespeare is my wife's area of focus and so when our daughter was born in 2015 we named her Hero, a main female character in the Shakespeare play Much Ado About Nothing.
Just after Hero's birth, the memory of seeing that epic competition popped into my mind and I wondered why I hadn't ever thought that challenge was possible for me. In that moment, I vowed to raise my daughter in an environment where she knew that whatever God sets in her heart to do, if she works hard, she can do it.
I decided that when she was nine or 10 years old I would compete in an Ironman, so she could see me cross the finish line and I would be able to look into her eyes and tell her that if I can do that, she is also capable of doing anything she sets her mind to.
Then in 2017, when Hero was around two-years-old, I experienced a seizure. The results of an MRI showed that I had a brain tumor and that the placement of it was right in the center of my brain. The only way to tell whether it was cancerous or benign was after surgery, and the only option was to have the entire tumor removed.
However, due to the size and location of my tumor, initially doctors thought it was inoperable. It took the help of some friends to eventually find someone who was qualified to attempt awake surgery. I was told there were only about five surgeons in the world who could attempt removing a brain tumor like mine.
That first awake surgery was totally successful, I didn't panic and the surgeon was able to remove 100 percent of the tumor, which felt miraculous to me. I felt like my life had been handed back to me. But while some people never see another brain tumor after surgery, I was told there is a chance of recurrance.
A year later in 2018, I had another seizure and an MRI showed that a tumor had returned. This meant that there were cancerous cells in my brain. Unfortunately, the type of brain tumor I had was a grade three astrocytoma, and in 2018 I received a diagnosis of brain cancer.
Following a second surgery, I also had radiation and chemotherapy. Although these treatments don't kill the type of tumors I have had, they damage the cancerous cells which slows their growth and the chances of new tumors forming. As of now, for someone of my age and health, the average prognosis I've been given is eight more years of life.
So at that time, I began to think about my bucket list. But the fantastic thing is that I have lived a really full life. My wife and I have travelled all around the world, I've run with bulls, I've tried skydiving, snuck backstage with all my favorite bands and driven in demolition derbys.
What popped into my mind was the promise that I'd made to myself when Hero was born. I had wanted to complete an Ironman when she was around 10 years old, but I realized I had no time to lose.
So, my first day of radiotherapy and chemotherapy in August 2019 was the first day I started my Ironman training, because I had to build a fitness base before starting the intense 16-week regimen before the event. Over the next few months I built up the stamina to run more than 20 miles, swim the 2.4mile distance and ride 100 miles, at times experiencing nausea and cramping, particularly during the cycling training, because one of the side effects of chemotherapy is muscle cramps.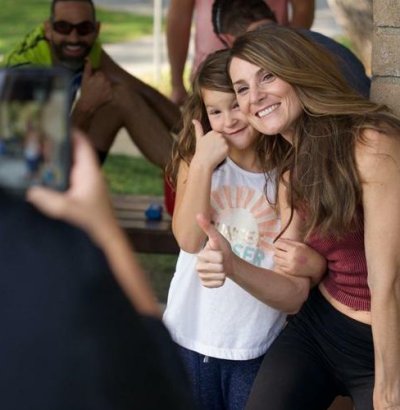 I eventually got a coach who is a cancer survivor and had done Ironman a few times. She knew the effects of chemotherapy, so she was also able to adjust my training to help me push my body to its limit, but no further. They say in the endurance world that the hardest part is getting to the starting line healthy.
But when the COVID-19 pandemic hit, I was training solo for much of it, and that was really tough. Originally I was signed up to do Ironman Australia in May 2020, but in February I had to start asking myself whether I was OK to get on a plane and then compete with 1,000 other athletes around me.
Before I answered the question, Ironman cancelled that event, and then IRONMAN Santa Rosa in July 2020, too, both for safety reasons. So, because my motivation was to teach my daughter a lesson about resilience, I decided I should stop deferring and complete the 140.6 miles on my own.
Because Hero is only five and I was wondering if she'd comprehend or remember, I actually reached out to a friend in London who is a TV director. I asked him for advice, and next thing I knew, he'd suggested making a feature length documentary about my journey to Ironman.
We then got in touch with Ironman and they suggested that I be part of the IRONMAN VR Kona virtual race on October 9. I was able to design my own course in my hometown and plot the finish line so it was right in front of my garage, which I knew would give me a sense of coming home that would drive me throughout.
On the morning of the race, I did have jitters but I felt excited. And so many people turned up to cheer me on at the start line that I felt extremely loved and supported. After my daughter and my wife blew the air horn that started the race, I ran through the inflatable start line, dove into the water and for the next hour and 20 minutes I had a really peaceful swim.
I was able to meditate and I had some really transformative prayer time. At one point I swam past a footbridge where everyone had gathered to cheer me on. I saw my wife and daughter and was able to wave during strokes. Though no-one could see, I was crying into my goggles.
When I transitioned onto the bike, all of the police departments throughout the different cities I passed through had arranged to give me police escorts up and down the Pacific Coast Highway. So I was really fuelled by joy and gratitude all along the way. I had a really strong ride with good pacing and I transitioned into the run feeling strong.
I'd had a peaceful swim and a happy ride, so I thought that maybe this run wasn't going to be so tough, especially when I saw that I was exceeding my planned pace within the first few miles. When I was training in Houston I had a seizure after running 15 miles, so I was aware of not over exerting myself, but I had assumed any problems would have to do with my cancer treatment and I was anticipating cramping.
But the actual problem was that due to chemo wreaking havoc on my digestive system, I ran into a common problem where I wasn't able to digest nutrition or hydration and I began to feel really nauseous. I kept going for 10 miles, but I was suffering. I'm a religious man, so I prayed. It was a very simple prayer of, "Lord, you gotta help me!"
Eight miles later, my coach came out of nowhere and ran a mile with me. She had heard I was sick and wanted to help me through, and within 30 minutes I was able to regain my composure. I knew then that my body wouldn't quit on me.
When I came around the corner to the finish line after 13 hours and 40 minutes, there were hundreds of people there cheering me on. Everything was lit up, people had cow bells and they were going wild. So many people went to great lengths to create the finish line atmosphere. Ironman actually constructed it in front of my home with the official finish line tape.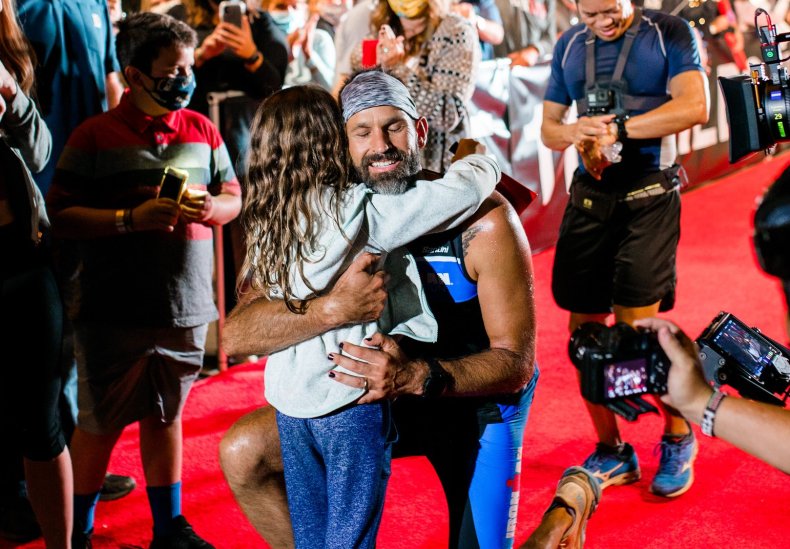 My daughter and my wife were holding that tape, so I just zeroed in on them thinking "I'm coming home." I didn't have much energy, but I gave my wife a kiss, handed my wife and daughter flowers and got down on my knees to say to Hero, "If I can do it, you can do it." I got to tell her that it was really hard for me but I had thought about coming home to her, and that she had given me the strength to finish.
Completing this Ironman was a grand gesture of love for my daughter, and so now I'm thinking what can I do to show that same love to my wife and focusing on daddy-daughter time with Hero. My wife has told me that I can't do anything crazy for at least a year!
I think it's very common for people who are diagnosed with an incurable disease to take a look at their career and re-evaluate what they really want to do. But I knew when I got diagnosed that I wanted to live life to the fullest, and part of that for me is having purpose. Being a pastor gives me a lot of purpose. So once it is safe enough for me to return to indoor gatherings, I will continue that work for as long as I can.
But as far as further treatment goes, I simply don't know. At the moment I have no tumors on my brain, and I just have to continue taking medical advice and hold on to hope.
I wish there was a statement I could give to help someone going through a similar situation to me. The pastor in me would want to just sit down with them and help them figure out where their hope comes from so they can continue through their treatment. That's so important. I think my message to anyone would be: stay strong and live on.
You've just got to grab onto that hope and hold it tight.
Jay Hewitt was diagnosed with terminal brain cancer in 2018. In October 2020, he completed the IRONMAN VR Kona virtual race as an IRONMAN Foundation athlete in 13 hours 40 mins and 54 seconds. Jay is a pastor at Friends Church in Orange, California and lives in Orange with his wife Natalie and their five-year-old daughter, Hero. You can follow him on Instagram @jayhewitt
All views expressed in this piece are the author's own.
As told to Jenny Haward.
Correction 16/10/2020 at 06:54: Jay's race time has been updated to accurately reflect the time he took to complete the Ironman.