A woman went viral after sharing her experience with a "dirty" Airbnb over Thanksgiving break in a TikTok video.
The video was uploaded by Yana Michelle, who goes by @yanaranx on TikTok, and received more than 361,000 views and 1,077 comments since November 27.
"Here's why you should never book with AirBNB ever again in my opinion," Michelle said in the video.
Michelle explained she booked a stay for Thanksgiving break and the moment after arriving at the Airbnb she thought she was "scammed."
"Everything in the description did not match and on top of that it was very clear that nothing was clean," Michelle explained. "Not even the bed sheets. Everything reeked first of all the hallways smelled like p**s and inside the Airbnb everything was dirty."
Michelle then showed pictures from the listing and compared them to what she saw when she arrived. She said the ottoman in the living room had a large stain, the television remote was "nasty" and the labels on the buttons rubbed off, and the TV was strangely tilted.
Michelle also said the patio furniture wasn't properly screwed together and claimed the shower was not cleaned before her arrival.
"It's actually so dirty that fast forward to the host accusing us of using the shower, which we didn't, but this was so dirty that it looked like we used it," she said in the video. "There's actually hair in the shower too."
Michelle then showed a photo of the kitchen that was advertised in the listing but explained that when she opened the freezer she found a face mask and dirty silverware. She also said the bed in the bedroom was broken and the bedsheets were unwashed.
"So here we are thinking the bedsheets are dirty but we can still clean it, we can use the washing machine," Michelle said. "But when you open for the dryer sheets there's literally old lint that should have been thrown away from the dryer."
In another video, Michelle explained her experience talking to customer service representatives about her stay.
In the caption of her original video, Michelle explained in the caption and comments that "Airbnb's customer service is awful so you might as well get a hotel instead." In another video, Michelle mentioned she paid over $427 for the listing.
She also explained that it took 72 hours for a representative to respond to her request. In a statement to Newsweek, a spokesperson from Airbnb said "our community's safety, both online and offline, is our priority, and we worked to provide support to this guest."
Many users were left divided in the comments with some saying they had similar experiences but others said they thought Michelle was being "dramatic."
"For people saying that she's being dramatic, Airbnb is an alternative to a hotel," one user commented. "A hotel would not serve you like this neither should an Airbnb host."
"I've LOVED the Airbnb's I've stayed at. However, I ALWAYS read reviews and use a Superhost," another user mentioned.
"I hope you got your money back," one comment read.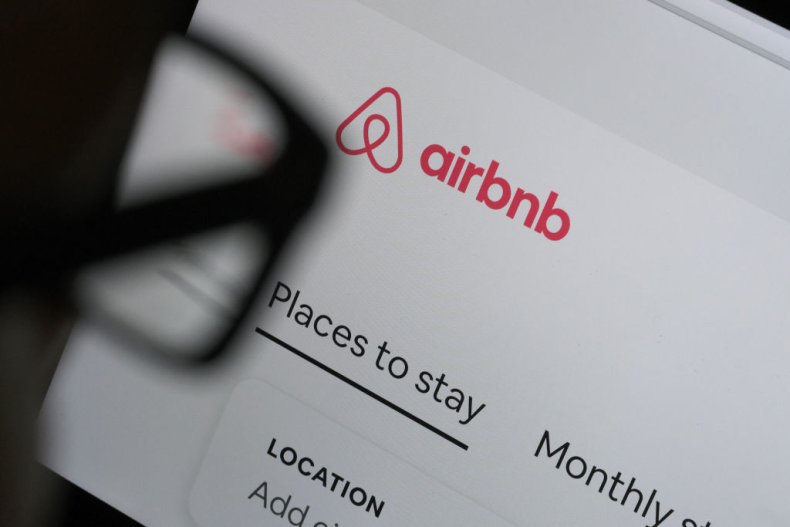 In New York, a woman claimed she was "catfished" by an Airbnb which touted gorgeous views of the city and a clean and open room. But when she arrived, she said she discovered she was inside a restaurant.
Desiree Baker posted about her experience in a now-viral TikTok video that has more than 11.5 million views. She said she was "excited to open up the window, like, roll up the shades and, like, let me see the view," but when she rolled up the shade, she realized she was inside a restaurant.
"I can open up this window, fully, join these people at their dinner, at their lunch," she said in the video.
Baker showed a couple eating dinner at a table directly next to her window.
"How is this legal you literally can not make this up," the caption read. "I can open the window and touch their table."
Baker said she was offered a discount and received a statement from Airbnb saying they were "shocked" and are following up with the host.