'I Hope You'd Be Proud of Me, Max': Woman Submits Dissertation on Illness That Took Her Little Brother's Life
Last week, 22-year-old University of Birmingham student Molly Schiller shared with her Twitter followers that she had just submitted her master's dissertation. Her research centered on the genetic causes of a heart condition known as hypertrophic cardiomyopathy, the condition that took her 10-year-old brother's life in 2015.
"In 2015, my baby brother passed away at age 10 from a heart condition called hypertrophic cardiomyopathy. Six years later, I've just submitted my Master's dissertation researching the genetic causes of the same condition," read the tweet. "I hope you'd be proud of me, Max."
In 2014, Schiller's younger brother Max started to exhibit a significant loss of energy and weight loss. His family sought medical help; however, the results of his heart scans were inconclusive. With the holidays quickly approaching, doctors recommended that the family enjoy the break and bring Max back for more testing after the New Year. Sadly, the family never made it to that next appointment. In January 2015, Max passed away suddenly in his sleep. He was later diagnosed with hypertrophic cardiomyopathy (HCM).
"We didn't know anything about HCM before what happened to Max," Schiller told Newsweek.
According to Schiller, HCM is hard to diagnose in young children because their hearts are underdeveloped and therefore don't show a thickening of the heart muscle, which is what doctors use to diagnose and treat the condition. "You'd have had to go down to a molecular level to see that anything was wrong with Max's heart," she said.
In 2016, Schiller and her parents started Max's Foundation, a charity designed to fund research for HCM and other heart conditions, as well as help families whose lives have been affected by those conditions.
"At the moment, we're working with GOSH charity to fund a research nurse and assistant who are researching ways to identify biomarkers for HCM in young children in order to diagnose it at early stages and treat it," Schiller said. "We're also working with Cardiomyopathy UK to fund a youth support manager who aids with providing support to young people living with cardiomyopathy or myocarditis, and Noah's Ark Hospice to fund a support group for siblings of children with life-limiting or life-threatening diseases."
Schiller and her family have found that HCM is relatively common, affecting approximately 1 in 500 people in the United States. So far, the foundation has raised over 590,000 British pounds ($834,224 USD) for its projects.
"It's been amazing and fulfilling to know that we are helping children with the same condition that Max had, to stop what happened to us from happening to other families," she said.
Schiller was only 15 at the time of her brother's passing. A few months out from taking her GCSE exams, she threw herself into her studies as a way to distract herself from the loss. It was during this time that she decided she wanted to pursue science.
"When I came to uni, I quickly decided I wanted to specialize in heart conditions, because it was so personal to me, and to try to continue Max's legacy and make a tangible difference for other families who might be going through the same thing," Schiller said.
The research she conducted for her dissertation has proved to be beneficial. Though she can't share too much about her dissertation, as it is still being graded, she did share that her project investigated a genetic variant protein called Filamin C. What Schiller found through her research has given her hope for the future.
"This is very very early-stage research, but hopefully will provide a basis for future investigations into the mechanism of this mutation that leads to the condition, meaning that eventually (after lots more research!) potential targets for therapy could be identified," she said.
Schiller has also learned through her research that HCM is a condition with a broad range of genetic causes. By researching these various causes, doctors can spot the condition earlier, and potentially prevent fatalities. However, research is currently underfunded.
"More genes are being identified every year as technology develops, which is great, but unfortunately, the research is underfunded, and we still have a ways to go, which is why we are pushing for donations to Max's Foundation through this difficult time so we can continue to fund this much-needed research," said Schiller.
Creating awareness and helping others is important to Schiller. But just as important is continuing her brother's legacy and making him proud through all of her hard work.
"My parents and I are so so happy to be able to share his name and smile with the world, and to know that helping other young children will be his legacy," Schiller said. "Everything that we do is for him — that's why I posted the picture of my diss, I wanted to show how proud I was of myself that I was doing something for him and to raise awareness for the charity and condition in his name."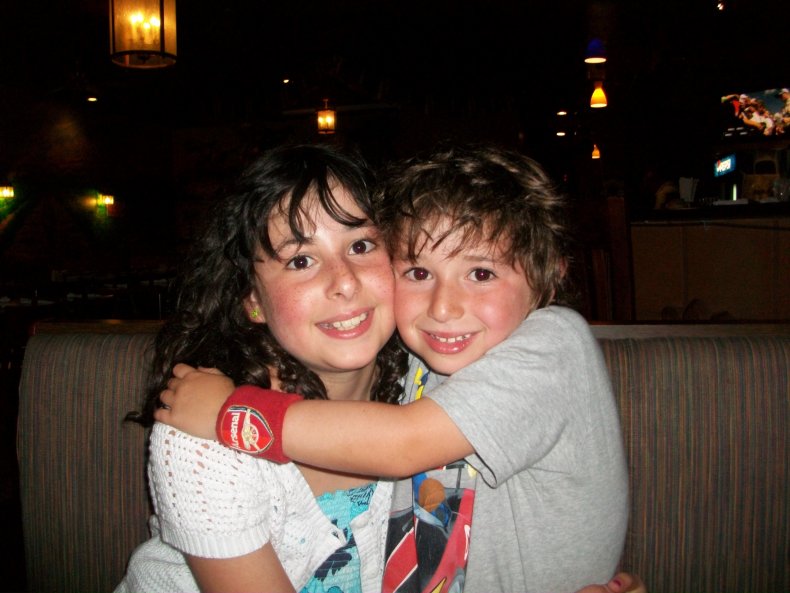 She is currently still figuring out what the next phase of her life looks like, but Schiller told Newsweek that she still intends on working with Max's Foundation to spread awareness for HCM. Of course, the research is emotional for her and can often be painful. So before she continues on, she is going to take a break. However, she is considering a Ph.D. and hopes to continue using her skills and knowledge to make a difference in the field.
"Awareness for this condition is something that is extremely important to us to raise — since it's such a common condition but there's rarely any mainstream media coverage about it," she said. "I hope that the work I am doing now has changed that a little bit, and started the conversation."