'I Host Huge Taylor Swift Dance Parties Across America'
Taylor Swift and I are actually the same age, born about two months apart in 1989. When I was around 15, my mom went to an event in Knoxville, Tennessee and Taylor performed there, before she was famous. I remember my mom saying she thought my sister and I would really like this girl, Taylor Swift, who had an album coming out.
Then, in 2006, Taylor Swift was released and "Picture To Burn" became my jam. I feel like I kind of grew up alongside Taylor. When she released the album 22, I was 22. When I was living in New York City, Taylor came out with her album 1989 which talked about living in New York. She was always very relatable as someone my own age telling stories of things I was also going through. Once, my friend and I drove from Florida to New York, and all my friend had was Taylor's album, Red, so we listened to it on repeat for the whole 18 hour drive.
After I moved back to Florida in 2015, I somehow heard about a bar in Chicago called Roscoe's Tavern that ran a Britney Spears night every Sunday. In 2019, I went along one weekend and just loved it. They played Britney's entire discography and the bar was completely packed, even though it was a Sunday. I thought then that I'd love to put on a night like it in Florida, but I was working full time and not long after, COVID hit and we were all in lockdown.
Then, in early 2021, my friend Caitie and I started to see videos on TikTok of people in Australia at a Taylor Swift themed night. We were sending them to each other and saying it sounded so fun. Shortly after, we were at brunch at a bar called Neon Beach in Florida, and the topic of running a similar party in Orlando came up again.
We're in a Taylor Swift fan group on Facebook with around 4,000 others and we put a poll in the group asking if Florida Swifties would be interested in coming to a Taylor themed event. People were so excited and said they would even fly to Orlando for it. So we talked to the person at Neon Beach who books events and they said we could do it.
I've been in events for about 10 years now, but for the first Taylor Swift themed dance party we really just set up a ticketing system and marketed it on social media. Our company is called Le Petite Fete and we decided to name that first night "Cruel Summer Kick Off" because it was being held in early summer 2021 and Caitie designed all the graphics. We put 300 tickets on sale, so it was a relief when we sold out about two weeks before the event, but then it got a little crazy because people were messaging me saying, "I'm desperate to go to this!" That still happens now, but the first time, my reaction was, "Oh my, what is going on?" People even started trying to create fake tickets.
Our first Taylor Swift themed dance party was the second week of June and it was so much fun; the venue was packed to the rafters. I've found that a rule of thumb in events is that 20 percent of the people who say they are attending, don't show up. But at that first party, I think everyone who had tickets was there. We even had a second DJ at the bar next door start playing Taylor Swift songs because it was so busy. Although the night was supposed to run from 9pm until 12am, it went all the way until 2am as the bar was closing.
Then Caitie posted a TikTok video from the night and it went viral. When we put tickets up for sale for our second Taylor Swift night in August, they sold out in 15 minutes and we had a waitlist of 700 people.
We also had people who were driving from Tampa, Miami and even Philadelphia, so we reached out to a bar in Tampa and a guy there thought it was a really good idea and said he and his business partner would love to help us host the night in other places.
The first place they wanted to take us was Atlanta on October 1. I actually couldn't go to Atlanta because I had a trip planned, but I remember I was in New York City and Caitie sent me a video that really choked me up. Everyone was having the best time and singing along to Taylor's songs. Next, we went to Miami in October and sold out a club in Winwood; 700 people came and some were driving hours just to get there.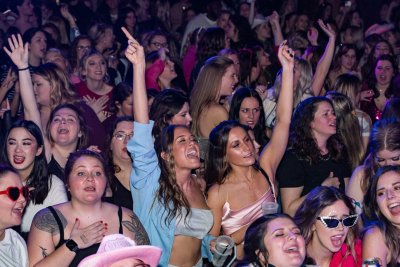 Le Petite Fete has now hosted Taylor Swift parties in Orlando, Miami, Tampa, Baltimore, Philadelphia, Nashville, Dallas, San Antonio and Austin, as well as venues in North Carolina and Virginia. Nashville was a party with 1,000 people and one of our largest events. That was super exciting to sell out because it's Taylor's home base.
But Florida will always be a home for us, and I love that. We have people who come to all our Florida events, including a girl and her boyfriend; he always wears a T-shirt that says, "Real Men Love Taylor Swift."
I always thought we'd attract a very young crowd but it's typically 90 percent women aged 25 to 33, and most say it was the best night of their life. That's so fun to hear! But why wouldn't you want to go to a bar—with your friends—that's playing music you want to hear?
"Cruel Summer" is one of the most popular songs and every time we play the longer version of "All Too Well", the whole place goes crazy; someone always leads a "F*** Jake Gyllenhaal" chant! But people might be shocked to hear that it's a lot of Taylor's slow songs that people really love hearing, like songs from Folklore. I always find it funny because some songs people request are not what I would personally want to hear in a bar, like "Last Kiss", which is a super sad song. But obviously we embrace the moment! I think people have a personal connection to songs and having others sing it around them is a great feeling.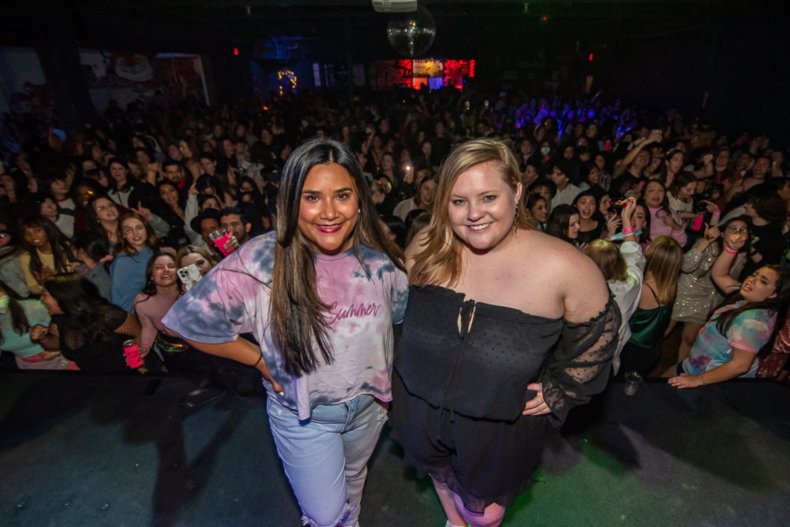 We actually travel with a Taylor Swift cut out for a photo booth area we have, but one time someone ripped her head off in a moment of enthusiasm! People often steal the cutout, so I think this one person decided they would steal the head instead of the whole thing, perhaps to put on a popsicle stick like at a bridal shower.
I don't know if Taylor knows about the events, but there are other people running Taylor Swift parties and she did post previously about a different Red re-release party. If she turned up, I would be a little concerned about the security risk as these girls love her. Of course, I would love for her to come and I would love to meet her, but she'd probably get mobbed!
Le Petite Fete took a little break recently but we have just restarted in Orlando and Miami and soon we're going on a crazy little journey around America again. After two years of being so isolated and in lockdown, it's been so special to see a sense of community again.
That really sums up what Taylor Swift means to me. People find common ground in her music all the time; her music is so real and raw and it can speak to any portion of your life. You can be happy listening to her fun songs, or be sad about an ex and then listen to "I Forgot That You Existed" and know it will be over soon. She is such an incredible storyteller and her albums are so versatile; there is a song for every season in your life. To me, that's so cool and so special.
Courtney Gibson founded Le Petite Fete, a Taylor Swift dance party, with friend Caitie Phillips. Courtney lives in Orlando, Florida. You can follow them on Instagram @lepetitefetefl.
All views expressed in this article are the author's own.
As told to Jenny Haward.