'I Hunt Palestinians': Dutch Spoof of Israeli Song Branded Anti-Semitic
The Dutch state television channel has found itself embroiled in an anti-Semitism scandal after airing a spoof of Israel's entry for the Eurovision Song Contest.
In the parody, Dutch comedian Sanne Wallis de Vries accuses Israel of hunting Palestinians and allegedly plays on anti-Semitic tropes about Jews and money, The Times of Israel has reported.
During the program The Sanne Wallis Show, aired by Dutch public broadcaster BNNVARA Sunday, de Vries dressed as Israeli singer Netta Barzilai while singing, "Look how beautiful, I'm throwing bombs, Israel again wins, 70 years already the party's on."
Barzilai won the Eurovision contest held in Lisbon, Portugal, on May 12 with her entry "Toy."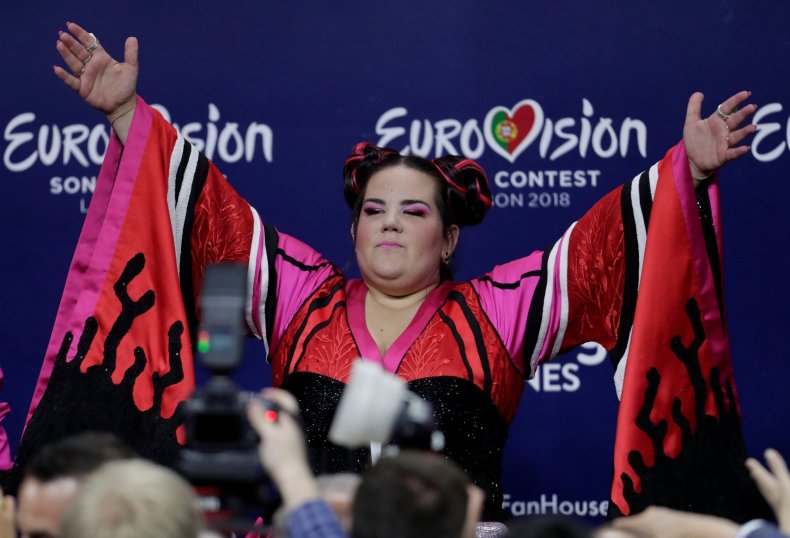 De Vries danced in front of a large screen showing Israeli soldiers firing weapons and injured Palestinians being treated. She sang, "We're giving a party, are you coming? Soon at the Al Aqsa Mosque, it's standing there empty anyway," in a reference to the mosque sitting on Temple Mount, the holiest place in Jerusalem for Muslims, Jews and Christians. Israeli control of the area has long been a contentious issue.
"No way, no Palestinian's coming in," the song continued, adding "I hunt Palestinians through the curtains." Israel has faced international criticism for the killing of more than100 Palestinian demonstrators in the Gaza Strip over the past six weeks. Palestinians are calling for the right to return to the lands they left or were forced from upon the creation of Israel in 1948.
As the act continued, critics said the song descended into anti-Semitic tropes about Jews and money. "If your party's crashed, make sure you cash on embassies, with your ka-ching, ka-ching and your ping-a-ping," the lyrics continued, "with your dollars and cents and your funds, with your ka-ching, ka-ching, ka-ching."
The backlash was immediate. The Center for Information and Documentation on Israel—a Dutch group monitoring anti-Semitism and anti-Israeli sentiment in the Netherlands—wrote on Twitter, "You start with Israel and end with what? Jews and money. You made your point, BNNVARA."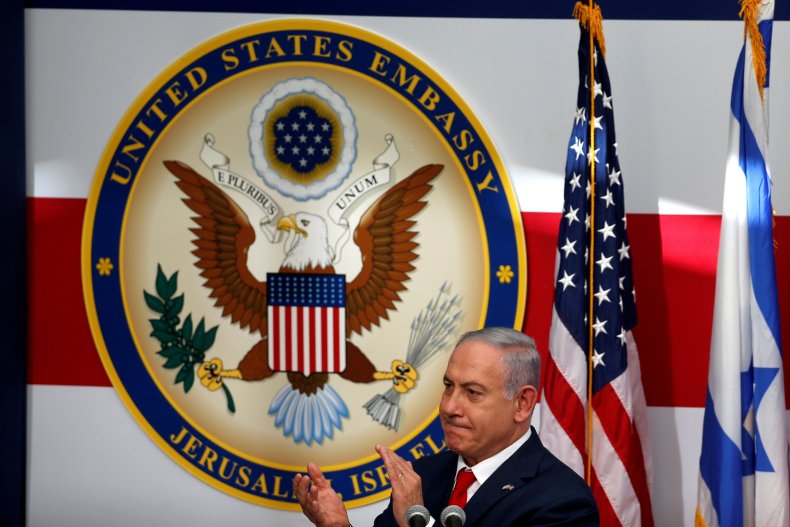 The organization later commented that the song was "full of 'hilarious' jokes about Jews and money and so on. So funny," and published the full song lyrics with fact-checking comments written in the margins. Daily Dutch newspaper De Telegraaf said the performance exhibited "Jew-hatred."
BNNVARA was created in 2012 when BNN merged with the Vara broadcaster. In 2012, Vara faced criticism after airing an edited video of a speech given by Israeli Prime Minister Benjamin Netanyahu. After the edits, Netanyahu appeared to say, "We are trying to maximize the number of civilian casualties. We prefer that." Later in the video, the prime minister is made to say "We are conducting these surgical operations against schools, mosques, hospitals, children. This is something I don't have to explain to Americans."
Last month, the Central Jewish Board of the Netherlands warned that anti-Semitism was becoming a mainstream ideology in the country. The organization said negative comments by pro-Palestinian former prime minister Dries van Agt about the "strong Jewish lobby" in the country were unacceptable.
In April, researchers at Tel Aviv University in Israel warned that anti-Semitism in Europe had reached levels not seen since World War II.