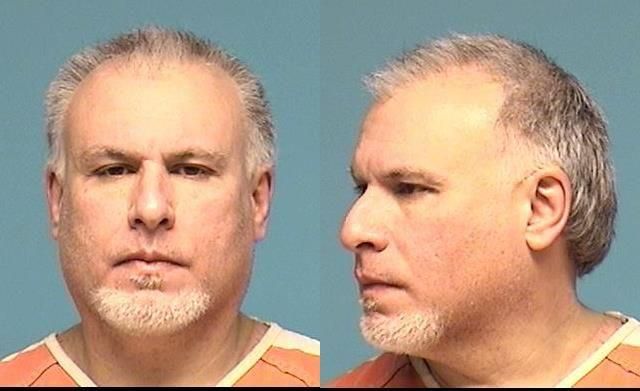 While making an arrest on the side of the road, an Ohio police officer became privy to a gruesome confession. The man he was arresting allegedly murdered his parents.
Body camera footage from Avon, Ohio, police officer Troy Goscewski, obtained by The Chronicle-Telegram, chronicled the events of Saturday's arrest. While parked on the side of Route 83, the officer ordered suspect Robert James Ralph, 53, to walk back toward him, lay on the ground on his stomach and put his hands out to his sides.
During the arrest, Ralph was crying and told the officer he was frightened but complied with the orders he was given. While being handcuffed, Raff told Goscewski he had something to confess.
"I killed my parents," Ralph told the officer.
The 53-year-old gave the officer the address of his home in Midlothian, Virginia, and admitted to having a work tool, taser and an ax on his person or in his car. At the time of his arrest, Ralph was wearing a protective vest and told the officer he was doing so because he was "afraid of being shot" and said he saw a lot of "frightening people," such as Latin gangs.
Ralph explained that he "snapped" at home and felt threatened by his parents, who, he said, allegedly locked him up at some point. When another officer asked how the 53-year-old wound up in Ohio, he said he was "running away from trouble." However, he admitted there was no way to evade the police or the truth.
"I'm more happy to be in your custody," Ralph said during the arrest. "I'm terrified of being shot out here by all sorts of strange gangs and s**t and stuff that goes on in this country."
While the officers contacted the Virginia police jurisdiction where Ralph claimed to have killed his parents, they asked the 53-year-old to describe the alleged deadly encounter.
"I got into a confrontation … and I've been noticing really strange things about [my parents'] behavior and also it goes very deep with those two," Ralph said. "I felt very, very frightened that my parents were setting me up to be killed to collect insurance on me."
The 53-year-old claimed that he was on "mental drugs" for decades and recently recovered from Post-Traumatic Stress Disorder. He added that there were a lot of "suspicious things" going on around him that made him paranoid.
Ralph was pulled over by officers on Saturday night after a driver reported a suspicious vehicle. The vehicle had no lights or license plate and was missing a tire, according to Cleveland.com.
Earlier in the day, as reported by The Richmond Times, Chesterfield County, Virginia, police officers responded to a Virginia home to perform a welfare check. During that check, police found Jan Ralph, the 53-year-old's father, deceased and then later located the body of the suspect's mother, Victoria Ralph, during a search of the home.
Ralph also goes by Robert Raff and was booked into Lorain County Jail on Sunday, according to Lorain County Sheriff's records. He is being held until he can be extradited to Virginia, where he will be served with warrants for two counts of first-degree murder, according to WWBT. It's unclear how Victoria and Jan were killed.