'I Kissed the Oldest Woman in the World': Susannah Mushatt Jones's 116th Birthday Bash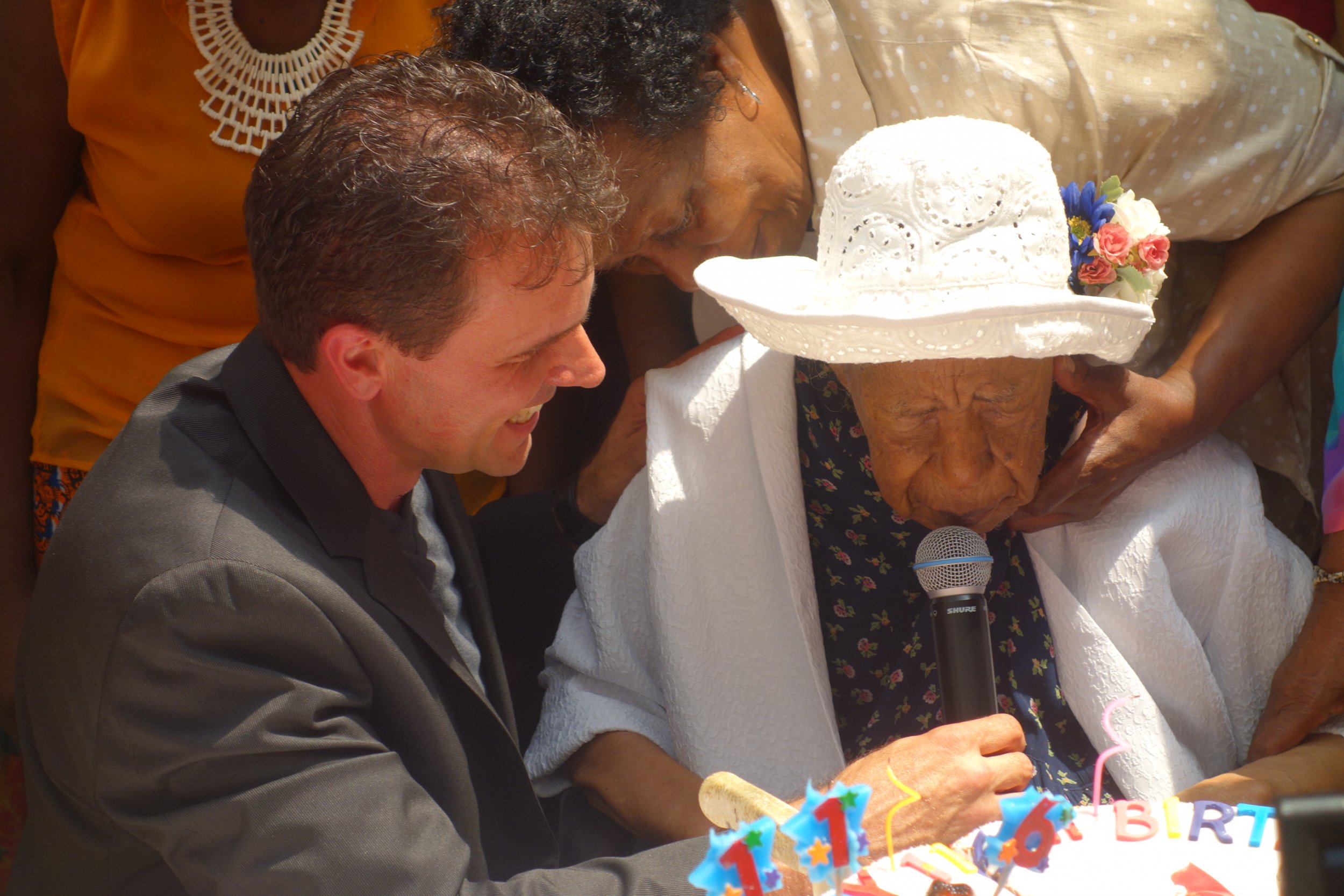 Birthday parties for the very, very old are a lot like birthday parties for the very young. There are balloons and party hats everywhere, you won't find much booze, the birthday girl or boy usually doesn't have a lot to say, and everybody makes a tremendous fuss over the simple process of making it to a new age.
But Susannah Mushatt Jones's 116th birthday party, a Tuesday morning bash at the Vandalia Senior Center in Brooklyn's East New York neighborhood, exceeded any reasonable toddler's expectations.
Jones, recently confirmed as the oldest person in the world, did not say much. Blind and wheelchair-bound, Miss Susie, as her family and caretakers call her, spent most of her birthday party with her head slumped downward, sometimes appearing to be asleep. At one point, she leaned into a microphone and muttered, "Thank you. I love you too."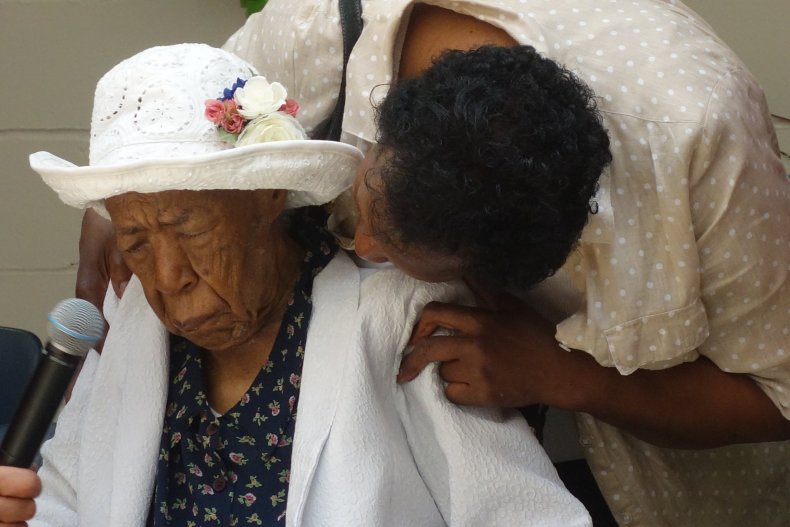 But the carnival of family members, local celebrities and seniors clad in colorful party hats spoke enough to fill a celebration that grew increasingly surreal as it went on. Players for the Brooklyn Nets performed backflips and handed Jones a custom-made basketball jersey, while Brooklyn Cyclones entertainer King Henry presented the supercentenarian with his own crown. A group of young campers took over the senior center floor for a children's dance routine in Jones's honor.
"You are a true American hero and a living legend right here in Brooklyn," Hakeem Jeffries, who represents the borough in Congress, told Jones, eliciting cheers. "In 1899, when [Jones] was born, William McKinley was president. By the grace of God, 116 years later, Barack Obama is president!"
State Assemblyman Charles Barron at one point leaned over and kissed Jones. "I kissed the oldest woman in the world and guess what?" he joked. "I'm leaving my wife and marrying Miss Susie."
Jones sat through the parade of exclamations, quietly chewing her favorite Wrigley gum.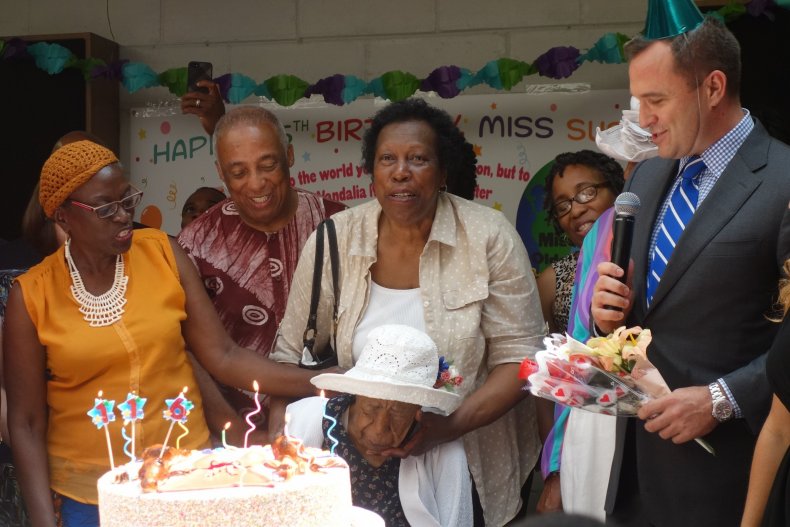 Born on July 6, 1899, and raised in Alabama before moving to New York during the 1920s, Jones is one of just two living people born during the 19th century. Although she has no children, about a dozen of her hundred nieces and nephews attended her party.
The secret to Jones's long life? "She eats a lot of bacon," the supercentenarian's nephew, Callie Mushatt Jones, told Newsweek. (Jones's massive birthday cake was decorated with strips of bacon and chicken drumsticks, her favorite foods.)
Niece Lois Mushatt Jones, 75, said her aunt enjoyed her favorite breakfast of bacon, eggs and grits on Tuesday. The secret of her longevity is spending time with family, the niece said.
"She doesn't believe she's 116," she added. "I said, 'Now you're 116.' She said, 'No, I'm not.' I said, 'You're the oldest woman.' She said, 'No, that's not true!' How many people are in the world? How can you see yourself as being the oldest? It doesn't seem possible."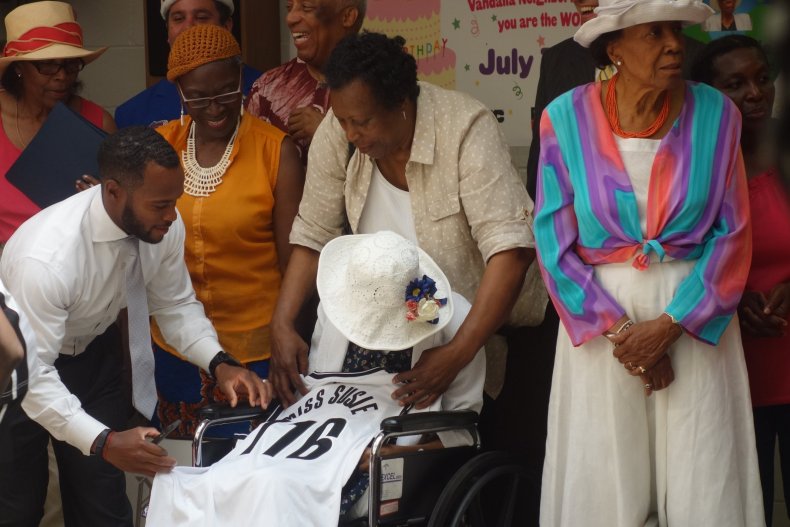 Another niece, Lavilla Mushatt Watson, described her aunt as "a wonderful person" who taught her to love everybody and to take care of yourself.
"She's not as alert as she used to be," Watson said after the party. "So when she said 'thank you,' she really wanted to please us. Sometimes she gets very angry and won't cooperate at all or open her mouth. But today she's been good.
"She's tired," Watson added. "Can you believe 116? She's tired!"
By that point in the day, the world's oldest person had retired to her room for a well-earned nap.