I Lead Trips Like Tlaib and Omar's to Israel—and They're Essential for Effective Foreign Policy | Opinion
Last week, a delegation of U.S. members of Congress, headed by House Speaker Nancy Pelosi, visited Honduras and El Salvador in an effort to learn more about the conditions driving an exodus of people to seek asylum in the United States. Just days later, two congresswomen were denied a similar congressional visit to Israel by that country's government.
That decision is dead wrong. As the leader of Alianza Americas, a U.S.-based organization rooted in Latino communities that works transnationally to create a more inclusive, equitable and sustainable way of life, I have years of experience bringing delegations of elected officials, community leaders and other concerned U.S. citizens to Central America and Mexico.
We know firsthand that these delegations are essential to increasing lawmakers' understanding of complex foreign policy issues and providing opportunities for dialogue. Elected officials benefit from hearing the perspectives and voices of people directly affected by U.S. foreign policy, as well as from seeing the efforts being carried out on the ground.
Unfortunately, the delegation to the West Bank and East Jerusalem by Congresswomen Rashida Tlaib and Ilhan Omar was not allowed the same opportunity. After massive pressure by President Donald Trump, Israeli Prime Minister Benjamin Netanyahu reversed his decision to allow the two Muslim congresswomen to join the delegation and decided to block their entrance.
As an organization that works transnationally to address some of the globe's most pressing needs, we see Trump's intervention as prioritizing a personal vendetta over effective U.S. foreign policy—not to mention an assault on the separation of powers.
The delegation would have allowed the two congresswomen to deepen their understanding of the situation, to engage in direct dialogue with those affected and to see the conditions and daily plight of Palestinians and Israelis. This firsthand experience, all too often lacking, could have informed future policy decisions.
Our organization's work leading delegations in Central America is a case in point. Central America is also a complex region, and one in which U.S. intervention has a troubled and checkered human rights record. Recent history includes a toxic mix of corruption, impunity, and state and gang-related violence. Masses of people are fleeing Honduras, El Salvador and Guatemala as a result, seeking safety and opportunity in the United States.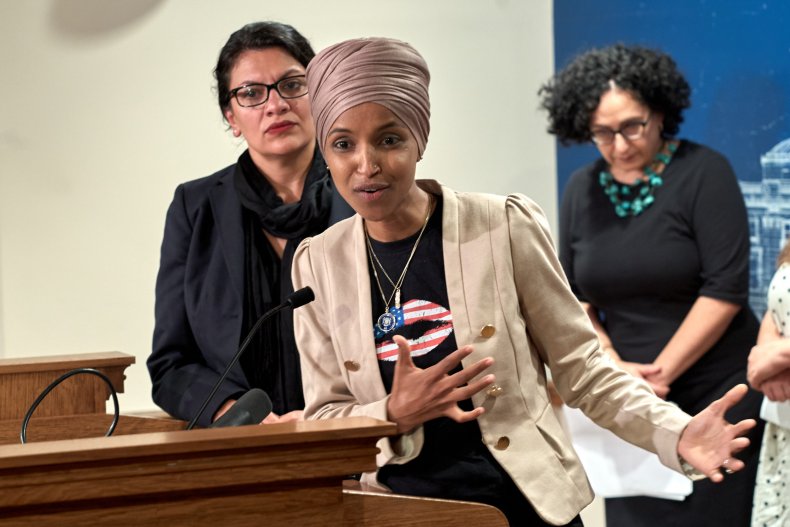 We have watched as policymakers are called to respond, but most have little sense of the history or the conditions that drive the exodus of asylum seekers. Effective delegations combine peer-to-peer interactions among policymakers with the voices of community leaders with direct knowledge of the complex interactions of development and governance challenges.
The delegations we lead in Central America have shown policymakers the realities of gender and ethnic discrimination, economic inequality and climate change. By understanding the causes of forced migration, policymakers are better equipped to craft policy solutions.
Delegations like these are critical for addressing the global community's most pressing challenges—and closing the doors on exchange and dialogue will get us nowhere.
Oscar A. Chacón is a co‐founder and executive director of Alianza Americas, the only U.S.-based organization rooted in Latino and Caribbean immigrant communities that works transnationally to create an inclusive, equitable and sustainable way of life.
The views expressed in this article are the writer's own.