'I Learned 4 Ways to Find Happiness Every Day'
My husband and I and our two sons are lifelong Midwesterners, but three years ago we moved to New York City. We moved from a house in the suburbs of Chicago to an 825-square-foot apartment on the third floor of a beautiful neo-Gothic red brick building in Manhattan.
The move, combined with the pandemic, serious health issues, and a stretch of heartbreak and grief deeper and darker than anything I've ever experienced, have made for some of the most challenging years of my life. The things that used to work simply, didn't anymore. I had to re-evaluate everything—what worked, what didn't, what I wanted, what I wanted to leave behind—and adapt accordingly.
And it's not just me, certainly. Everyone I know has felt the complexity of our world in a thousand different ways in recent years. So many things we used to expect and depend on have shifted dramatically, and one of the greatest gifts we can offer one another is a commitment to compassion, self-compassion, and health. Healthy, whole people don't become healthy and whole by accident; it's because they make small, daily choices. These little things won't solve everything, but you might be surprised at how much difference they really can make. Here are four ways I've learned to seek happiness every day.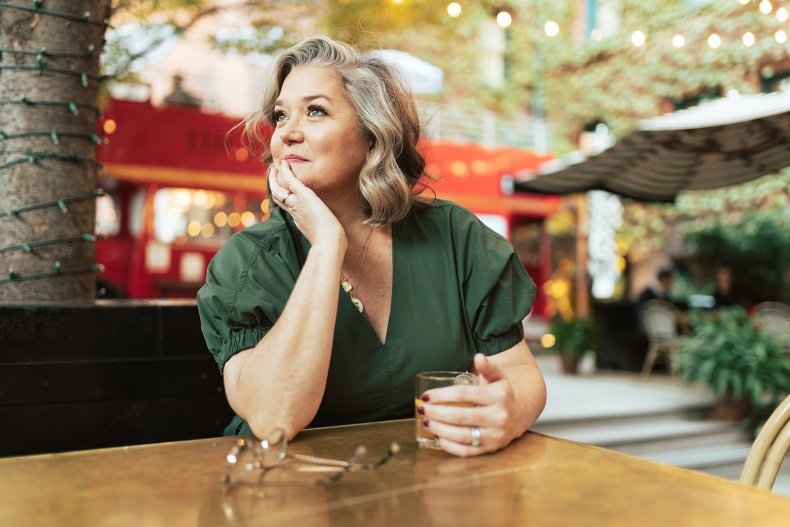 Seek Connection
Something miraculous happens when we gather. There's a connection, a healing, a nourishment that goes beyond the nutrients and calories and vitamins and minerals. There's a nourishment of spirit, and if we've learned anything at all through the pandemic, it's that we really need that connection, all of us. We need to see each other's faces and hear each other's voices. We need to laugh together and cry together and sit in silence together. We were made for connection, for sitting shoulder-to-shoulder, for carrying one another and walking together.
A few weeks ago, I was invited to a party; a celebration of a friend's birthday. It was a gathering together of different worlds and I knew I wouldn't know anyone except the birthday girl. I was feeling overwhelmed with going anywhere, but I had such interesting conversations with such interesting people; people who had lived very different lives than my own. I stayed about three hours longer than I thought I would, listening and laughing and getting to know these friends of friends I'd been hearing about for ages but had never met.
Because people are great. And we need each other and we have so much to learn from one another. And I had sort of forgotten that, because I hadn't been around very many for so long. Hospitality is the antidote to isolation, and we need it. I need it. Every neighborhood and town and city block need it. And each one of us can be a part of it.
Trade anger and resentment for hope and gratitude
There have been stretches in the last couple years when I needed a wheelbarrow or even a semi-truck to carry around all the anger and resentment I held on to. It was one of the core activities of my days, just keeping that anger and resentment alive and sparking, tending it like a fire. But at a certain point, all that anger was like a pile of garbage in the middle of the floor of our apartment.
If we lived in a big house, maybe I could shove it all into a spare bedroom or a corner of the basement. But we need every square inch, and I couldn't afford all this garbage in this tiny space. And that's how I started to feel on the inside of myself, in my heart, like there just wasn't enough room for hope and gratitude, because of all this garbage. So I chose to trade one for the other.
The practice of gratitude keeps our hearts tender through the night instead of allowing bitterness and cynicism to take over. Choosing to see the good right in the middle of the darkness and loss is a discipline, and I'm finding it to be a life-changing one.
Look for beauty
I believe in seeking out beauty absolutely every chance we get, as an act of prayer, as an act of worship, as an act of resistance. I believe in going out of our way if it means getting to see the water or the mountains or the sky streaked with colors. I believe in attending the sunset the way some people buy fancy theater tickets.
The people I admire most are people who take celebration and memory making seriously. At my best, that's who I am: a moment maker, a noticer and a person who celebrates the tiny goodnesses of our lives.
Whenever possible, walk out of your way for a few minutes and take a few deep breaths somewhere beautiful; whether that's a forest clearing or a French bakery or a path through a prairie or a cobblestone street. Take the long way sometimes, reveling in the discovery of beauty, noticing everything you can; what it smells like and the slant of the light and how the sounds remind you of recess or Rome or Grand Rapids.
Moving doesn't change who we are, even though sometimes we wish it would. But it does change our vantage point on the world. It swivels us around to see things in ways we've never seen them before. It shakes loose our assumptions and brings us back around to humility and curiosity as we learn a new world, a new rhythm and map and set of customs and agreements, and all that work is good work, keeping us adaptable and open.
I'm learning to change the metrics. Maybe what makes a day good or valuable or happy is not what you accomplished or what task you checked off a list. Maybe there are other metrics: pleasure, connection, caring for someone, learning something new or experiencing delight.
Increasingly, I'm starting to see that time is worth something different, and minutes and hours are ticked out differently; for asking questions, for practicing gratitude, for staying at a party longer than you intended and for reveling in beauty wherever you can.
Be a beginner
After moving to Manhattan, the number of things we didn't know was overwhelming; everything from figuring out the subway to grocery shopping to how to get to school. I noticed my sons' questions started changing from, "How do I do this or that?" to "Have I made too many mistakes? Am I dumb? Am I falling behind?"
When I heard those new questions, I knew we needed a new perspective about what we were experiencing. So I wrote the phrase "I guess I haven't learned that yet" on printer paper and I taped it up on the wall of our living room. All four of us made it our goal to say that phrase once a day and it changed everything for us. Eventually our family mantra became the title of my new book.
That phrase gave us language for what it means to be a beginner and a learner, to be curious as opposed to thinking we are failing because we don't know. I try to walk through life everyday as a learner, not an expert, to be more excited about the questions than the answers.
There's so much freedom when you don't have to be the expert, when you don't have to have the answer and you can learn from other people. That idea has released so much goodness into my life. I've found that being a beginner is such a life-giving way to live.
Adapted excerpt from I Guess I Haven't Learned that Yet by Shauna Niequist for Newsweek. Copyright © 2022 by Shauna Niequist. Used by permission of Zondervan.
Shauna Niequist is the New York Times bestselling author of Present Over Perfect and I Guess I Haven't Learned That Yet. She is married and lives in New York City with her two sons. You can follow her on Instagram @sniequist
All views expressed in this article are the author's own.