'I Left Everything': Disabled Tongan Man Swims Over 24 Hours Following Tsunami, Survives
The harrowing survival story of a disabled Tongan carpenter has emerged following the recent volcanic eruption and tsunami that devastated the region.
Lisala Folau was interviewed by George Lavaka of the Tongan radio station Broadcom FM, describing how he swam between islands for over 24 hours following the environmental impact.
He hails from the island of Atata and was washed away to sea during the eruption of the Hunga-Ha'apai-Hunga-Tonga volcano.
"I left everything," Folau said.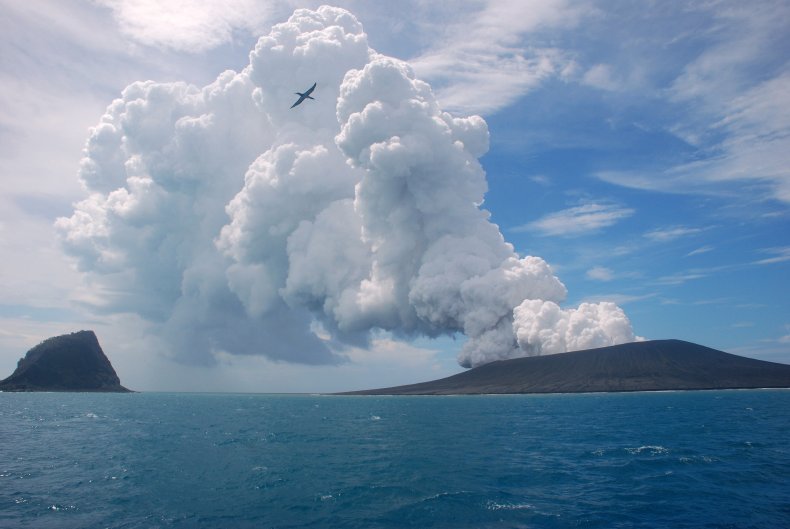 Formerly a carpenter, Folau explained how his disability has caused both his legs to not properly function. Most work he does nowadays consists of domestic or household projects.
"I believe a baby can walk faster than I," he said per the interview transcript.
He said he was at home painting last Saturday afternoon when his brother alerted him about the impending tsunami. Folau's elder brother and a nephew came to his assistance, by which time a wave had already gone through a lounge area of his property.
When the family members moved to another part of the house, Folau estimated that a wave at least 6 meters—or about 20 feet tall—came through. It caused the trio to find shelter on the home's eastern side.
"We were on a tree with our nephew," Folau explained. "My brother told us to stay put with my niece on the tree while he sought help from [the] house on higher grounds and to find some youth to bring me up there."
His niece jumped down from the tree and attempted to get help to the house, while waves were at more of a lull.
At around 7 p.m. a woman named Tolofii and her mother, Vai, were joined by Folau's niece, Elisiva. The women asked Folau's nephew to help rescue an elderly woman, while Elisiva was asked to assist Folau to higher ground.
"It was a hard task Elisiva assisting me for it was getting cold and my feet could hardly move," Folau said. "Just then my elder brother yelled out to us [that] there was a big wave coming in. I just turned and looked at the wave; it was a bigger wave than the 6 meters that destroyed our house.
"When the wave break on land just below us, my niece, Elisiva, and I had nothing to hold onto and we were swept out to sea."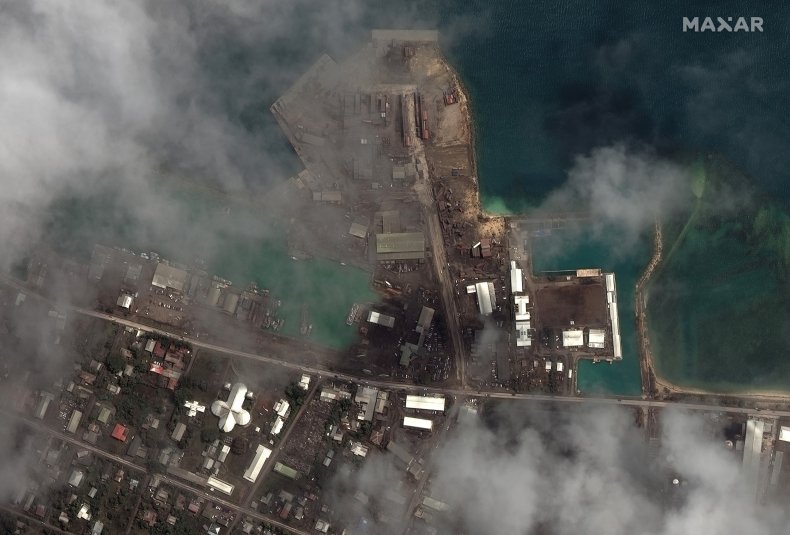 The pair floated at sea, calling out to each other but it was dark and neither was visible. He eventually couldn't hear his niece, though he did hear his son calling for him from shore.
"The truth is no son can abandon his father," Folau said. "But for me, as a father, I kept my silence for if I answered him he would [have] jumped in and try to rescue me. But I understand the tough situation and I thought if the worst comes and it is only me."
He said he continued floating, being bashed by large waves. His mindset was to grab onto a tree or anything that could help him survive.
Folau said he floated and hit land to the east, on the island of Toketoke. At around 7 a.m. Sunday morning he saw a police patrol boat heading to Atata, prompting him to grab a rag and wave toward it. He remained unseen.
Due to a burst of energy, he then decided to swim to the island of Polo'a. He began his trek at about 10 a.m. and reached his destination at about 6 p.m.
"I called and yelled for help but there was no one there," he said. "My mind was now on my niece, that we were washed away together and now I have survived."
He felt "strong-minded" enough to travel to mui'i Sopu, on the western edge of Nuku'alofa. All the while he said he was thinking about his sister with diabetes and his youngest daughter who has heart problems.
"All these [thoughts] were racing in my mind and what point was there that now I have survived and what about them," he said. "This drove me to get to Sopu."
At about 9 p.m. he made it to the beach near a home in Sopu. He later found a piece of timber he used as a walking stick, eventually flagging down a vehicle and explaining that he was washed away from Atata and was trying to contact his family.
Lavi, the driver of the vehicle, took Folau to his village and told them who he was. The people of the village were stunned.
"It was the manna of God to me and my family, and the church as well as Atata, so unexpected that I survived after being washed away, floating and surviving the dangers I just faced," Folau said, appreciative of those who helped him get back home.