One could argue that I was born rootless. My dad was an officer in the U.S. Army and the son of an army officer himself. My mom was a school teacher, the daughter of a Borinqueneer soldier, the 65th Infantry Regiment of the U.S. Army, from Puerto Rico. I was born behind the fence line of Fort Knox military base in Kentucky and then moved to Germany on military orders. We packed up and changed duty stations every two to three years thereafter.
From my earliest years I've never had tangible roots to any one house, town, state—even my country changed. To further complicate the answer to, "Where are you from?" I grew up and married an army doctor, he too the son of an army officer. Two wanderers, the children of wanderers, united in our shared frame of reference that the only thing unchanging was that the scenery was always changing. I've lived in a dozen cities in total and 10 of those were in the U.S. From Aberdeen Proving Ground on the banks of the Chesapeake Bay in Maryland to the sand dunes of the Chihuahua Desert in El Paso, Texas, and many posts between.
The thing about being a lifelong wanderer is that there is always the comfort that if you make a mistake or make a mess, you don't have to lie down in the bed you made. You will leave this place behind and move on. Reinvention can be a glorious Band-Aid.
Growing up, my family fell into a rhythm. We'd pack up our last house in the same way that we packed up the house before it so that we could unpack and decorate in similar fashion, too. Much like most people do with Christmas decorations. One might change the location of the nutcracker from the table to the bookshelf from year to year, but it's always in the living room. A garland might get hung over a door frame if not the fireplace, but always near the tree.
Similarly, our household goods were like the letter dice in a Boggle box. Each move, we shook the contents and played the game. Our furniture settled into various configurations and the collection of P. Buckley Moss artwork was put up in different rooms. My mom would dare to paint one wall some exotic color—fire red or Caribbean blue—knowing full well that she'd have to paint it back to white at the end of our station. New Kids on the Block posters and masking taped pages of Teen Beat magazine did the job in my bedroom. This is how we kept it feeling like home without actually having claim to it.
I carried that into my adult life. When our rented townhouse in Chicago sprung a leak and flooded the entire first floor, my husband and I sighed with relief: "Thank God, it's not ours." Because what a mess. We called our landlords, feeling terrible for them but already packing our soggy boxes to get the heck out of dodge.
That's the thing with not having ties to a place. It absolves you from responsibility. But that applies to everything—the bad and the good. Sure, you get to leave bad plumbing and bad relationships, but you also have to leave good places and people you love. There's a thin line between "get to" and "have to."
It wasn't until recently—I am now in my forties—that we stopped our caravan in Winston-Salem, North Carolina. No family or friends lived here. We actually didn't know a soul in the city. But even that didn't register as abnormal to us. We rarely knew anyone coming onto a new military post. Similar to our previous moves, we came for work. This time, however, we didn't simply roll in, find a convenient place to rent, and carefully unpack our belongings so as not to snag the carpet, not to nail any pictures to the wall that couldn't be easily spackled, not to leave any personal marks on the property.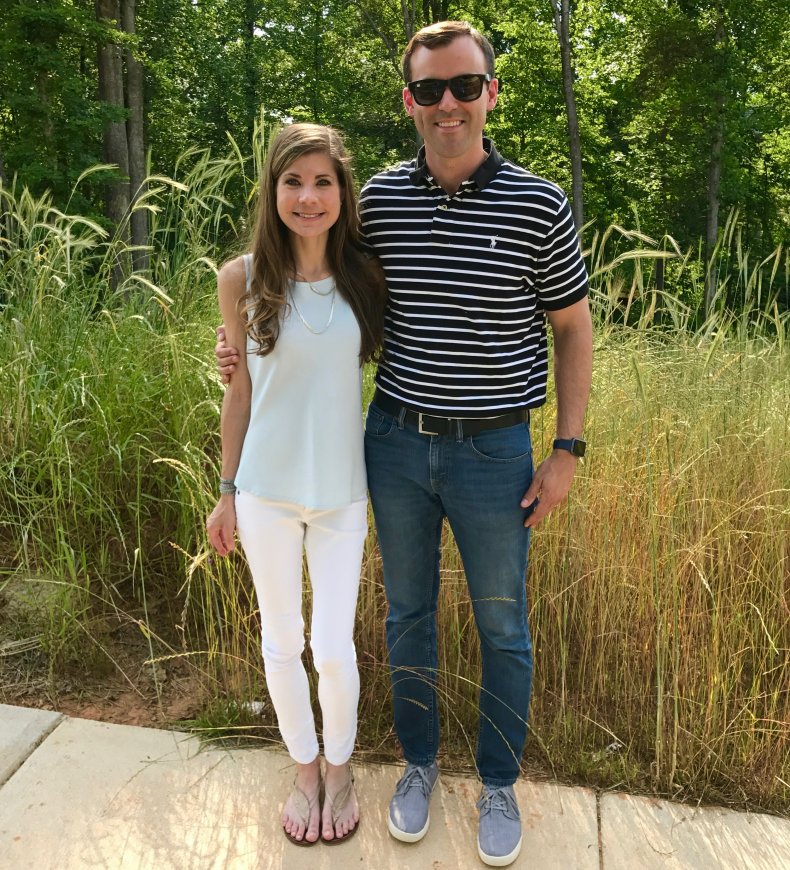 Instead, we bought a plot of land covered in wild wheatgrass and began the process of building a home from the foundations up. Let's be clear, this is completely out of our milieu. Neither my husband nor I had ever built a home or been privy to family members building homes. As children of army people, we mirrored their model of meeting the immediate needs as quickly as possible: shelter, food, and clothing. The rules of survival did not allow the time for choosing the wood stain of your floors or how many electrical outlets you want in a kitchen.
To be honest, the minute we signed the landowner deed, we felt terrified. What we were committing to was so much larger than what was on the paper. We were staking ourselves in a community. My husband and I met and married in Virginia. So, the Southeast had always felt like home. When my husband was offered the job as a Wake Forest Sports Medicine orthopedic, I fully supported a move to a more bucolic setting.
I get to stay here and to some extent, I have to stay. Our house is built. We have a mortgage. We've developed relationships with our neighbors, a church, our independent bookstore, local farmers, bakery owners, dentists, doctors, and dog groomers. A whole village of people that I never got to know in any of my subsequent homes because either they didn't exist on a military installation or I wasn't there long enough to foster friendships. It's a new feeling that fills me with more joy than I thought possible. But just like signing my name to the land deed, it's terrifying. I am now responsible. These are lifelong belongings that I belong to, not one-time use artifacts. They need daily care.
So when a frozen pipe burst last winter and the guest bedroom of our new home flooded, we waved hello to karma and then realized we had to handle it differently than in the past. We couldn't pack and leave the mess for someone else to clean up. Instead, we put down towels and turned off the water supply, we called an emergency plumber willing to mask up and help us. He fixed the pipe but had to knock through a wall to get to it. It was a mess of plaster dust, chipped paint, and exposed insulation. But the pipe got fixed.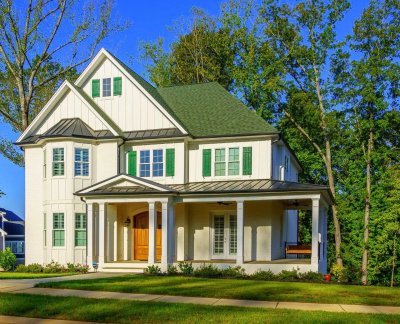 I'll confess, over a year later, the hole is still there. At first, the pandemic kept workers from being available to fix it. Then we adopted a kitten and used that room for her litter box. We didn't want construction dust and fumes hurting her. I stuck a decorative ladder and blanket over the spot to hide it. Over time, we've sort of forgotten the hole is there. Or maybe forgotten isn't the right word. I've taken to vacuuming the cobwebs out routinely, so it's more like we've embraced it for the time. It's part of our home's story: "The hole from when the pipe burst during the pandemic!"
We'll fix it eventually. But it taught us that planting yourself means not rushing. Dashing from place to place, activity to activity, decision to decision is something I realized now we deluded ourselves into believing is the norm. It is not.
Planting roots, on the other hand, gives you permission to make mistakes and learn from them. It frees you to live in the present without worrying about where you've been or where you're going. It enables you to look down at your own feet and not be afraid of leaving footprints on the trail.
Sarah McCoy is an international bestselling author living in North Carolina. Her new novel Mustique Island is available from Amazon and all good book stores from May 10, 2022.
All views expressed in this article are the author's own.
Correction 4/20/22, 2:50 p.m. EDT: A photo caption in this article has been updated to correctly state the location of Sarah McCoy's house.