'I Lost My Baby at 9 Days Old, Mother's Day Is Complicated for Me'
Mother's Day. The mere mention of it elicits a cascade of emotions, ranging from grief to despair and anger. As someone who has been through infertility, pregnancy loss and the death of a young daughter, Mother's Day has become a complex, sometimes nightmarish, day for me.
In May 2017, I was pregnant for the first time, after a year of trying to conceive. My husband and I had seen doctors, endured invasive tests, had sex on a schedule and ultimately taken the path of in vitro fertilisation (IVF).
I was excited at the prospect of Mother's Day, imagining my baby growing and a child in my arms the following year. Then, on the Friday ahead of Mother's Day weekend, I began to bleed. A long, quiet ultrasound ended with the doctor saying, "I'm sorry, you have lost the baby."
We drove home in tears. I blamed myself, thinking of all the things I had done wrong—drinking caffeine, eating certain foods, my stress levels. Mother's Day was agony. I wanted to hide, to turn back time, to be carrying our child; the child I had nicknamed Sweet Pea.
The following year, I was pregnant again following our third round of IVF and all signs indicated a healthy pregnancy. We made it past the first trimester and began to plan for our baby. Then, when I was 21 weeks pregnant, a standard obstetrics appointment ended in a diagnosis of severe preeclampsia and the recommendation of a hospital stay in Chicago where we live, up until my due date.
Sunday 11 May 2018 was spent in a hospital bed, trying to ignore the mounting anxiety and fear. But, I was also hopeful. I had developed an optimistic "laser focus" on carrying my baby for as long as possible. I was willing to die if it meant my daughter would live and I consistently asked doctors to put her life ahead of mine, much to the dismay of my husband and family, and even though the doctors told me they did not believe risking my life any further would lead to her being "saved."
Ultimately, a few weeks later, Colette was born at 24 weeks and five days. She entered the world with a squeak, a sound that was unexpected because her lungs were so tiny. She spent her entire short life in an incubator in the neonatal intensive care unit (NICU). After nine days, those tiny lungs could not fight any longer.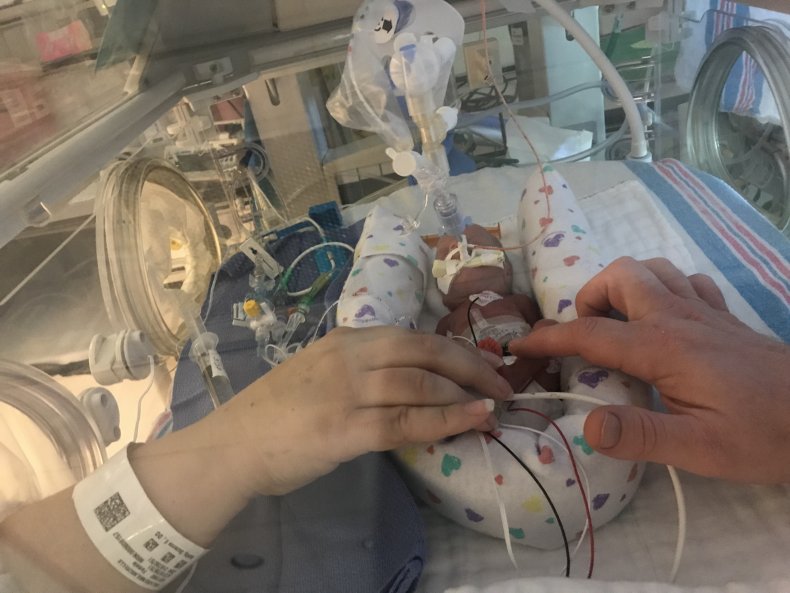 Parents are not supposed to bury their children, so I assumed her death was my fault, that this was some cruel sign from the universe telling me I was not supposed to be a mom.
By 2019, I no longer wished for a wonderful Mother's Day; I simply wanted to get through it. I felt like a mom in every way, but I did not have a living child. We had tried, without success, to conceive again, both naturally and through IVF. Just before the day itself, I confessed to my husband I was terrified to be pregnant. We began discussing the option of a gestational carrier, who would carry and deliver our child.
By May of 2020, our baby, through an amazing gestational carrier, was due two months later. My husband did all that he could to spoil and pamper me on Mother's Day, but I was in mourning. I was grieving not having a child to hold and that I was not carrying our baby myself. I was awash with guilt, fearing that I was the problem. I felt like a fool and a failure and was happy when the day was over.
This year is different. We finally brought a child home in July last year: our son Elliott. Mother's Day 2021 will be the first time I have a child in my arms, but I have spent five years being a mom.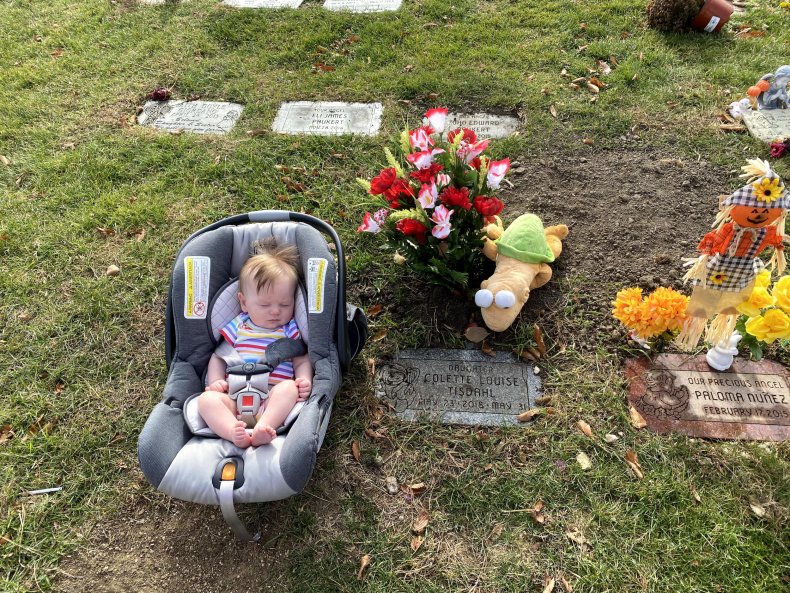 For me, and so many others, holidays like Mother's Day see joy and grief, laughter and tears or gratitude and anger intertwine. So, I will think of all moms and mother figures on Mother's Day, but especially to those moms missing a child—whether because of infertility, pregnancy loss, stillbirth, infant loss, or any other death.
Though I am so grateful for Elliott; my amazing, happy, loving child, I am missing two children; Sweet Pea and Colette. I will visit Colette at the cemetery and think of her and Sweet Pea. I will imagine what they would have been like if they were still here. I will snuggle with Elliott and enjoy the day as much as I can, but a huge part of me will be in some other place, a place in which all of my kids are alive.
My heart will be here, but two big chunks are missing, two pieces that died alongside Sweet Pea and Colette.
Michelle Valiukenas is the proud mom of her angels Sweet Pea and Colette Louise, as well as her only living child, Elliott Miguel. Michelle is the executive director of The Colette Louise Tisdahl Foundation, which financially assists families dealing with high-risk and complicated pregnancies, NICU stays and loss.
All views expressed in this article are the author's own.