'I Love You': Baby's First Words Melt Internet Hearts in Viral Video
A TikTok video has gone viral after a baby who isn't even 2 months old yet supposedly said her first words. The video has been viewed 5.6 million times, and people really seem to love the content.
TikToker @jake_savagee_, or Jake Allen, shared the viral post on January 13, captioned, "She's almost two months and already telling us she loves us." The 14-second clip features a baby lying on the ground on a blanket while two people, the child's parents, are nearby. The words appear on the screen, "Our daughter spoke for the first time, and we got it on camera."
The woman said "I love you" to the baby, and a few seconds later, the baby made some noise before presumably saying the same thing back.
The parents seemed shocked, and they looked up, looking back to the baby with their mouths wide open. Next, the father and TikToker said, "I love you," and the baby made some noises before supposedly saying again, "I love you." The parents seemed genuinely shocked by the experience.
According to WebMD, most babies will say words such as "mama" and also "dadda" by the one-year mark.
About 1.9 million people liked the viral video, while 14,300 people commented on it. One comment garnered 151,000 likes, saying, "Also... No one can deny this... She said it twice!"
One viewer brought up a unique point.
"Thinking about how often she must've heard 'I love you,' to be able to do this makes me happy cry," the person said, with 179,500 people liking the comment.
People seemed to really appreciate the video of the baby's first words.
"Imagine your baby's first words being 'I love you,'" someone wrote.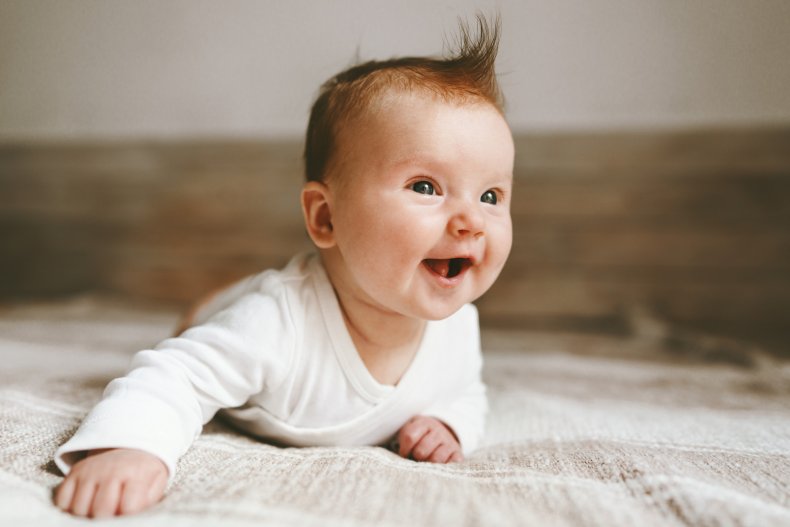 One TikToker made a joke about the situation.
"She has three months to get a job now!" they said.
While another user called the whole thing, "actually fascinating."
Another TikToker thinks the video showed why people should use "actual words" with babies, adding, "They pick up language faster if you speak to them like they understand."
"Yeah, not once but twice, that baby is clearly trying to imitate the sounds her parents are making," someone else wrote about the video.
However, not everyone is convinced the baby spoke real words. "Uhh, she is not saying words," a TikToker said.
Other people had comments like, "Omg this video just made my day," and "This is the only newborn baby 'talking' I've seen where it actually sounds like they are trying to talk."
Newsweek reached out to @jake_savagee_ for comment but didn't hear back in time for publication.