'I Make Food From Used Christmas Trees'
Even as a kid, I used to find it really strange that the tree would come into our home at Christmas and then get thrown away. We planted one on our front lawn and it grew to be huge but afterwards, my dad said we weren't planting any more. It used to really upset my mom because she'd want to plant them each year.
My mom came from a rural village in Ireland where in the 1950s they didn't have much, so she would keep and mend everything and forage from the land. Growing up, I would use the leaves of Silver Birch trees to make chips. You eat them when they come into season, which in the U.K. is March or April, when the leaves are young. I would pick the leaves, fry them in oil and add my own flavours, like chilli, salt or pepper. I also love nettles and now I cook them a lot. I make bread with them and in 2021 my husband and I made nettle and ginger beer.
In 2020, I began to feel guilty that although we were trying to live sustainably, each year we would cut a Christmas tree down and then throw it away. My four-year-old has always asked why we just throw it out and don't do something with it. In America, around 30 million real Christmas trees get bought and thrown away each year and in the U.K. it's around 6 million. I knew you could eat Douglas Firs, so I wondered why we couldn't eat our Christmas tree too?
People said to me that it had been sprayed with chemicals, but a lot of the food we buy from grocery stores is sprayed with different pesticides so it didn't really seem that different to me. I then found out you can eat all but Yew tree needles. If you have one of those, don't eat it: it's poisonous. But you can eat Spruce, Conifer and Fir needles. So, after Christmas 2020 we started trying things with our Christmas tree needles.
We don't use the bark—I haven't got to that bit yet!—I just cut the branches off the tree and pull the needles off by hand. Because the tree has typically been sitting there for a few weeks, the needles won't be attached in the same way as they were when it was first cut down, but you can wear gloves if you want. And I always wash them before using them for cooking.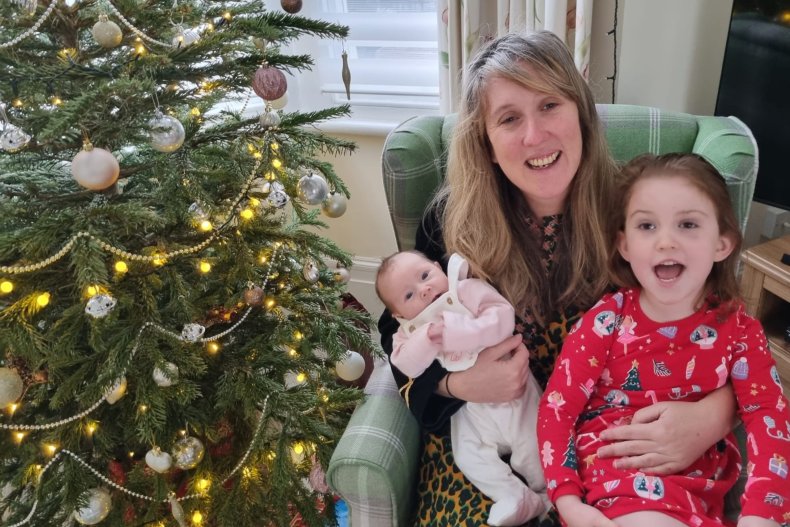 The needles are quite light so you need quite a few or to blend with water and sieve through after. If you don't have a blender you could use a pestle and mortar, but we put them in the blender and added to salt to see how it tasted.
My husband Duncan is really good at trying flavors simply to start with; as salt or butter or infusing with a syrup. The first recipe we tried our Christmas tree needles with was salmon because we thought they had quite a citrusy flavour. Then Duncan made some bread with the needles, followed by a sugar syrup. You make sugar syrup with equal parts sugar to water and then infuse the Christmas tree needles in there for the taste. With that, we tried some cocktails, and because clementines and blood oranges are in season in Europe in January, we also made a lot of marmalade with Christmas tree needles.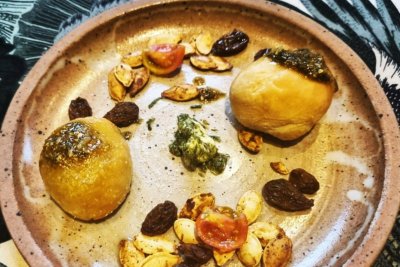 Duncan isn't a trained chef but he's a really great cook. Our company Bangers and Balls does pop up supper clubs in our area, and he's our head chef. Our supper clubs aren't happening in January and February this year because of COVID, but we are going to put a recipe using Christmas tree needles into our dine at home hampers.
We also do something called the "Kitchen Table Revolution"—which is aiming to get people to think differently about food. More people are interested in foraging and seasonal eating but it can feel overwhelming knowing where to start. We teach people one thing a week to preserve so they build up to 52 ingredients in a year and create a Christmas hamper they can even give to friends. We're asking people to keep some of their Christmas tree or borrow some for a friend and we're making salt, pesto and showing them how to cure foods with Christmas tree needles next.
Christmas has always been really important to me, but I lost both my parents to cancer, in 2006 and 2015, and then we lost our daughter in 2021. Some people would hate Christmas, but for me, it's still really special. I have an 8-week-old and a four-year-old and I think once you have your own children you make those memories and connections again and that pure Christmas excitement comes back. When the Christmas tree comes down, traditionally on January 6, everyone can feel a bit sad. But actually, if you're taking it down to make something, you're creating items that can remind you of Christmas throughout the year.
We use our tree needles throughout the festive season but we'll take it down on January 6 and then as a family we will make food from the needles to keep and give to our friends. I love doing it. Every time you make a drink or dish from your Christmas tree food, it feels really special because it reminds you of those festive memories.
Imogen Tinkler is co-founder of Bangers and Balls, a supper club and kitchen revolution movement based in the U.K. You can find out more at bangersandballs.co or follow them on Instagram @bangersandballs.
All views expressed in this article are the author's own.
As told to Jenny Haward.