I met Matt around 30 years ago at a telecommunications company in Dublin, Ireland. We both lived in Stoneybatter; a little suburb close to Dublin's city center and we got to know each other at work. I mostly lost touch with Matt when he left the company in 1993, but he had a house in Cashel in the south west of Ireland and if he happened to be there, and I was travelling back from my father's house in the south west, I'd pick him up and save him travelling back to Dublin on the bus.
I left that company in 2002 and was suffering quite badly from depression, so a friend called Frank suggested I come and do a bit of driving for him to get me out of the house. I started doing fruit and vegetable delivery early in the morning, so when I finished around midday, I would pass by and see Matt. We'd go for a coffee and we became close friends.
I'm also an actor and a singer, so I used to bring Matt to some of the parties and music sessions I went to. Everyone just loved him because he was a character and a great conversationalist. Whenever anything was happening people would ask if Matt was coming. He just became a fixture, we'd be having a party and he'd come and got to know a load of people.
Matt was gay, but he was single throughout the time I've known him. I've had two relationships with women—I was married and then my second relationship was cohabiting—and three children. But Matt being gay was never an issue with me or our friends.
In around 2016, I had lost my apartment and been living in various different rooms around Dublin. The final house I lived in was sold and I struggled to get a room in another house, so I was staying in hotels or sleeping in the back of my car.
Around that time, Matt suggested that I come and stay with him so I had somewhere to live and he had someone to look after him and wouldn't have to go into a care home. His eyes were starting to give him trouble and it took several months before doctors discovered Matt had giant cell arteritis which was affecting his vision and were able to operate on him. He eventually had to have a cataract operation that unfortunately didn't have a positive result.
Matt couldn't pay me to care for him, we're just ordinary people, but he said that as he was around 25 years older than me, he would leave me his two-bedroom cottage as payment.
Although that was a fantastic gesture, I explained that I would have to sell the house immediately because here in Ireland, inheritance tax is 33 percent for a non-relative. The tax would have been about 100,000 Euros. Afterwards, Matt was talking to a friend of his who said that we'd have to get married to avoid the tax. Matt jokingly agreed and then thought about it seriously and asked me if I'd marry him. I said yes.
We looked into it and decided we would keep it quiet just in case—even though I learned that tax avoidance is not criminal, tax evasion is. However, in December of 2017, the month we were planning to marry, Ireland's health service (HSE) was getting knocked a lot and Matt didn't like that. A lot of people were ringing into radio shows and saying that the HSE was terrible. Matt felt that he'd had great service; they'd saved his eyesight. So, Matt called up a radio station and said he wanted to share a positive story about the HSE. He ended up telling the researcher that he was 85 and getting married the following week and then saying on air: "I'm getting married to my best friend and carer Michael to avoid inheritance tax." Our story then went around the world.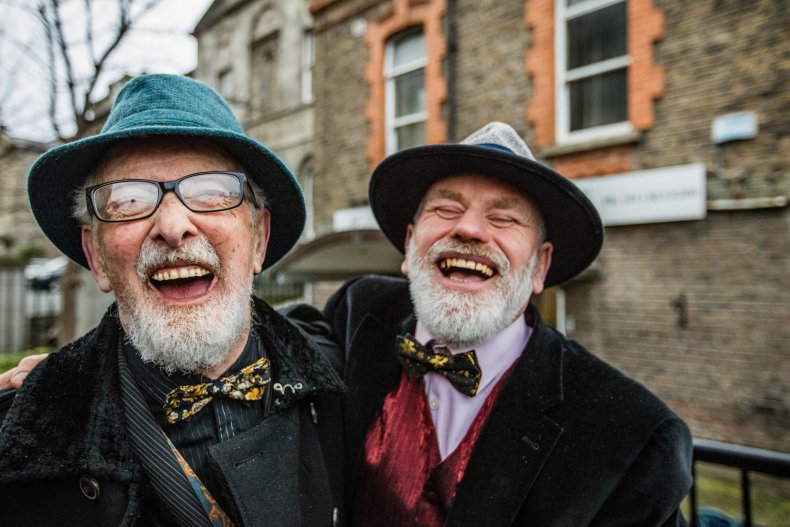 It wasn't a romantic or sexual connection between us, which was different, but we didn't care—Matt loved attention and dealing with people. Our wedding was arranged for December 22, 2017 in a registry office, but unfortunately, in the meantime some friends of mine had rung into the HSE to say that I was robbing Matt. So on December 21, Matt had to be seen by the health service to prove he was of sound mind, which he was.
On Friday, December 22, we met over at the fruit shop where I used to work, which was near to the registry office, and were surrounded by photographers and even a German TV crew. Someone had actually suggested we should document our story and film the wedding and had recommended a filmmaker; Donal Moloney. It turned out Matt had sat for a photo with him five years prior. So Donal was there and filmed us at the registry office, and that's how a documentary about us started.
A friend of mine was my best man and a friend of Matt's was his bridesmaid. At the wedding Matt sang the song Let The Rest Of The World Go By, and in my speech I remember saying that it's not how beautiful, talented or skilled you are that makes a person, it's how you treat other people. Matt treated people with great respect, dignity and empathy.
Married life was no different. I still looked after him, but over the next two years he became more frail and 2019 was tough because he was in hospital three times.
Matt was a hoarder and because his eyesight was bad, in early 2019 he had a fall at the house when I was out and cut his head. He was in hospital for a month and then in a step-down transitional care unit for a further month. I would go into the care unit at 8am every morning, help Matt with his breakfast and then take him out for the day. But in the end his social worker told him: "Matt you have to clear out the house, you can't go home to that." So with some friends I moved all the stuff out of the house and started the work of doing it up, although Matt came home before it was all finished.
Matt could converse brilliantly and always presented himself well when he was with people. He'd get to the door and he'd always say: "I'm going out on stage!" But he was getting more frail, getting infections and was hallucinating quite a lot. In September 2019, Matt got another infection and I had to take him into hospital for two weeks. Then, he had a fall here in the house on December 30, 2019.
At the time, Matt was hallucinating and waking up three or four times each night. In the middle of that night he wanted to go to the toilet, and as I turned to get his stick he fell behind me and hit his head on the wall. An ambulance came and checked him over and a doctor saw him the following Tuesday, but by Wednesday, Matt started feeling more pain where he had landed and had started to hallucinate more. I took him to the emergency room where he was for 48 hours with some sort of infection, then he caught the flu.
From there, Matt's health went downhill and he stopped eating, drinking or taking his tablets. Eventually he was put on a morphine drip and moved to a private palliative care room—beautifully taken care of—until he died at 4.17am on January 14, 2020 with me there with him.
We brought Matt's coffin home and had an Irish wake here in our house in Dublin for two days. We had great support from our neighbours and the local coffee shops, and hundreds of people came in for cups of tea and to see Matt. It was absolutely wonderful.
Matt had wanted his funeral ceremony at a protestant cathedral in Cashel, which was lovely, and the following week I was able to travel back down there for a spiritual wake in a local pub.
I do miss Matt, but I have a shrine to him inside the house with pictures and his ashes. So I see him every day and I have a chat with him in the morning. He's somewhere now having the craic and laughing at us.
At the beginning we couldn't believe that what we were doing was such a worldwide story, but I think we've opened up the doors for others. Marriage is a slightly different concept now. The documentary about Matt and I was finished and aired on Irish television recently, and people loved it.
This past year with the COVID-19 pandemic would have been dreadful for Matt; being stuck in a house, not knowing where he is or how to get anywhere. He wasn't happy before he died. His eyes were bad and his knees were giving him trouble. His dementia was getting worse and he was getting depressed about not being able to move as fast. He always used to say: "Is this my life? Is this how it's going to end?" Wherever he is now, he's having a better time than he would be if he was here.
I did love Matt. We got to know each other so intimately and we weren't afraid to talk about anything with each other. He was a just great character and was never short of conversation. We had a few rows, shouting at each other at times, but we used to say that we were like any other married couple.
Matt would say to me "Michael, what would I do without you?" and every night when we'd go to bed I'd say, "Matt, thanks for everything." I always thank him, even now. I'm not sad, because for me, he's still here.
Michael O'Sullivan is an actor and singer who lives in Stoneybatter, Dublin. His husband, Matt Murphy passed away in January 2020. A documentary about Michael and Matt, Let the Rest of the World Go By, by filmmaker Donal Moloney, aired on Irish television in January, 2020.
All views expressed in this article are the author's own.
As told to Jenny Haward.