Many people ask if I had put off marriage intentionally—or if I never intended to marry, but then perhaps I changed my mind. In truth, I always wanted to be married. I grew up in abject poverty and as a child, I loved reading—Cinderella was my favorite. I loved the idea of the fairy tale couple.
I actually thought I would have been married by thirty, however, thirty came and went and by fifty-eight, I was still unmarried. But, I always believed I was marriage material, and never considered otherwise.
I am a big proponent of vision and vision boards. I write my vision for my life in twenty-year time frames. After the first twenty years past, I had accomplished everything on that particular vision except marriage. I was successful professionally and secure financially; amongst many achievements, I have served as a senator in Bermuda and built a successful business as a strategist. So, I rolled that goal over onto my next twenty-year vision. And two years into the next time frame, in 2017, my proverbial "Prince Charming" appeared.
Over the years, I dated all kinds of wonderful men, but none of them had that "thing" I was looking for. I later discovered that the "thing" I was looking for was affirmation—that my suitor would affirm me as the authentic person I was; that he would be fine with who I was as a leader, entrepreneur, and independently wealthy woman. I wanted and needed my spouse to embrace me for who I was as a thinker and problem-solver. I didn't need confirmation because I had an extra helping of confidence already. I was not a damsel in distress. I was whole, authentic, confident, and all woman—with no "baggage." If anything, I traveled through life with a handbag of hope and the high-heeled shoes of aspiration. I like to say that I used those high heels to break professional glass ceilings!
Russell was actually a colleague of mine. I knew his first wife and their children, but I hadn't seen them in about twenty-five years. Ironically, they lived in my neighborhood, and yet never ran into them – not even once. Even if he had been single, Russell would have been the very last person I would have considered marrying, because I had a rule to never fraternize with colleagues, past or present, no matter how legitimately available they were.
Then in 2016, I heard that his wife had passed away, and reached out to extend my personal condolences. As far as I knew, neither of us had any interest in the other. Then, a few months later, right out of the blue, Russell called to say he'd been thinking about me. I told him later that his call had completely blindsided me. All of that to say, I did agree to a date, and then to another, and another.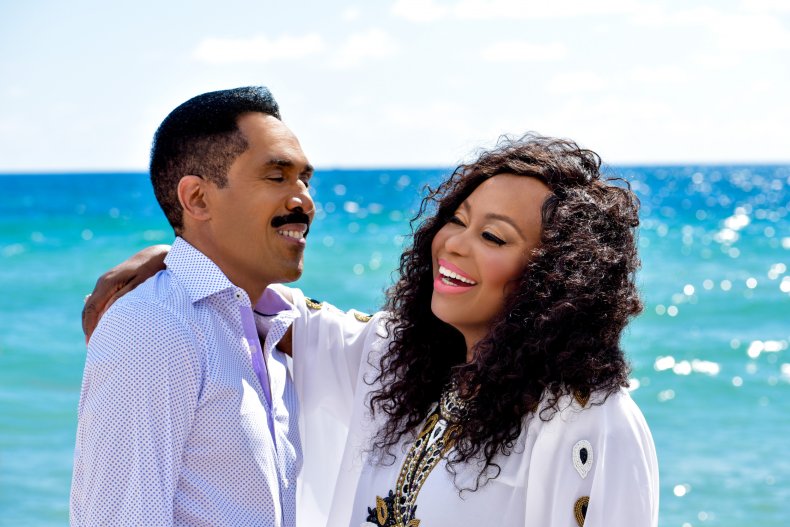 For him the connection was instant. For me it grew over time—albeit a fairly short time. It took me a while to say "I love you" in response to him sharing his love for me. I think it was about three months into our relationship. He was charming, warm, caring, authentic, honest, attentive, and fully confident in who he was. We shared the same values, love for humanity, marriage paradigms, love for adventure, cross-cultural exchange, and family. A few months into our relationship, in 2017, he proposed to me in Bermuda at an event at which I was the keynote speaker. I don't believe there was one dry eye amongst the women. After he took a knee, of course I had to say, "Yes".
Aged 60, I truly had that "Cinderella wedding." In October 2018, Russell and I were married at Hampton Court Palace in England—the beautiful palace built by King Henry VIII in the early 1500s. The day was breathtaking, I wore a traditional white gown bedazzled with Swarovski crystals and a long train. It was designed and made in South Africa, the Swarovski crystals were sewn by hand in the U.S. and the final fitting was done in England by Lin Chan, who has worked for many designers and fashion houses. We had stretch limousines, guests from around the world and opera singers who sang Léo Delibes' "Duo des Fleurs" from the opera Lakme, accompanied by a live chamber orchestra. Our ceremony was followed by a meal in another of the palace's great halls; so, we had our wedding in a venue quite literally fit for kings and queens. Our cake was made by the bakers awarded the "Best Wedding Cake Company" at The UK Wedding Awards 2018, and we used the same florists, Philippa Craddock, who created floral displays for the wedding of the Duke and Duchess of Sussex, Prince Harry and Meghan Markle.
Married life has been wonderful. It feels as if we've been married for twenty years, not just two. Russell is the perfect man for me and I am so glad I waited—I love everything about him. We love similar things such as cross-cultural expeditions and culinary experiences, all forms of artistic expressions— including music, movies, performing and fine arts—and world travel.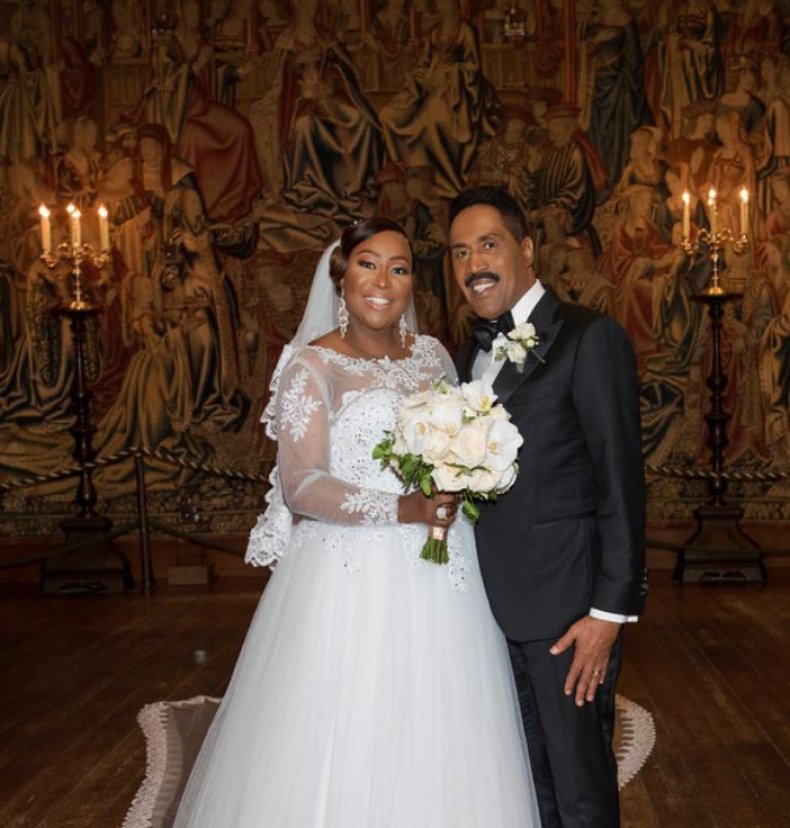 I don't just love being married; I love being married to Russell. I loved dating him, but now that I'm married to him it's like heaven on earth. I think if it gets any better than this, I would have to call earth heaven. My ultimate dream is that our union would be a powerful partnership in advancing humanity—something we have both dedicated our lives to over the years.
My advice for those looking for love is to never, ever settle. Whatever that "thing" is that you need—it may be financial security, companionship, adventure, or like me, someone who had the capacity for who I was and didn't want me to change—never settle until you find that person who has what you are looking for. And don't forget to bring the authentic you to the table! I believe you should always look for someone to compliment you and not for someone to complete you. Date charismatic and charming men—yes. But I would suggest that you not marry for charm, but for character.
I believe marriage is not about two single pieces of material sewn together; it is about thousands of threads of life-experiences from two people woven together as one. So, I waited to find the person with the right threads, the ones that were suitable for our unique marriage tapestry. The result is we are creating a beautiful history together that stems from a love that finds its roots in mutual respect.
As an adult, my life feels like a fairytale that has come true. I am living a version of the Cinderella story that was never written. Because truly, I am living my own "happily ever after" at 60.
Dr. Cindy Trimm trained in strategic leadership at the prestigious Oxford University Saïd Business School and in corporate governance at Harvard. She is a former senator, author, sought-after thought leader, and widely respected business and life strategist. She is the founder and CEO of Trimm International, Trimm Institute of Global Leadership and Trimm Global Charities. You can follow her on Twitter @cindytrimm and on Instagram @cindytrimm.
All views expressed in this piece are the writer's own.