'I Didn't Speak the Same Language As My Husband When We Fell in Love'
I remember when I first met Jeremy. It was November, 1999, and I was having lunch with four of my closest friends in the small Vietnamese village where I lived, Sa Pa. Jeremy joined us across the table with a group of tourists. I didn't even notice him that much at first, and thought he was just another English guy, but within 30 minutes of being in each other's company, I felt this magnetism between us.
We made eye contact and there was an initial attraction. He had these big blue eyes and he was handsome. Just from looking at each other, we knew there was a special connection.
Sa Pa attracts tourists from all over the world, with its striking terraced rice fields and rich valleys. Back then, I was 20 and working as a volunteer at a local school, while Jeremy was 37 and traveling around mountainous regions of Vietnam, taking a break from his job in sales in England.
Jeremy returned to England shortly after we met. Four weeks later, I received a postcard from him, as he had found out my address through a friend. The postcard was written in English, so I couldn't understand it. I had to ask a bilingual local tour guide to translate it for me. In the postcard, Jeremy introduced himself, thanked me and my friends for the lunch and explained how he had enjoyed the atmosphere. He also asked for us to be friends.
So that's how it began. We went back and forth via letters—I wrote back in Vietnamese and Jeremy replied in English, which meant we both needed translators to understand each other. We wrote about our interests, the weather, our families, and when we would meet again. We grew closer and, after two years of continuously exchanging letters, Jeremy came to visit and we traveled across Vietnam together.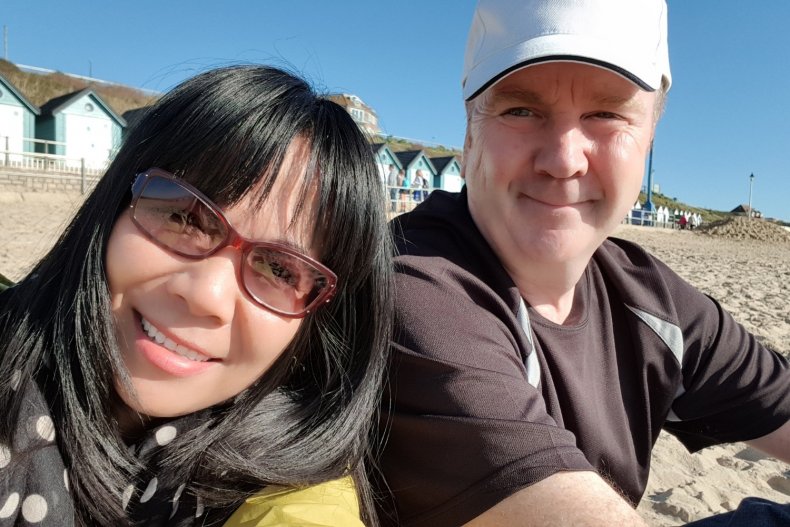 Our relationship quickly blossomed, and I felt butterflies when I was with him. During the two-week trip, I remember being so impressed by his knowledge of the area and sense of direction—he had such an incredible memory. Most importantly, though, despite not speaking the same language, he made me belly laugh constantly with his funny facial expressions and body language. I also found it hilarious when he would accidentally pronounce Vietnamese words wrong, giving them a rude or wrong meaning—like when he accidentally called my grandma "girlfriend."
It was also quite funny that, at the time in Vietnam, a man and a woman couldn't book a shared room if they weren't married, so we had to sneak into each other's rooms at night so we could be together. We became close, as this was the first opportunity for us to spend quality time together. Looking back, it was this trip that made me realize that I loved him.
Then Jeremy returned to his hometown of Aylesbury, England, and we decided to commit to a long-distance relationship. There was no FaceTime in those days. It was extremely difficult, bearing in mind I was from a village with no phone or technology. I had to walk miles to the nearest telephone box and work with the different time zones.
There was even a period of time when we both mistook the time difference, due to the complications of UK daylight savings, and missed each other's call by an hour. When that happened, we both felt like the other person was no longer interested, which was really hard. I kept wondering what he was doing and if he was thinking about me.
There were a lot of barriers to our relationship, including language and culture. Our relationship required plenty of patience on both ends but, in person, it was a lot easier as we had this natural connection that transcended words.
I realized it was more than just a whirlwind romance when Jeremy showed me how much he truly cared and was there for me when I needed him most. When my dad passed away, Jeremy was distraught and flew out to visit me as soon as he could. That's when I knew he was the man for me, and we committed to making it work.
After four years of long distance, I decided to take the plunge and move to England in 2004, as I didn't want us to be apart any longer. While I knew that I was in love with Jeremy, I needed to visit England to test out the culture and weather before I could decide to be his wife and settle properly. Jeremy was cheeky as he invited me over in the summer, when the weather was milder, so I didn't realize quite how much it rained!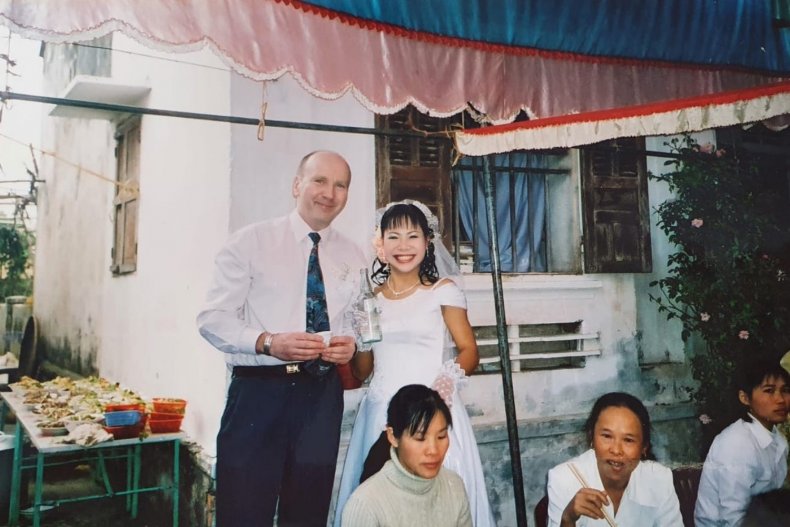 While we are based in England now, we got married in a small village in Vietnam, which was really special to me.
As newlyweds, we started our life together in England. Transitioning was hard as I spoke limited English at this point—just bits and pieces I'd picked up in Vietnam. Determined to learn more, I took language classes and immersed myself in the culture by watching British soap operas and listening to radio shows. It took me seven months to learn to speak and communicate, but two or three years before I was properly fluent.
Before I became fluent, I understood a lot of things going on around me, but I didn't have the language to express myself. I had an awful experience when I was working as a hairdresser, where my manager belittled and humiliated me due to the language barrier. I couldn't take the disrespect any longer, so I quit.
I decided to help support Jeremy with his already fledgling online businesses. I then went on to start my own, designing and making solid silver Vietnamese jewelry for customers all over Europe.
We are now more than just husband and wife; we are friends, parents, and business partners. We have been happily married for 18 years and have two beautiful children. We've come so far from when we first met, when we could only speak a few words to each other. Now, we can discuss anything from politics to finance and business. I look forward to continuing to enjoy each other's company for as long as possible.
Hai Ngan Knight is the founder of Amazon storefront, TreasureBay, selling high-quality, affordable jewelry that is handmade in Vietnam through Fulfilment by Amazon.
All views expressed in this article are the author's own.