'I Need Those at My School': Video Shows Free COVID Test Vending Machine on College Campus
A video has gone viral after a student at the University of California Los Angeles shared footage of one of the free COVID test vending machines available on campus.
In the video viewed 1.8M times, TikToker @meili_zzz, whose name is Meili Zhang, showed all the steps it takes to get a test from the vending machine: swipe a card, type in the selection and collect the "spit tests" to take and then deposit at a drop-off site.
In October, UCLA Health reported that there were a dozen vending machines around campus available to students. The self-administered tests use technology "pioneered at UCLA Health."
The technology is called SwabSeq and is quicker and less expensive than polymerase chain reaction (PCR) tests—but just as accurate, UCLA Health said.
On the school's student health website, it is explained that anyone with an "active Bruin card"—the university's student ID—is able to receive two tests per week free of charge.
The cards will automatically be filled with $2 each week to pay for the price of two $1 tests.
The page emphasized that the tests are not intended for people who are experiencing symptoms and those who are should contact the COVID call center.
Melissa Abraham, director of media relations at UCLA told Newsweek there are currently 13 vending machines available around the campus, most of which are accessible 24 hours a day. She said the turnaround time for results can be anywhere from 24-48 hours.
UCLA is not the only campus to introduce COVID tests through a machine otherwise thought of as a one-stop-shop for snacks.
Earlier this week, the Miami Herald reported that along with UCLA, the University of California San Diego, the University of Ohio and Case Western University in Ohio have set up COVID test vending machines on their campuses as well.
"The vending machines are so helpful in my opinion," Zhang told Newsweek in an email. "It's convenient, quick, and easy—we just scan our student ID to receive a test, then drop it off in a bin right next to the vending machine. Our results are texted/emailed to us within 48 hours. The vending machines allow us to take the tests at our own time and not have to schedule an appointment."
She said even since the surge of cases around the country due to the Omicron variant, she has not noticed any delay in the turnaround of results.
Upon returning to campus from winter break, Zhang said students were required to show a negative test and now must test for the virus once a week.
In a follow-up video, Zhang said that what commenters pointed out in the original video was "very valid."
"We are definitely lucky to have these especially with the current testing shortage," she said.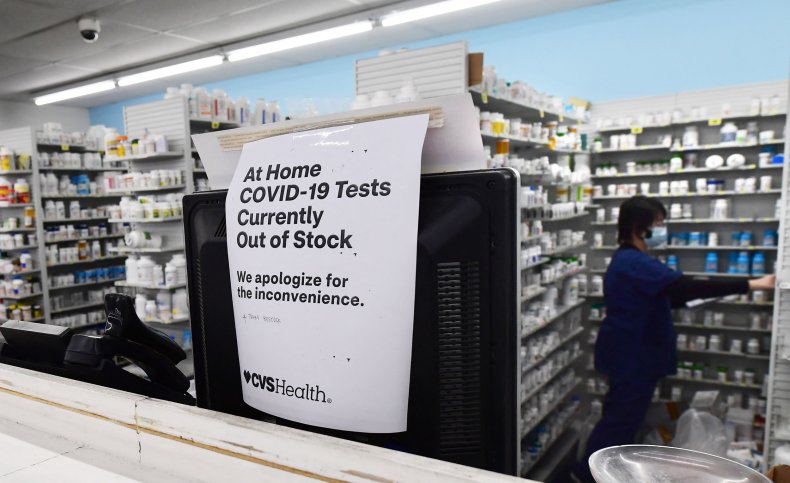 "I need those at my school I can't find a COVID test anywhere," one commenter wrote on the initial video.
"Me having all the COVID symptoms but can't find a single test at any store," another added.
As of January 18, every home in the U.S. is eligible to order free at-home COVID-19 test kits from the government through the United States Postal Service, TODAY reported. Each household is able to order up to four tests.
Some commenters also noted the mints included in each test kit and questioned their use. Zhang initially responded to one comment saying the mints were meant to help people "salivate" before using the test. In her follow up video, though, she shared she is not completely sure of their use but has heard a few explanations.
"A lot people are saying they are a treat for after you finish the test," she said. "Some people were saying don't eat them before the test, and then some people were saying that the mint were a test themselves to see if we lost our taste."
Newsweek reached out to UCLA for comment.
Correction 01/18/2022, 9:05 p.m. ET: A previous version of this article misspelled Meili Zhang's last name in first reference. It has been corrected.
Correction 01/18/2022, 6:34 p.m. ET: This article was corrected to reflect the updated turnaround time for test results.
Updated 01/18/2022, 6:04 p.m. ET: This story has been updated with a comment from Melissa Abraham, director of media relations at UCLA.