'I'm a Pastor Who Runs a Pole Dancing School'
I was ordained in 2004 and I served as a pastor in a church within that denomination for four years. Then, a family crisis led to my husband and me moving from Wisconsin to Colorado, where our adult children lived.
I was then in-between churches and in an interesting, risk-taking place in my life. I wanted to try something outside-the-box, and, maybe because it was considered risque and unexpected, pole dancing appealed to me. It felt a little bit naughty. I was paralyzed for a whole summer when I was 14 with Guillain-Barre Syndrome. So, to have recovered to a point where I was even able to try pole dancing was beyond anything I could have imagined.
I was 49 when I took my first pole dancing class in 2008, and I was very timid and intimidated. Some of my fellow students were 21 and I certainly didn't do as well as they did. In fact, I was the worst in the class. But when I tried my first spin—where you're holding onto the pole and spinning around—I spontaneously burst into this big grin. I hadn't expected to have that much fun; it was a high, almost.
It was that feeling that kept me going. After my first eight sessions, everyone else in the class passed on to the next level. The teachers took me to one side and told me they thought I should repeat level one. They felt so bad that I had flunked. I then signed up for some private lessons so I could catch up and I installed a pole in my home.
About two years after I started pole dancing, my husband and I had moved into a new house and installed a pole, and I started teaching my adult daughters, who loved it. They began telling their friends, and people started wanting to come for lessons. I loved doing it. I guess it's my pastor's heart. If people want to succeed, I want to help them.
Soon after, I realized that I needed more than one pole for teaching, and I eventually stumbled across a location that was big enough for five poles. I opened Pole Revolution in 2011 and it really took off. My husband has been totally supportive all along, because I'm doing something that brings me joy and makes me healthier.
At that point I wasn't pastoring, and when I interviewed for a pastor position in a church in Colorado, I don't think I told them right away that I pole danced. I was quite secretive because I had a hunch that they might not approve, even though pole dancing is now officially a sport, and it is under review to be included in the Olympics.
I had magnets on the side of my car from my pole dancing studio, and when I got the position at that church, I was always careful to take them off before I pulled into the little town where the church was located. One day, I forgot. Someone came into the office at the church and told me that I should take the magnets off my car, because they didn't want anybody to see what else their pastor did. They immediately associated my pole dancing with exotic dancing. I'm pretty certain they knew that's not what I was doing.
There were some people in the congregation at that church who were fine with my pole dancing and understood. If I showed them videos of my craft they were just impressed. With others, there was no changing their minds. I do understand: we have our own opinions about holiness and what is acceptable to God. But it remained tense. That wasn't the reason I had to move on, but it showed me the position wasn't a good fit.
A few years later, I interviewed for a pastor role at another church in Colorado and this time I told the search committee right up front who I was, and that my pole dancing was a non-negotiable. They took me on, but as often happens with mainline denominations, the group that is tasked with recruiting a pastor was more progressive than the congregation as a whole.
The congregation voted me in, and I accepted the position, but many of the people who had voted against me weren't okay with my pole dancing. Those tended to be the loudest voices. I was at the second church for almost two years and I was questioning, perhaps because of the friction, whether I was really called into the ministry. In that state, I didn't really feel like I could serve the congregation well.
I found that I was having a more spiritually uplifting experience teaching pole classes than when I was leading Sunday morning worship. There is an indescribable feeling that comes when you're teaching a group of students, they are working on a move they've been struggling with, and you give them a bit of advice that helps them nail it. Students will often almost cry because they are so happy.
I acknowledge and embrace that pole dancing can be sensual and suggestive as a performance art, and I do take a nod to that part of it in some of the routines I have written. I like to write a routine to a whole song and then teach it to my class. To have all of us moving at the same time, with the same moves, creates an amazing energy.
Routines in lower level classes tend to have us moving in more sensual ways, because that's what many students like to learn. They come for the same reason that I first did. They want to do something a little risque, and then they find out that there is so much more to pole dancing.
I have also had students who were abused in some way and they can receive healing by embracing that sensual part of themselves again. It is not uncommon to have women break down in tears during class because it's so cathartic. Part of pole dancing is embracing your sexuality, but I believe it also embraces and heals many other aspects of our humanity.
I think a lot of people project sexuality onto it from the outside. The history of pole dancing is connected to Mallakhamb, a gymnastic art that originates in India, and Chinese pole, as well as circus performance. It's only more recently that it has become associated with exotic dancing.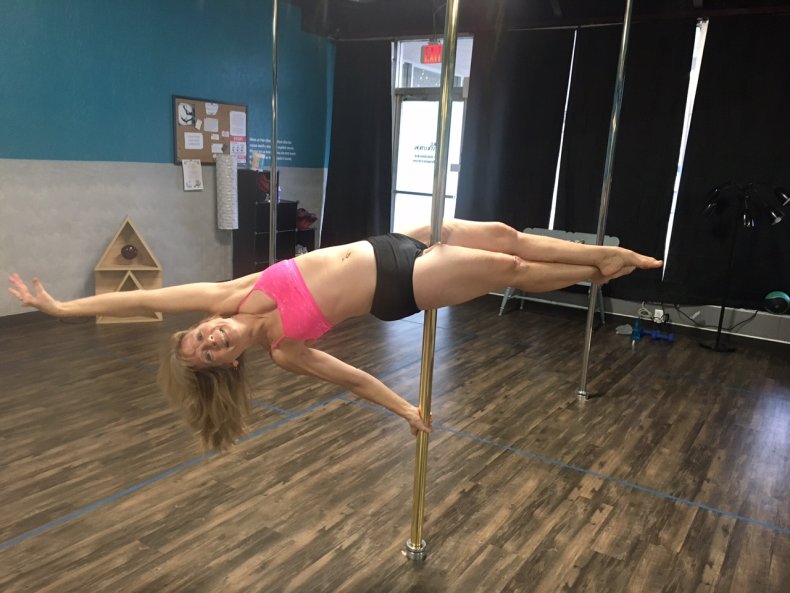 During those years, I had also discovered the Metropolitan Community Churches (MCC). It is a progressive church founded on inclusivity and openly welcomes the LGBTQ population. I found that I kept going back to an MCC congregation in Colorado Springs to heal, between my other painful experiences, so I thought I should just make it official. I started the process of seeking ordination in that denomination as well, and last year I became an assistant pastor of that same congregation.
I have been very open there about how I stay in shape, and the congregation loves it. Sexuality is a topic that is acknowledged as a healthy part of life in this denomination. No one here is embarrassed by the perceived sensuality of what I do. The majority of the congregation is probably between the ages of 30 and 60; some are retirement age, and others are the age that could be my children. I think perhaps pole dancing gives me some credibility and accessibility with younger members of the congregation.
I actually opened a new pole dancing studio, South Springs Pole, two months before the pandemic hit. I didn't have much time to get started, but once everything opens up more here, I'm going to start talking about it more at church and offering some free introductory lessons.
I think teaching pole dancing has made me more open-minded. I have had young women approach me for an introductory pole dancing class because they are going to audition at a nightclub. I know it's controversial to some, but I have agreed to teach them because they want to make a living. Some have small children at home and need a way to support their families. In Colorado, as in many places, there are laws against the clients touching the dancers inappropriately, so there is some legal protection there. I usually see these students once and never hear how things turned out. But I try to give them a few things that they can do for their audition so it doesn't look like it's their first time on a pole. Conversely, I have also met a few women who have left that profession and have come and taken lessons because they miss being on the pole.
Pole dancing is empowering for women, and for the men who do it. Every day, I am able to help people realize they can do more than they thought they could. When they come in, they often say they're nervous or not in shape. I tell them that they're going to do more than they thought they could. And they do; they surprise themselves.
It's been a journey. Perhaps it began with me wanting to push the boundaries, but it ended up revolutionizing other parts of me. And, I'm 62 and I'm in amazing shape.
My only regret is not being totally upfront with that first church in Colorado. I wish I had told them what I told the second church: This is the package. If you can't affirm that, then we're not a good fit. Because this is me. This is who I am.
Diane Martin is assistant pastor at the Metropolitan Community Church in Colorado Springs. She also runs South Springs Pole.
All views expressed in this article are the author's own.
As told to Jenny Haward.