'I Own an Underground Hobbit Home, a Tree House and a Giant Potato Hotel'
When I was 28, I built my first tiny house. It was in the early 2000s at the beginning of the tiny home movement. Mine was not fancy at all, it was just a shed I built for around $3,000.
At the time, I was doing different experiments for a year each. I had gone vegetarian and cut out sugar and I don't drink, so I decided to try minimalism. I was making $13 an hour working in a factory and my mom and I worked away building it on the weekends out of used materials. When I was growing up, I would spend a lot of time with my mom fixing up our homes and working on low income housing that my uncle owned, and that's really where I learned renovation and building basics.
A couple who owned a tree farm rented me an RV plot and when I moved into my tiny house, I immediately loved the forced simplicity. A couple of weeks in, I decided I was going to look for land to buy. That was my first experience of trying to find affordable land on a very modest income. I bought a number of tiny little parcels of land in Idaho that together made about half an acre and cost me $5,000. There's a railroad track close by but nothing else out there. When I took my tiny house out there a year later, I decided to make it off grid because there were no utilities locally. That was the only time I've questioned myself, because it was really difficult to figure out water and solar power.
Building a Hawaiian tree house
Throughout that project, I had also really wanted to build a treehouse and in my mind I envisioned it being in the jungle. So naturally, I decided on Hawaii, never having been there! I found a guy selling a lot of land for $8,000 on Craigslist, and because I did not have that money at the time, he allowed me to pay in installments.
Just after I bought my property in Hawaii in 2013 a listing came up to travel the country with the Idaho Potato Commission and a 6,000lb giant fake potato. I love Idaho so much, so I applied and got that job, which was an incredible experience because I got to go all over the U.S. One day we'd be at a tractor parade in a town of 400 and then next day we'd be in Times Square, New York. The potato itself was hollow, it had a door with stairs that went down into it, so we kept our luggage, bikes and promotional materials inside. Once I had seen that you could open up the potato, I wanted it in my backyard next to my tiny house someday.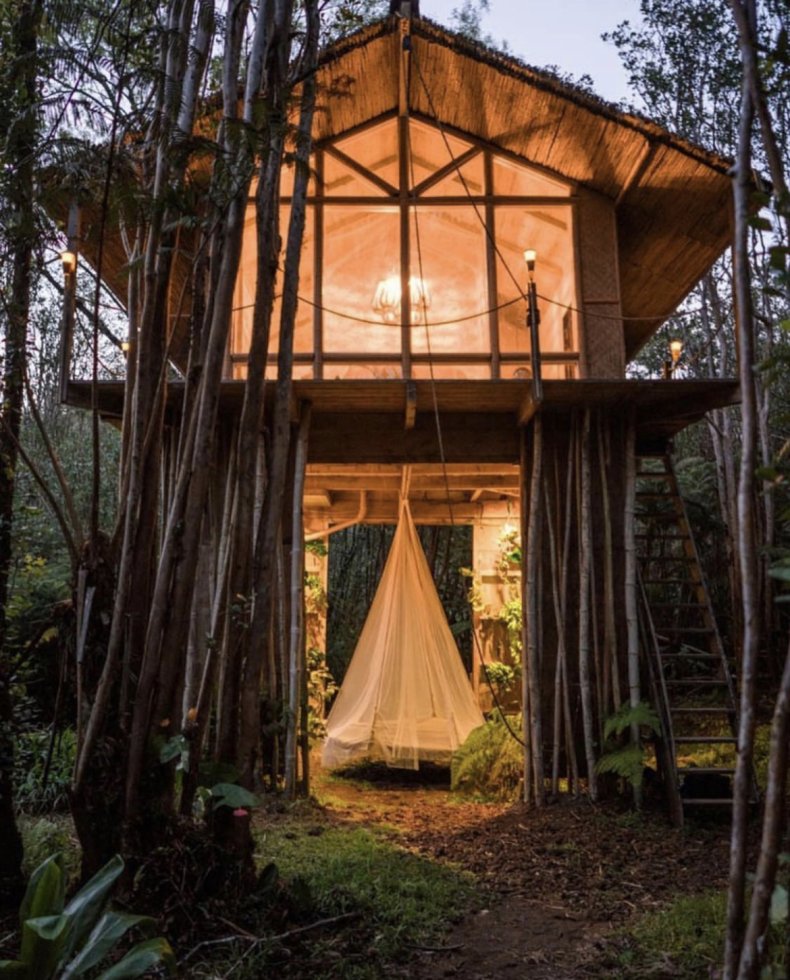 In between tours with the giant potato, I began working on my treehouse. The land is in the rainforest about five miles away from Volcanoes National Park, and building the property took me three months in total, with some help from my mom and dad. My places are all small so the tree house is approximately 230 square feet and it's a square open space with windows on the front, a bedroom, a kitchenette and an indoor/outdoor bathroom space. It also has a hanging bed down below, which wasn't initially the plan. I ended up having to build the home on stilts which created a space beneath, but now the hanging bed is what people recognize it for.
An underground hobbit hole and a retired fire lookout
When we were building the tree house my mom kept grumbling about being up on ladders, so I told her that my next property project would be inside a hill. As a result, after the treehouse, came the hobbit home.
I want people to be completely transported when they visit my properties, so I wanted to find the perfect rolling hills for the hobbit hole. Eventually, I bought a 5.5 acre plot of land for $18,000 in Chelan, Washington, near a really large, blue lake. I had an excavator dig out the ground and then we framed the house inside the hill and he buried it.
Because I didn't want a road leading up to the hobbit hole, guests park at the bottom of the hill and walk up. That meant that everything had to go up the mountain by hand, including a bathtub that weighs hundreds of pounds. I don't regret it though, I think it looks wonderful.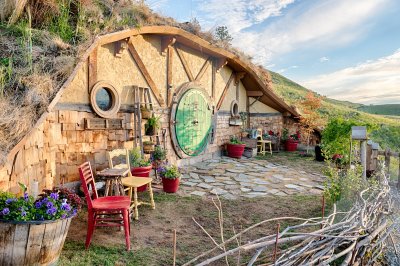 For each property I build, I'm typically on the land alone for a few months so I'll spend time reading books around its theme. I did read the first The Lord of The Rings book, but I'm not a fantasy person at all, so the internet became my savior. I would go onto Reddit and ask questions about whether certain items, like clocks, would be in a hobbit hole.
My hobbit hole has a round door and is burrowed into the hill, but I decided to imagine the hobbit who lives there is a woodworker. The property features a little whittling desk where guests can actually whittle blocks. There's also a wooden floor and a wooden bathtub.
I shot a pilot about making the hobbit hole for a TV network and they gave me some money for the film crew and build, but I bought the property and have actually bought 40 more acres in the area. I am planning to build three more hobbit holes, spending $50,000 on the actual home and then another $50,000 on each towards building a road, septic, power and water.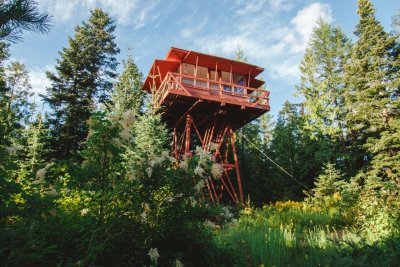 Both the treehouse and the hobbit hole really took off as vacation rentals, so in 2016, I bought a retired fire lookout in the Idaho Panhandle and renovated that. It's a 25ft tower that was built in 1954 and has shutters that open up all around and an open plan box design inside. There is a bedroom and kitchen in one space and then a separate observation area and fireplace. My mom, brother and I also built a big deck outside and moved a crumbling little woodshed onto it, which we transformed into a wood sauna with a fire pit outside. We even have a vintage snowcat that takes people there in the winter.
Turning a potato into a hotel
Throughout this time, I had maintained a relationship with the Idaho Potato Commission and had told them that I wanted the potato when it retired. Eventually, they had to upgrade to a smaller fibreglass potato, so they gifted me the old concrete one and even transported it to my property. It's now a roadside attraction and a hotel. I also have a jersey cow who lives there and she's as popular as the potato!
The giant potato hotel is one room with a sitting area and kitchenette, with a separate bathroom in a grain silo about 50 feet away. The outside still looks like a potato but the inside is really bright. I didn't add any windows because I didn't want to give away that it's not a potato, but everything is white and there is a ton of lighting in there, you don't feel claustrophobic at all. And, everyone describes the bathroom as a spa because it has a really huge trough tub with plants; it's really beautiful.
I would say I spent about $30,000 on the renovation of the potato and installation of power and other infrastructure and when I opened it in 2019, it went crazy viral. The best comment I read said: "The moral of the story is: you might look like a potato on the outside, but you're beautiful on the inside."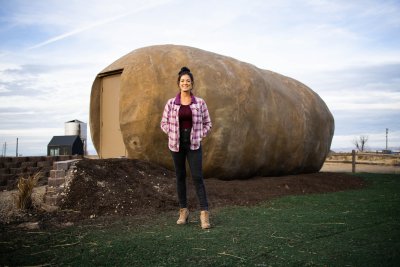 When I renovated the potato I knew it was my dream but I didn't know if it would be as successful as my other three properties. Yet the first week we launched it, bookings went crazy. It's a real mix of guests; there have been agriculture professors who have stayed and lots of young people under 25. I recently had a guest who had just turned 26 and wanted to rent it for her potato themed birthday party. The hobbit hole gets a lot of The Lord of The Rings or The Hobbit fans and the fire lookout tends to be outdoorsy couples. Although I haven't reopened the Hawaii tree house since the pandemic, the guests there were all honeymooners, which really worked with the aesthetic.
This year, I have been working on a house shaped like a ship on a mountain lake in Salmon, Idaho. It was a property someone else built shaped like a ship, but it was nicknamed the shipwreck house because it looks like a ship that's been hit by a cannonball. I also have a prefab building that looks a little like a wooden Airstream coming from Estonia in January. That will be located lakeside in Oregon and will be a "boat access only" property. For that property, I have also bought a little four person sauna that will go on the dock nearby as a floating sauna.
Because of COVID, I overcompensated in 2021 and worked the whole way through. I put about 60,000 miles on my truck each year driving to my properties. It is tough and I am struggling with being a bit of a workaholic because I love it so much. Luckily, I have amazing local caretakers at each location, they do so much, because it's not just the turnovers, we have so many special details in each place.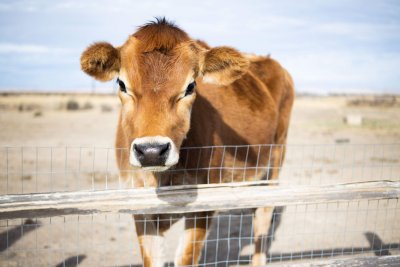 I think that with all four properties in operation, my yearly gross is about $380,000. During COVID when one area got really strict another was opening up and my places are also really rural, so locals rented them out. After the first few weeks of crazy cancellations, I didn't really feel the financial impact that I thought I would.
I've funded everything myself apart from the contribution from the TV company. No bank is going to give you a loan for a potato! But this past year, I have joined up with two different financial partners for future projects and so far it's going really well.
I still live in a tiny house, though it's not the original one. I built another one from a tiny house plan on the same land as the potato and the cow. I love that cow so much!
I like the unusual. I could see myself in a very old house or one with a lot of character, but I've never been able to make myself rent a normal suburban home. It feels soul crushing to me. When I first moved to Boise I was looking at properties with my brother and I could feel tears welling up in my eyes, I just couldn't live like that; I would rather live in a van. So, I think I will always live in something unique or historical, but I suspect I'll be here on the outskirts of Boise for a very long time.
Kristie Wolf is a property entrepreneur living in Idaho. You can follow her on Instagram @kristiemaewolfe and find out more about her and her properties at kristiewolfe.com.
All views expressed in this article are the author's own.
As told to Jenny Haward.