I Prosecuted Police Killings. Defund the Police—But Be Strategic | Opinion
The nationwide protests against racism and police brutality have opened up space for transformative policy discussions that would have seemed unimaginable even a few weeks ago.
Into that space has surged a unifying call from the Black Lives Matter movement: "Defund the police." Born of decades of oppression and racial violence, this call speaks to the urgency of reform for African Americans and other people of color who continue to experience harsh and overly punitive policing that drives mass incarceration. Exactly what that motto means in practice, though, is a critical question.
Among activists and local governments, the meaning of "defund the police" ranges from reining in municipal police budgets to complete police abolition. For example, a majority of the Minneapolis City Council pledged to "dismantle" their police force.
As a former prosecutor in the Department of Justice office who investigated law enforcement killings of civilians and police brutality, and now as the head of the Lawyers' Committee for Civil Rights Under Law, I know that we must find solutions that enhance public safety and advance the cause of justice. I advocate for defunding policing operations that have made African Americans more vulnerable to police violence and contributed to mass incarceration, while investing more in programs and policies that address critical community needs.
Throughout the years, some proposed policing reforms have failed to have meaningful impact or staying power due to lack of political will and the corrosive influence of some police unions. Police departments today have too much contact with communities on issues they were never equipped to address. We can fix this.
We must invest less in police and more in social workers. Take the tragedy of Atatiana Jefferson in Fort Worth, Texas. A neighbor called the police after noting that her front door was open late at night. Jefferson ended up dead after a cop shot her through her back window. Had a social worker been dispatched for this welfare check, Jefferson would still be alive today.
We must invest less in police and more in social supports in our schools. More than 14 million students attend schools with police but no counselor, nurse, psychologist or social worker, according to the American Civil Liberties Union. But we have armed security at more than 40 percent of America's schools. Police presence inside schools does little to help our children, but serves as an on-ramp to the school-to-prison pipeline.
We must invest less in police and more in mental health aid. People with untreated serious mental health issues are 16 times more likely to die in encounters with police and make up as many as half of people killed by police, despite representing only 2 percent of the population, according to the Treatment Advocacy Center. Expecting police to be the first responders on the scene of every mental health crisis can prove disastrous.
To be sure, there are some parts of police budgets that should be eliminated immediately, like the federal "1033 program," which has transferred more than $7.4 billion in Defense Department hand-me-downs to 8,000 law enforcement agencies nationwide since 1997. Many of the tanks, riot gear and tactical vehicles that have escalated tension at the antiracism protests were provided via the 1033 program. There is no place for weapons of war on America's streets.
These examples demonstrate that we can be smart and strategic about how and where we look to "defund the police."
One of the most instructive places to look for guidance may be the 1994 crime bill, the morally misguided law that super-charged our mass incarceration and police violence crises. That bill used the federal government's power of the purse to incentivize communities to build prisons, surge police hiring and enforce mandatory minimum sentences. As the Brennan Center for Justice notes, the bill included more than $12 billion in grants to fund incarceration—with "nearly half of that money earmarked for states that adopted tough 'truth-in-sentencing' laws" that kept people in prison for inhumanely long sentences.
The perverse incentives worked. During the height of the prison-building boom in the mid-1990s, a new prison opened every 15 days.
What if we were able to use that same incentive strategy for good?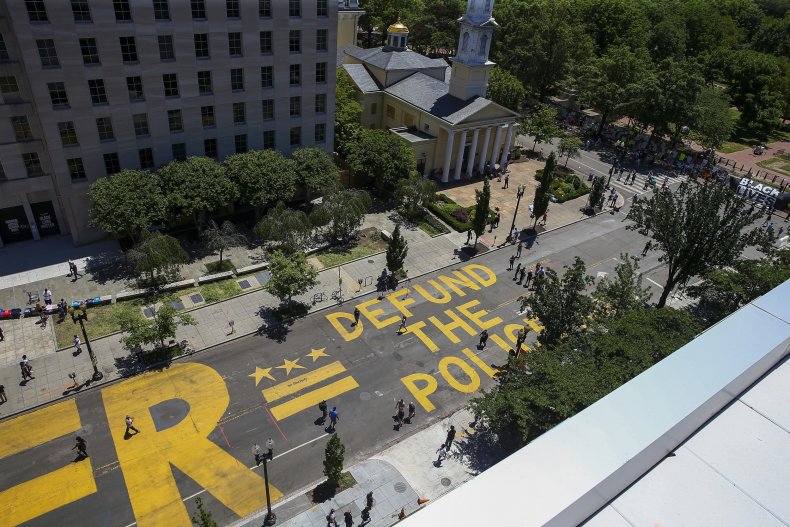 The federal government could, for instance, refuse to provide funding to departments with a long and ongoing history of violence or racial disparities in enforcement. They could require strict accreditation and training for officers. They could set diversity and inclusion benchmarks. And they could ban any federal money from being used to put cops in schools or to put people with mental illness in jails.
Now is the time to reimagine what true public safety can look like. And the Justice in Policing Act unveiled in Congress this week is a good start.
The mass protests underscore the urgency surrounding the need to truly reform policing in our country in ways that can produce racially just outcomes for communities. Funding and defunding aspects of policing must be a part of the discussion about how we institute smart reforms. One of the best ways that we can honor the legacy of George Floyd is by putting in place reforms that reduce the footprint of police officers in communities.
Kristen Clarke is president and executive director of the Lawyers' Committee for Civil Rights Under Law. Her Twitter handle is @KristenClarkeJD.
The views expressed in this article are the author's own.