'I Remarried My Husband 55 Years After We Divorced'
In 1956, Dennis had just moved from Oregon to San Fernando Valley and joined my junior high school. We were both 13 and in the same homeroom each morning; he had a different accent which I thought was kind of cute. At the time, the school would show a movie for fifteen minutes each lunchtime and students could watch for a nickel each. Dennis and I would watch fifteen minutes of Oklahoma! each day and hold hands.
We were too young to date properly—we didn't have a car or any money—but Dennis would bike up to my house, which was several miles away from his own, and we'd go up to the mountain behind my house. There was an oak tree there and Dennis carved our initials on it in a heart. We just grew together as teenagers.
As we got a little older the relationship became more serious, and we married at the age of 18, in 1961. People have wonderfully big, beautiful weddings now, but in those days weddings were typically in a church and then there would be a small gathering for cake afterwards.
I got pregnant on our honeymoon to San Diego and we had our two sons quickly, they were born 17 months apart. Curtis arrived in 1962 and Keith in 1963. Dennis was working full time and studying and I was being a mother and a housewife, so he would come home from work and I'd want to talk but he'd be tired. He'd eat something and go to bed; that was the routine.
I guess I needed more conversation, so over time we drifted apart and after four years of marriage we divorced in 1965. We didn't see each other very much in the subsequent years because Dennis joined the military in 1967. He wasn't able to take Curtis and Keith on the weekends very often as they were growing up because he was stationed in different states and then went to serve in the Vietnam War.
After he left the military in 1969, Dennis remarried twice. He was with his second wife for 31 years until she died and then with his third wife for 17 years before she also died in 2017. Meanwhile, I had married an English man and had four children with him. So together I had six kids and after my second husband John Jubilee Emerson died on July 17, 1982, I raised all six children as a single mom; my youngest was just four years old.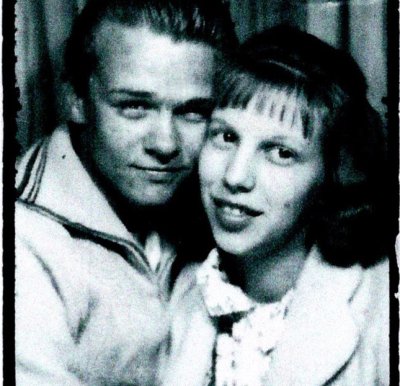 Tragically, both of my sons with Dennis died when they were quite young. Keith, our youngest son, contracted acquired immunodeficiency syndrome (AIDS) in the '80s and died by suicide in 1989. At that time there was little hope for AIDS patients and he was quite sick. His last words to me were, "whatever happens Mom, I want you to know I really love you." It was his last gift to me. He did not want me to feel guilty. When I think of that I feel a deep sadness, but I am also grateful for those words. Our other son Curtis was injured during his time in the military and though he had multiple operations and medical treatment, in 2001 he died at the age of 38. The week before Curtis died I took him out for a pancake breakfast; he was barely able to open his mouth from all the operations. I remember asking him how he felt about the military and his reply: "Even knowing what I've gone through with all these operations I'd do it again." He loved his country and the military.
So, the only times Dennis and I really saw each other during the next 54 years were at our son's funerals and slightly later on when our granddaughter got married.
Then, in November 2019, I was in hospital after a fall and Dennis sent me flowers. I recall saying to my daughter that I felt a little weird about it. But she just said: "Mom, he's not asking you to marry him, he's just sending you flowers!" My daughter lives in Las Vegas and I came to find out that Dennis only lived a mile away from her. They were friends on Facebook and they had stayed in touch, which is how he knew about my fall.
I then visited my daughter in Las Vegas for four days in December 2019. She was at work during the day so Dennis called and asked to take me out to lunch. At first I felt a little awkward, but we just talked about everybody we knew and about old times, new times and what had happened in between—we had more than 50 years to catch up on! He then asked me each of the next three days, too. They were "friend dates" but the connection grew from there.
After I returned home to D.C., Dennis would call me all the time and we would flirt on the phone. I had to retire around that time as I wasn't recuperating so well from my fall, so I decided to move out to Las Vegas in February 2020 to be near my daughter. That's when the relationship started blossoming again between Dennis and I.
I had only been in Las Vegas for about a week before the COVID-19 pandemic closed almost everything down. Because there wasn't a lot we could do, Dennis would take me for rides in his car and show me around the city, it was a lovely way to get to know the area.
Then, in June 2020, I had to go to the hospital for some treatment. When I returned home, Dennis came over, slept on the couch and took care of me. He cleaned my house, washed my clothes, made me dinner, and fed the dog. He did everything and it just melted my heart. From there, we just really started enjoying each other so much and I looked forward to being with him.
We're both 77-years-old so going up and down the stairs in Dennis' house was a chore for both of us. He sold his house and we went looking for a home to live in together. We found a beautiful model and the very same day, Dennis pulled his check book out and put a deposit on it. We were able to watch it being built brick-by-brick, so to speak. That was our entertainment in 2020 during the pandemic; we'd come and visit our house and see what was happening. We had so much fun planning and buying new furniture.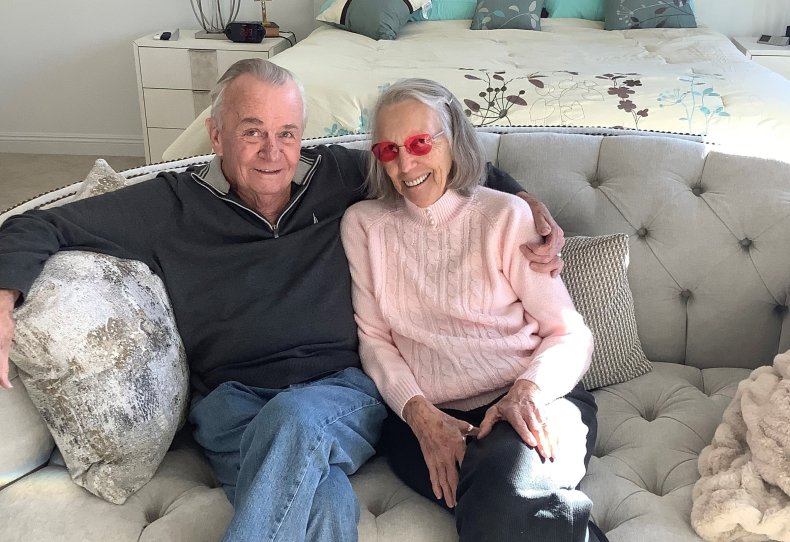 On that first "friend date" in Las Vegas, Dennis and I had actually told each other that we never wanted to get married again. We were both adamant. But after we became a couple again, we ended up talking about the future and then we went and bought rings. I don't think there was an actual proposal, but we did pick out our house before we bought our wedding rings.
We married for the second time on November 11, 2020. It's the date on which we originally got married in 1961, and it's Veteran's Day, so we decided that it would be a great day to get married again.
Our wedding was an absolutely beautiful day. I had bought a dress and Dennis hadn't seen it, so he had no idea what I would look like walking down the aisle. Our plan was that my four kids would walk me down the aisle together, but unfortunately they were exposed to COVID-19 right before the wedding and didn't want to risk getting anyone sick. The night before the wedding, Governor Steve Sisolak also issued another stay at home order so our wedding guest numbers dwindled, but the day was still so joyful.
I'm not sure whether I'm Dennis' first or fourth wife. He likes to say that on our first anniversary in 2021 we'll actually celebrate our 60th anniversary. I think that's kind of cheating! I'd say that it's going to be the honeymoon feel of the first anniversary, with the depth and love of 60 years.
Dennis has non-Hodgkins lymphoma but in general he has lived a very normal life, which is great. He is now well enough to stop chemotherapy, and I'm now walking around feeling terrific again after my fall. Neither of us are completely curable but we are not terminally ill, we just have to take care of ourselves.
We have both matured and blossomed over the years. When we first married at 18, we were just out of school. Now we have the experience of having been married to other people and we have enough money between us to enjoy life, which helps. Our sense of humor is really what rides us through. I got really mad at him recently and he joked: "Should I hide the poison?"
So it's very natural between us. I'm free to be me, and he's free to be himself. We can talk about a lot of things and we can have differences. Everything has just been very warm. It's amazing.
Dennis always thought that we would reconnect, but I didn't. If someone told me at 22 when we first divorced that I would remarry Dennis 55 years later, I would have thought they were on drugs! I couldn't have imagined it. I also wouldn't have my four other children if we had stayed together, and I dearly love them. I was pretty fulfilled during the time we were apart, I loved my job and the experiences I had. In a way, it's nice because we still have a lot to share with each other. Not only the experiences we had when we were younger but also things that happened in between then and now. Memories will still pop up and we'll share them. It's been fun filling in the gaps.
At our second wedding, one of Dennis' friends read a prayer at the reception. In it, he said that our relationship has come full circle, and that's very true. We needed each other when we were young and now that we're older we're back together with that same connection; the circle has been completed.
Sometimes, as people get older, they can stop believing that there is something left in their future. But here we are, back together, all these years later.
Diane Reynolds lives in Las Vegas, Nevada with her husband Dennis Reynolds. They moved into their new home in January 2021. As a Vietnam War veteran Dennis was able to purchase the house with the help of a loan obtained through Veterans United Home Loans.
All views expressed in this article are the author's own.
As told to Jenny Haward.