About four years ago, a friend of mine in Canfield, Ohio called me and said she had found four newborn baby kittens near the office building she worked in. She told me she didn't know what to do with them. Well, I didn't know what to do with them either. My whole family is allergic to cats and we had never had them in our home growing up. But, I have always been really involved with animals and I knew this friend because she and I worked at a boarding kennel together when we were younger. So I agreed to come and see them.
When I arrived, it turned out that the kittens' mother had been hit by a car. I couldn't just leave them, they were teeny tiny newborns. When I was in my car with them, I started calling animal shelters, explaining that I didn't really know what to do with them.
Everywhere I called said that they would have to put the kittens to sleep because at such a young age they require too much in the way of resources and time to keep alive. Shelters often don't have the capacity to help neonatal kittens.
I realized I'd have to figure out what to do with them myself and took them home. I had to bottle feed them every 1.5 hours around the clock and because they also can't go to the bathroom on their own yet—their mom would usually lick them to stimulate that—so I had to wipe them with a baby wipe.
I also had to weigh the kittens every day to make sure they were gaining at least 10g a day, and I had a heated pad for them because kittens can't regulate their own body temperature. They're very susceptible to any kind of disease when they're so young, so I'm very happy that all four survived. I got them vaccinated, spayed and neutered with my own money and then adopted three out to friends. I kept one: Olive. She's like a nanny cat to other kittens now.
The next summer my cousin found several kittens, so I took them in too. At that point, I wasn't affiliated with anyone, but I'm also a cat and dog groomer so I know a lot of people from local shelters. They started calling me if they had people who found baby kittens and were really good at providing any financial help they could.
Itty Bitty Kitty Committee was founded in 2017 for the care of kittens less than four weeks old and is run out of my house—I even have a kitten nursery I made. I have four cats of my own and two dogs, so it's a lot of cleaning! I'll clean for two hours a day after work when I have neonatal kittens, because they are so susceptible to sickness.
My cousin is a vet so I have learned from her and I've picked up a lot from the Kitten Lady, Hannah Shaw, and her videos on YouTube. And, I have a good network of people in north eastern Ohio who help neonatal kittens, so we all reach out to each other. Whatever the kittens need, I can do here.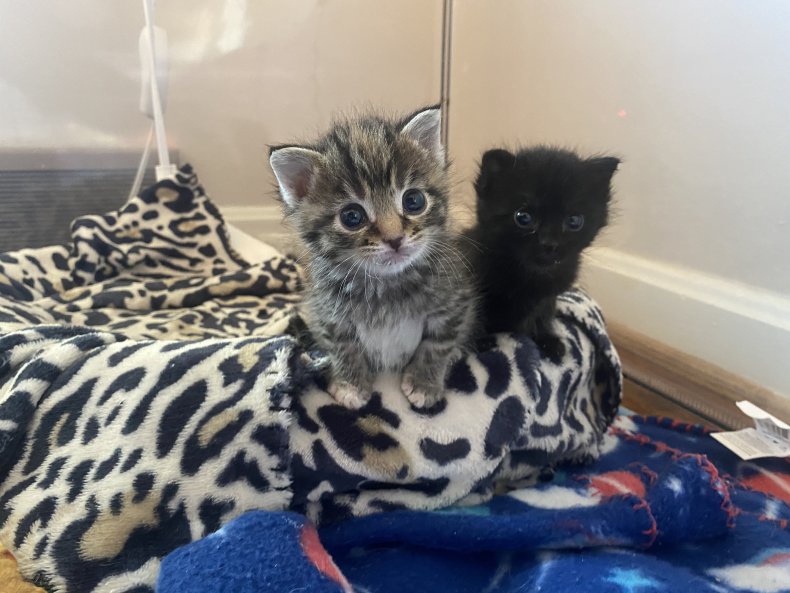 I'm now in a partnership with Rebel Rescue Ranch, which is a non profit animal rescue run by an Ohio local: Amy Rigby. Itty Bitty Kitty Committee is an extension of them. She takes the kittens in at her rescue when they graduate from the Itty Bitty Kitty Committee. We call the neonatal kittens committee members and we actually have a little ceremony when they graduate! This past year alone 63 have graduated, and in total I have rescued 115 baby kittens.
West Side Cats is another big cat rescue locally and if they receive kittens that are too young and don't have the time or resources to bottle feed them, they will give me a call and I will raise the kittens until they are weaned. Then they go back to West Side Cats. But the maximum I have at one time is six kittens, and they are here for a few weeks or less. I'm not hoarding cats!
I'm actually a teacher, so during the year I'm swamped at school. But kitten season typically starts at the end of May. As it's getting warmer, outdoor cats or feral cats start reproducing and people start finding kittens. It's kind of worked out for the past few years as when school is out, I start taking in neonatal kittens.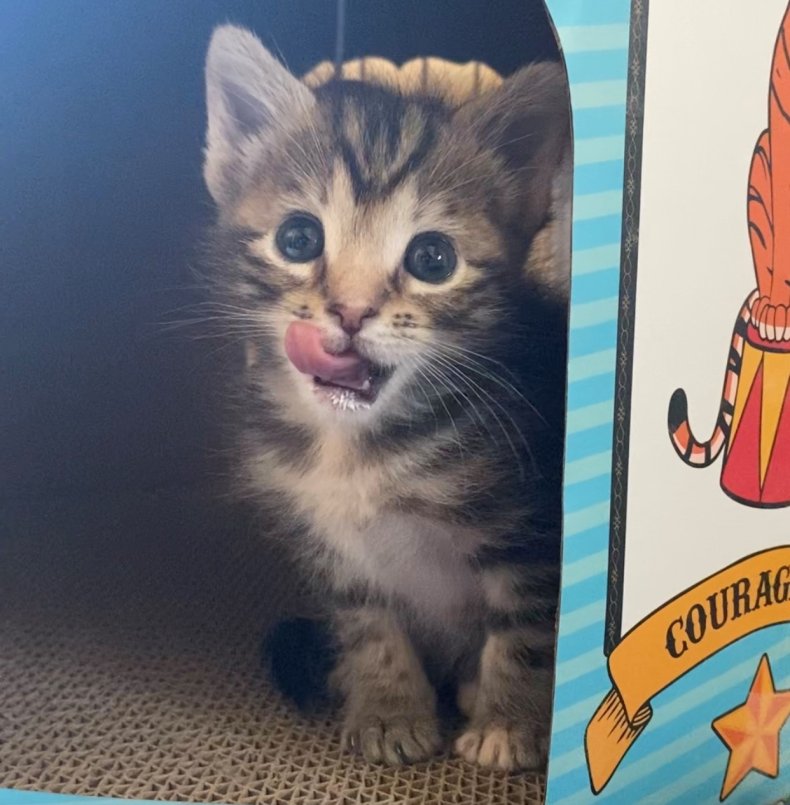 But this past year with COVID-19 has been a nightmare because people haven't been able to have their cats spayed and neutered and TNR (Trap-Neuter-Release) people weren't able to get out and help the community cats this year. So it's been non stop. In December 2020, I'd had a month without kittens, and then someone called me to say they had found two baby kittens in the snow. I was in school working, but luckily my principal was understanding. They were no bigger than a hamster and I had to have them under my desk and feed them every hour.
I have three kittens now who are in an incubator. One comes from a feral cat who was more than ten years old. She ended up having kittens and haemorrhaged; she and all the other babies sadly died. The other two kittens are from a litter of five. Someone had thrown them into a big trash can at a local university. There was no way a mom cat could have gotten in there. Three had died and there were two tiny babies left, and I have had them since they were 24 hours old. I'm still shocked by what people can do to animals. But when they're here with me, they are in good hands and I do what I can do to help them. All three are doing really well now but the incubator makes all the difference. I'm borrowing it from a rescue in Pennsylvania, but I've recently raised enough money to buy my own.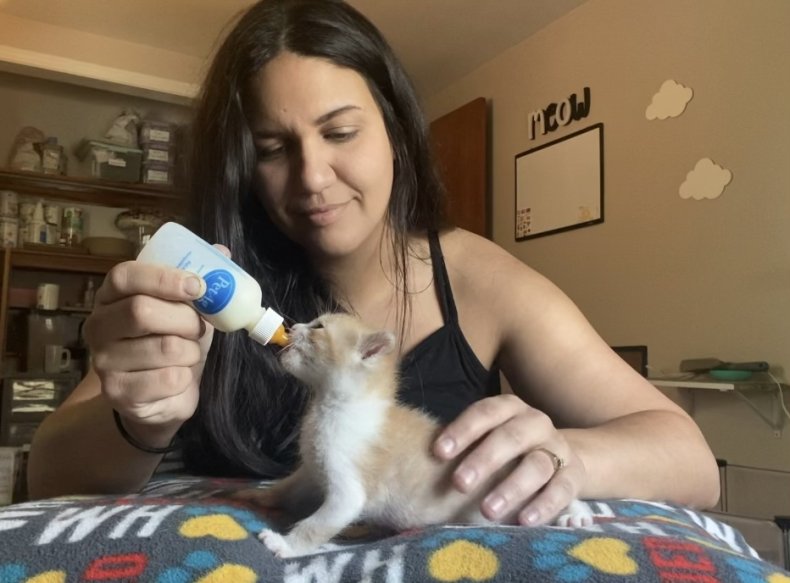 In Focus
Gia Deascentis takes in neonatal kittens and cares for them at the Itty Bitty Kitty Committee.
Launch Slideshow

5 PHOTOS
Itty Bitty Kitty Committee is just me at the moment, though of course Amy from Rebel Rescue Ranch plays a big part once the kittens go to her. I am talking with a rescue about putting together some clinics this summer to teach people the basics of bottle feeding kittens and when is the right time to intervene if you find tiny kittens. Often, the best thing to do is actually to leave them with the mom if she is around.
Nothing is worse than when someone calls me to say they have found a litter and I already have six kittens. I want to take them but I don't have the room. And, it's not just caring for them, it's the cleaning and vet bills. I'm a teacher and I don't make very much money. So I'm hoping that through these clinics, I will be able to get a couple of good foster parents out there that I will be able to have as a network. We'll be able to help a lot more kittens that way.
Everything I do, I am able to do because of donations. My incubator was $1,200 and we were able to raise enough money for that through donations, many from complete strangers. It's just incredible to see the kindness of people.
Ever since I was little, helping animals has been my passion, and while the Itty Bitty Kitty Committee is small right now, my dream is to buy a house with some land where I could do boarding and grooming for dogs and have a building for the kittens.
I love seeing the kittens with their new families and hearing how they're doing. I got an update recently from a woman who adopted an Itty Bitty Kitty Committee graduate from Rebel Rescue Ranch. She sent a picture of the kitten sitting next to her daughter in the car. Her daughter has autism and she and the cat are inseparable. Seeing the kittens go from having the slimmest chance of survival to part of someone's family—that makes it all worth it.
Gia Deascentis is the founder of Itty Bitty Kitty Committee, a partnership with Rebel Rescue Ranch both based in Ohio. You can follow Itty Bitty Kitty Committee on Facebook here.
All views expressed in this article are the author's own.
As told to Jenny Haward.