I Rode the Wave of Women Into Congress, and I Know Elizabeth Warren Can Win | Opinion
This presidential election is perhaps the most important of our lifetime. Our country is at a crossroads, and what happens in November 2020 will set its trajectory for years to come. I am ready to fight with everything I've got to make sure that the path the American people choose is one of unity and shared purpose. That is when America is at its best.
We have a large and diverse slate of candidates running. That includes a record number of qualified, accomplished and electable women—which I am so proud that my daughters get to see. Just a few months ago, they saw me being sworn into the House of Representatives in Washington, D.C., as part of the biggest wave of new female members of Congress since the 1990s. A record number of women, 102, now serve in the House, and we elected a woman as speaker.
My experience tells me there's no doubt a woman can be our next president. And as the first Democratic primary debates begin this week, I am excited for America to get to know some of our party's best.
While I look forward to a spirited and substantive exchange of ideas and visions, I believe that there is no one in this race for president who gets up every single day with more clarity about her purpose in this life than my home state Senator Elizabeth Warren. Warren's entire life has been dedicated to making the system fairer for working Americans. She consistently brushes aside the naysayers, and she never lets cynicism weigh her down. She is on a mission for the American people, and no one can stop her.
Everyone in the Democratic Party wants to nominate the person who "can win," and Warren is that person. Why? Because she is authentic, is running on bold, transformative ideas and puts people first.
Warren has served as a senator of Massachusetts since 2013, and from day one, it was clear she was working for the people. Not for corporations, not for special interests. Anyone who has heard Warren speak knows she's brilliant. That's obvious. But something I've always known—and now the rest of America is getting to know—is her sincerity. She proves with each day, each meeting and each town hall that she's in it for you. In a world where everyone's rushing to the next thing, Warren listens, looks people in the eye and thoughtfully answers every question.
It's often in the small gestures where I've seen Warren's true personality shine through. She's the kind of person who graciously thanks staff for helping, who stays until the very end of events to get pictures with all her constituents and who calls you unexpectedly to see if she can help.
But it's not enough to tell people you care—you need to show them how you will make a difference. By now, everyone knows the slogan "I've got a plan for that," but it's not that Warren just thought of these plans. She's been living this fight her whole life.
It's not enough to oppose President Donald Trump. In order to convince voters that Democrats are on their side, we need to show them exactly what we will do to make a difference. The status quo isn't working anymore, and the bold ideas proposed by my home state senator are aimed at closing the income inequality gap and giving everyone a fair shot.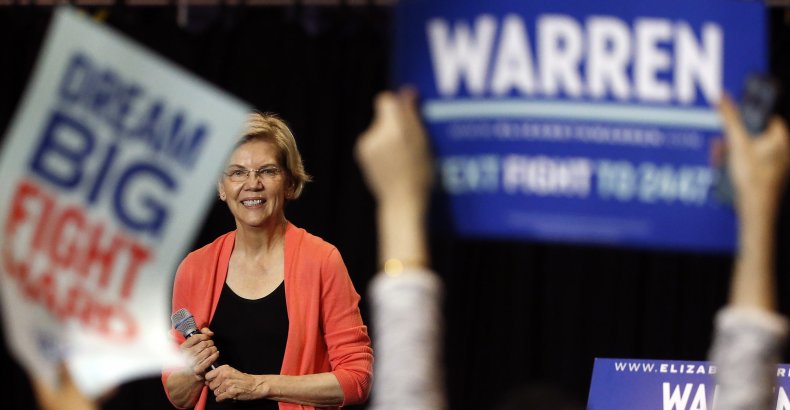 Another way we show people that we are working only for them is to reject donations from corporate PACs. I took the No Corporate PAC pledge as a statement of my values that we must reduce the corrosive influence of money in politics. Again, Warren walks the walk. The senator chooses to spend her time bringing her message directly to the people, not poll testing her message or seeking approval from inside the Beltway. Over the years, residents of the Bay State have clearly seen where the senator's priorities lie: advocating for teachers to get their due benefits, going after predatory lenders, going to bat for veterans who are being targeted by for-profit colleges looking to make a buck and much more.
Finally, Senator Elizabeth Warren is persistent. She has that fighting spirit. She's experienced ups and downs. She's faced heated criticism. But all of that doesn't matter, because deep down she knows her true north. It's fighting for the American people. And when someone's passion is that deeply rooted, when someone's passion for public service is that serious, it's contagious. And voters can feel it.
Lori Trahan is a representative for Massachusetts' 3rd Congressional District, serving since January 2019.
The views expressed in this article are the writer's own.