'I Saved a Homeless Woman From a Fire in San Antonio'
The morning of December 10 was just a regular day. I had a few errands to run around San Antonio, and one of those involved stopping at the ATM to make a deposit. It was when I was at the ATM that I started to see black smoke come up on the other side of the highway. There were a good number of cars in front of me and so I watched and noticed it was getting bigger after four or five minutes.
We're in the middle of the city so usually response to a fire is pretty quick and so when it was getting bigger I assumed they hadn't got to it yet. But I didn't think much of it as in a big city you might see some sort of fire or smoke once a week.
I'm really familiar with that area, my gym is close by. So I wondered whether it could be my gym and after watching for a few minutes and seeing it was a really heavy, dark smoke I thought that once I was done with the ATM I would go and see if there was something I could do to help, expecting maybe I could guide traffic or help keep people back.
I drove under the highway onto the other side and started to look for the fire, just following the smoke. When I pulled up next to it at the end of a parking lot, instincts took over I guess. There were two women standing back away a little on their phones, one was on the phone with 911 I believe, and there were also two gentlemen standing in a little clearing next to the fire; one was filming and the other was pacing and looking a little shocked.
The fire was probably 20 to 25ft wide and there was a big oak tree which the fire was building underneath. I couldn't see everything that was there, but it was a homeless camp so there was a shopping cart full of personal belongings—it was full of clothing and various effects and that were also on fire. When I came around the corner from the side that was very open to the other side of the fire in the brush, I could see there was a woman, who I believe must have lived in the homeless camp, was in there. She was right at the edge of the fire so I ran to her to try and find out what was going on.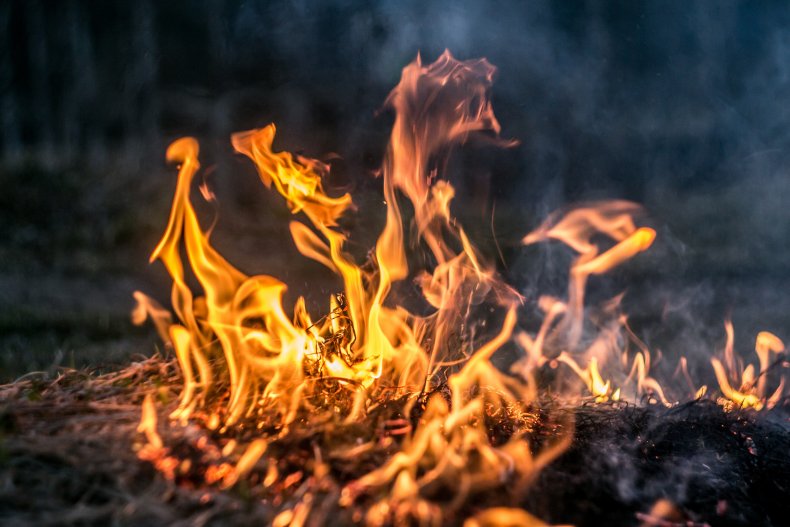 You could see she was halfway burned on her upper body and her clothes were burned and hanging off of her. So I immediately put my arm around her and tried to guide her out, but she said she couldn't walk because her feet were burnt and she had thorns in her feet. I probably tried to coax her out of the shrubbery for perhaps 15 seconds, and then I heard a "whoosh" as if something had caught fire, and it didn't sound good. I told the woman that we had to go, but she was screaming—understandably because she was half burned—and saying she couldn't walk, so I said I would carry her.
I tried several different ways but she was pretty badly burned and every place I put my hand was unfortunately burned. Seeing that her stomach was unharmed, I lifted her up, put her on my shoulder and I carried her out maybe 30 or 40 feet to the sidewalk.
I was in the military and served a combat tour in Afghanistan in 2004 so although it's been some time, there are things that are drilled into you over the years after doing them over and over. During that time I did see burn victims and people with various wounds so I had a brief understanding of what to do and what not to do.
Knowing about the effect of the loss of fluids, I asked the people around to get her some water. I kept repeating the question of whether there was anyone else in the fire, but the woman was just screaming. Knowing that area fairly well I was aware that two or three homeless people were often together in this spot, so I assumed there were more people and I ran back to the fire a couple of times, but couldn't see anyone else.
Around ten minutes had elapsed since I arrived and the fire department wasn't there yet, so when I returned to the woman, I was trying to reassure her that someone would be there soon and to try and breathe, drink some water and not move too much. We stayed there together for 10 to 15 minutes until the fire department showed up and dealt with the fire before masking up and tending to her. The firefighters told us the Emergency Medical Technicians (EMTs) and the police would be coming so I left shortly after that.
The whole experience brought back some pretty raw and personal memories with it, so at the point I started to get a little bit emotional, I made sure the emergency services had it and then I decided to leave.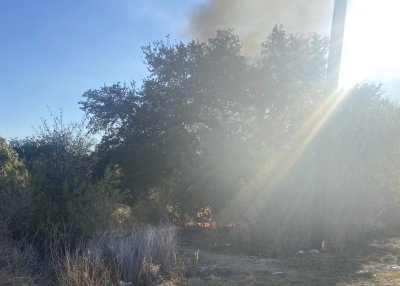 The incident struck a very personal chord because there are things that happen in combat which you sort of suppress. The various burning smells brought back some emotional feelings from my time in service. And, the woman reminded me a lot of my mom who passed away a few years ago. There was a lot of that hit me afterwards—a flood of personal memories.
It's hard to speculate what would have happened had I not been there, though thankfully the fire didn't expand a lot. But at the very least I think she would have had worse burns. And I don't fault anyone, I don't know if they could see her because she was tucked back there a little ways. Or perhaps they were in shock and not sure how to respond.
She had been very close to the flames when I found her and was very weak. It's pretty thick brush so I don't know if she would have made it out by herself, hopefully someone would have seen her or the fire department would have arrived and been able to get to her. If not, it obviously could have been more tragic. Unfortunately she was too distressed to communicate much, so I was unable to get her name and due to privacy laws, the hospital wasn't able to share information with me on her condition.
I received a good number of calls the day following, apparently the story got shared on social media and people reached out to me. It's uncomfortable, I just try to live life in a positive way, help people and be kind to people.
I do try to be very observant of life and what happens around us so I think it's forced me to realize that this is exactly who I preach to be. It felt good to know that this ability to help another was inside me and not just something I believe. It's important to remember that we are all one, especially with all the turmoil that we have experienced this year; political differences and beliefs.
Let's be positive, let's be helpful. Let's be kind to each other. We only get one life.
Jason Harriman a U.S. military combat veteran and entrepreneur in Texas. He owns and manages a real estate company, High Kind Group, and an ecommerce company, High Kind Company that focus on giving back to a variety of causes. Visit www.jasonharriman.com for more information
All views expressed in this article are the author's own.
As told to Jenny Haward.