'The Shining,' 'Beetlejuice,' 'Lost Boys' Come to Life in New Interactive Horror Exhibit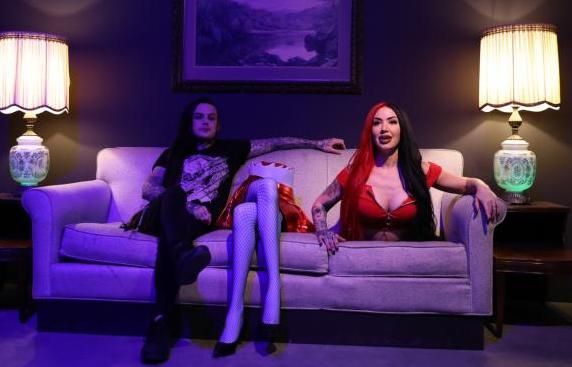 Horror-movie lovers don't have to wait for Halloween to get their scare on: A new interactive exhibit in Los Angeles lets you to get up close and personal with some of the most iconic scary movies in film history, including The Shining, A Nightmare on Elm Street and It, as well as cult faves Lost Boys and Beetlejuice.
At "I Like Scary Movies," a 25,000-square-foot exhibit on Wilshire Boulevard, visitors wander the hedgerows at the Overlook hotel, creep through Freddy Krueger's boiler room, descend into Pennywise's lair and get sawed-off in the Netherworld Waiting Room. "I'm a huge fan of all of these films," experiential artist Maximillian, who devised the pop-up horror house, tells Newsweek. "Some would be considered straight-up horror, some maybe not so much. But they all have scary elements. They all have an overarching dark universe. And I really wanted to touch the different horror fandoms."
Maximillian has created thematic experiences for years, including a Snakes on a Plane fuselage at Comic-Con, a Wonder Woman drone light showat Dodger Stadium and La La Land aerial performers dancing on the face of City Hall. He approached Warner Bros about creating installations paying homage to its back catalog of fright fests. "I had these specific movies in mind when I broached the idea to them, just as a concept to see if they were open to it," he recalls. "They were immediately into it."
Incorporating The Shining, though, meant getting approval from the estate of director Stanley Kubrick. "The Kubrick estate was very involved," he says. "And that was nerve-wracking, because I took some liberties with things and remixed some elements. But they said they loved it."
After opening earlier this month, "I Like Scary Movies" has already attracted horror pros like Eli Roth, Bryan Fuller and Gremlins director Joe Dante. (Robert Englund, Freddy Krueger himself, is hoping to pay a visit soon.) It's tailor-made for the Instagram generation, with thousands of visitors posting pics from underneath Freddy's razor glove or riding Danny's tricycle from The Shining.
Maximillian is fine with that—it's proof people are personalizing the experience—but he hopes they take time to soak it all in, too.
"It's art meets photo-op meets experience," he says. "I don't want people to control their experience too much. It's a celebration of art. Its not an Instagram museum or a popup. I wanted to elevate these movies and elevate this genre."
One of the toughest pieces to bring to life was the giant razor glove Krueger sports in the Nightmare movies: Hovering over visitors, its fingers are actually hinged and can be posed in a variety of gestures. "The Freddy glove took a lot of [people]," the artist admits. "I was really specific that I wanted it interactive. We had to develop the hydraulics and hinges. We've got, like, 2000 lbs of water-weight against it. And we had to have someone do the leather work and someone else do all the metalsmithing for the gloves."
The gore, thankfully, is mostly symbolic—the Overlook's elevator gushes red room keys instead of blood, and the maggots in the Chinese-food container from Lost Boys are made of silicone.
"Our goal was to create an experience where fans could take their time to engage with the fantastical worlds of scary movies that have shaped their fandom," Maximillian says. "We want them to be able to take a deep creative dive into some of their favorite movies in a way that is fun, engaging, artistic, and memorable—allowing them to really explore and enjoy the thrill of it all."
If you can't get to the City of Angels, he's planning to take "I Like Scary Movies" on the road. "This is the proving ground, the teaser. The plan is to take it to other cities, to add more movies, to have offshoots. This is just the beginning."
"I Like Scary Movies" runs through June 16 at the Desmond in Los Angeles.