'I Sold Cheesesteaks To Pay For My Mom's Final Dream Vacation'
My mom and I were both raised in Philadelphia and she has always been really into food and cooking. Mom was a dietician and nutritionist for 41 years, so her passion for food definitely influenced me and became something I'm now interested in too.
I'm a seventh grade teacher and I often share meals I've cooked on Instagram. Many of my students follow me and I want to be able to show them different dishes. They always tell me I should open up a food business, but I'm just doing it for fun.
My mom was still working as a nutritionist when, in July 2020, she started experiencing severe pain in her side. But she kept it to herself. That's how she is, she's tough. Unfortunately, she let the pain continue to a point where it became unbearable and in August we had to get her to the hospital.
Once she had undergone testing, we received the bad news that she had cancer. We had worried it could be that, but we had been praying it was stage one or two. Sadly, we were then told that my mom's cancer was stage four and incurable.
The cancer originated in her bladder and traces had been found in her throat. We were hoping that it was two separate cancers as that could be more treatable, but instead doctors explained that it was everywhere from her bladder to her throat. We were told that my mom had about two years to live from that point in August. That was when it truly became real and very scary.
The cancer is horrible but a lot of good has also come from this situation. My mom's outlook on life has changed and become more positive. She kept her pain to herself for months because she didn't want to scare her children. But now she's realized how much everybody cares for her and that we love her and want to support her. Our family has been trusting in God. It's easier to say than to live out, but we have been trying to embrace one another and our faith.
My mom was raised in a low-income family and we didn't have a lot of money when I was growing up either. Mom worked hard and didn't get to take the vacations that she deserved. She's only been on an airplane once and she's never left the U.S. but she's always loved Egypt and enjoyed seeing it in the movie Ten Commandments—a trip there has always been on her bucket list.
For Christmas Day after my mom's diagnosis we ended up having cheesesteak dinner, and that gave me the idea of selling cheesesteaks to raise money for my mom's trip.
I've always loved cheesesteaks. In 2018, a friend of mine dared me to eat 100 in a year. I ended up taking the dare personally, even though it wasn't that serious, and in total I managed 192 Cheesesteaks. They were not small. It worked out to be a cheesesteak every two days that year.
So, on February 15, I started selling cheesesteaks to raise money for my mom's vacation. I live in a small house in a residential neighborhood, so my wife and I, and a few family members, have been getting together on Saturdays and Sundays to prepare them in my kitchen and people come by the house to pick them up. On our first day we sold 94 and overall we've had 16 days in total where we've been selling them and we've sold more than 1,500.
After the first day we had raised $2,000 including donations. My original goal was $4,800 to pay for the flights for my mom, neices and nephews, and we were almost halfway there within a day. I kept telling myself that it would slow down, but instead it's been growing and gaining more momentum. On one occasion we sold them from a food truck and on another we were able to use a venue for underground arts in Philadelphia, a chef there reached out and let me use her kitchen.
Each cheesesteak costs $15 and includes 1lb of steak and a 9inch bread roll and is served with fries. So it's a ton of food for a really good price. The margins for fundraising aren't huge, because it costs about $10 to make them. So, we're really dependent on people's generosity in donating as well as buying the food.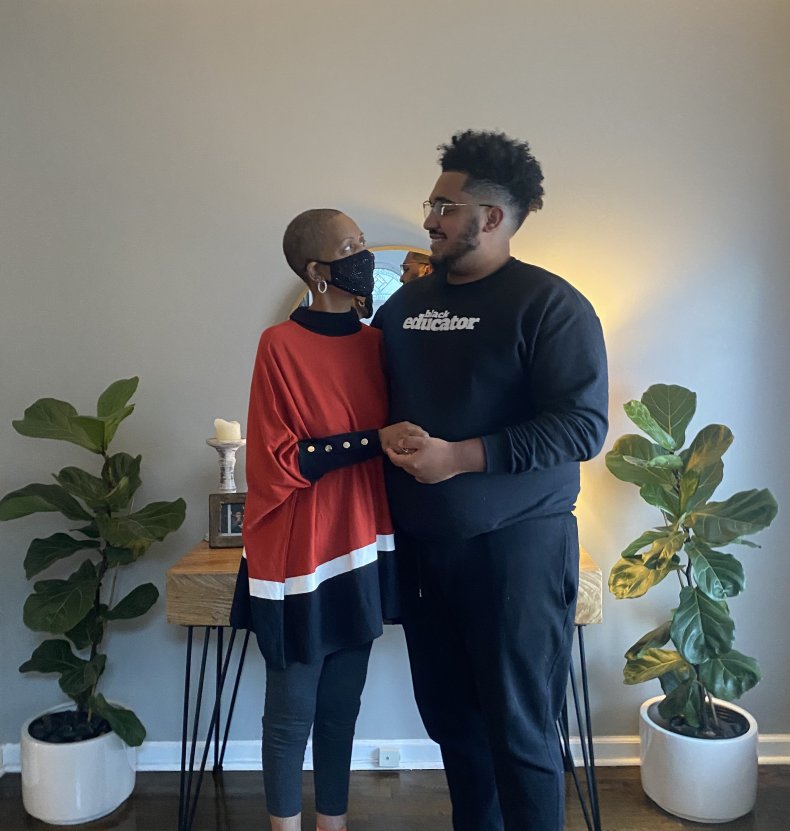 I've updated my mom as we have progressed; telling her how much money was raised or letting her know when Philadelphia chef Michael Solomonov posted about me on Instagram. We have now raised almost $19,800 of our new goal of $23,000. The donation money will cover the flights, hotel and accommodation, transportation, visas, COVID PCR tests, tickets and excursions for all 14 family members going on the trip. My mom wanted the whole family there. It will be my mom and her husband, my brother, sister and myself, our spouses and my siblings' children. I had always said that I would pay for my mom and my nieces and nephews, but I was hoping we'd raise enough money and I wouldn't have to use my credit card! My siblings and I will pay for any expenses that aren't covered by our fundraising.
We are leaving on May 7 and the plan for the trip is to spend the first three nights at a hotel right by the pyramids in Giza. A tour company has also organised for us to stay at a resort by the Red Sea for a couple of days, and the rest of the time will be spent in Cairo. The tour company is not charging us a fee, they're just helping me organize activities and allowing us to stay for free at the Red Sea resort.
My mom is so excited. Initially I was worried because she's going to be on a plane for 11 hours for this trip. I thought that she would be scared. But she's hyped and even making jokes about travelling.
Mom has actually been in hospital this week, because she's been in a lot of pain. So I'm hoping she'll be OK for the trip. A fear of mine has been how she will do when we get to Egypt, but hopefully she will have strength for the week we're there.
I'm hoping that this vacation will provide memories that we can hold onto forever. In many ways I'm viewing this as a gift to myself as well. It's what I'm going to remember forever; these moments and this precious time with her. I'm exhausted from trying to balance so much at the moment, but something that is pushing me forward is the thought of seeing her smiling when she first sees the pyramids. That has been my motivation. This is the woman who gave me life, and now I'm able to give her a little bit of the life she wanted.
My mom tells me I'm her hero. When she first said it, it broke me. It's also a strange situation because obviously she's my hero. People have said what I've done is amazing, but my mom taught me to be like this. She taught me to be loving and kind. The way she was as a mother is the reason I became a school teacher. Everything I am is a reflection of her.
Dustin Vitale is a middle school teacher in Philadelphia. You can follow him on Instagram @dvitale23 for more information on how to buy cheesesteaks or donate.
All views expressed in this article are the author's own.
As told to Jenny Haward.