For the past few months, our nation has been in a state of upheaval and awakening, with people standing up for the Black lives and Indigenous lives that have been beaten down and taken by agents of the U.S. government for hundreds of years.
I'm a citizen of the Oglala Lakota Nation, located in what is now called western South Dakota. On July 3, I joined over 100 Indigenous land defenders in an effort to stand in our power, hold space and let Donald Trump know he is not welcome in the territory of our people. To remind the world who the rightful stewards of these lands are, and that as we have a national conversation about racial justice, it must include the voices of Indigenous people.
Now, I'm facing three felony charges and up to 17 years in prison for the stand I took. My preliminary hearing is Friday.
The hypocrisy of these charges being brought against me as an Indigenous person working to prevent the U.S. government from occupying and harming Indigenous land still desecrated with the faces of slave owners and the largest executioners of Indigenous people in history is shocking—but not surprising. Indigenous people have been brutalized by the violence of white supremacy since the moment settlers set foot on our land in the 1400s.
Despite a treaty agreement ratified in Trump's very own legal system saying that our chiefs have the right to decide who can and can't pass through our territory, our leaders were not given free, prior and informed consent of Trump's planned rally into our treaty lands. We have that right not only through our treaty but also through the U.N. Declaration on the Rights of Indigenous Peoples.
Their group arrived without masks, and with no intention to physically distance. During a pandemic that is disproportionately killing Native people, those actions are yet another signal that our lives mean nothing to U.S. government officials.
The land we were holding space in is the land of my ancestors and is sacred to us, as Lakota. We call it by its rightful name, Paha Sapa, or Black Hills, and it belongs to the Oketi Sakowin people. Indigenous people and our allies had every right to be there, and we had every right to defend our land. To us, it is simple: We want our land back, and we want to dismantle the system of white supremacy and racism that was created to steal our lands in the first place.
Instead, our presence was met with pepper spray, militarism and excessive force by police officers in full riot gear. Like countless protests that continue raging across the country, the violence was started and maintained by the state. And now, like always, state officials and police officers are attempting to paint a picture that falsely claims we started the fight. It's a tactic meant to make people afraid of protests, of standing up to the government, so that everyone remains silent, fearful and complicit. They want us to stay in order, so they can keep all of us down.
This fight is much bigger than me, and the opposition I'm personally up against through the backwards U.S. legal system. It's about the fact that hundreds of years after my people had a genocide waged against us, we're still deprived of land and resources that are rightfully ours. It's about the fact that we are shouldering the burden of yet another pandemic spread by the mishandling of power-hungry white men. It's about the fact that on top of all of this, our women are disappearing and being murdered, our children are being stolen, and our students are deprived of education and punished because of deeply ingrained discrimination in the education system. It's about the fact that our suicide rates are higher than any other racial or ethnic group, as the insidious nature of capitalism and greed continue permeating every aspect of our precious lives.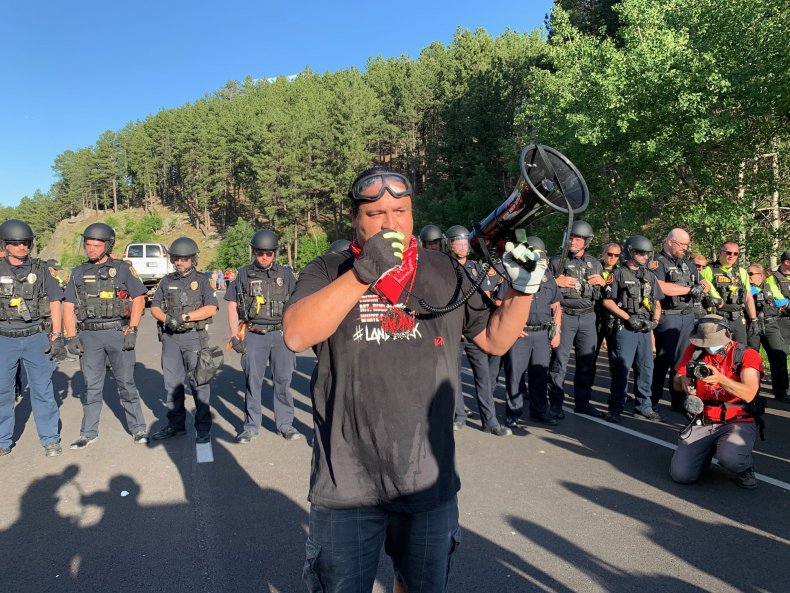 Indigenous people deserve so much more than this. We deserve the right to land sovereignty, autonomy and freedom from the iron grip of colonialism and racialized violence. We deserve self-determination, and in the end, we deserve our land back. I believe in a future that includes Black reparations and Indigenous lands back into Indigenous hands. You can't just tweet #BlackLivesMatter or #LandBack; you have to help us achieve what that really means. Because that's a world that we can raise the next generation in.
The charges being brought against the 20 land defenders, including me, are yet another dangerous display of white supremacy. I'm asking that anyone reading this contact Pennington County State's Attorney Mark Vargo and demand that all charges are dropped against me and the other land defenders. I also ask that everyone join our #LandBack movement and advocate for the returning of territory to Indigenous people, who will actually preserve, respect and steward it with dignity.
At the end of the day, attempts by the U.S. government to extinguish voices that stand up against injustice are dangerous for every single person living here. Our fight is your fight. In this moment, as my fellow land defenders and I face these charges, I can't help but think of the words of one of my heroes, Congressman John Lewis: "My philosophy is very simple. When you see something that is not right, not fair, not just, say something do something. Get in trouble, good trouble, necessary trouble."
When we fight, we win.
Nick Tilsen is president and CEO of the NDN Collective.
The views expressed in this article are the author's own.