'I Survived an Avalanche and a 100ft Fall'
Growing up in Michigan, I was always fascinated by the mountains. There are lots of ski resorts where I was living and my family all ski, so I started young, probably around kindergarten age. I'm one of five cousins who have since migrated out to South Lake Tahoe in California. I moved here after I graduated high school and originally I planned to be here for two years, but it's now been 17.
On February 12, I was out on the mountains in South Lake Tahoe with my cousin, Josh. There was about 15 inches of fresh snow and we went to one of the runs we had skied many times to warm up. It was beautiful; the snow was exactly how we wanted it to be and we were feeling really confident. As far as snow safety, everything seemed to be in good order. We didn't have any instability issues or concerns about the snow.
We then travelled about 20 minutes on a snowmobile to a different mountain range that faces in another direction. We had some issues with the first mountain we reached, because the sun was hitting the face. So, we chose another and determined our route down and our meeting point before we ascended.
Skiing is inherently dangerous, and when you're in the backcountry like we were, you're in areas where there hasn't been avalanche mitigation or snow safety measures implemented, so it's important to take the safety aspects into consideration.
It was a steep slope with good snow but it ended at a cliff face, so our plan was to ski down a route with three or four turns and then turn left before the cliff face to get to a safe zone and meet up there.
My cousin went down first and made the three of the four turns, but towards the end of the route he triggered an avalanche right at the entrance point to our safe zone. I watched this happen from the top of the mountain, and thankfully he was OK.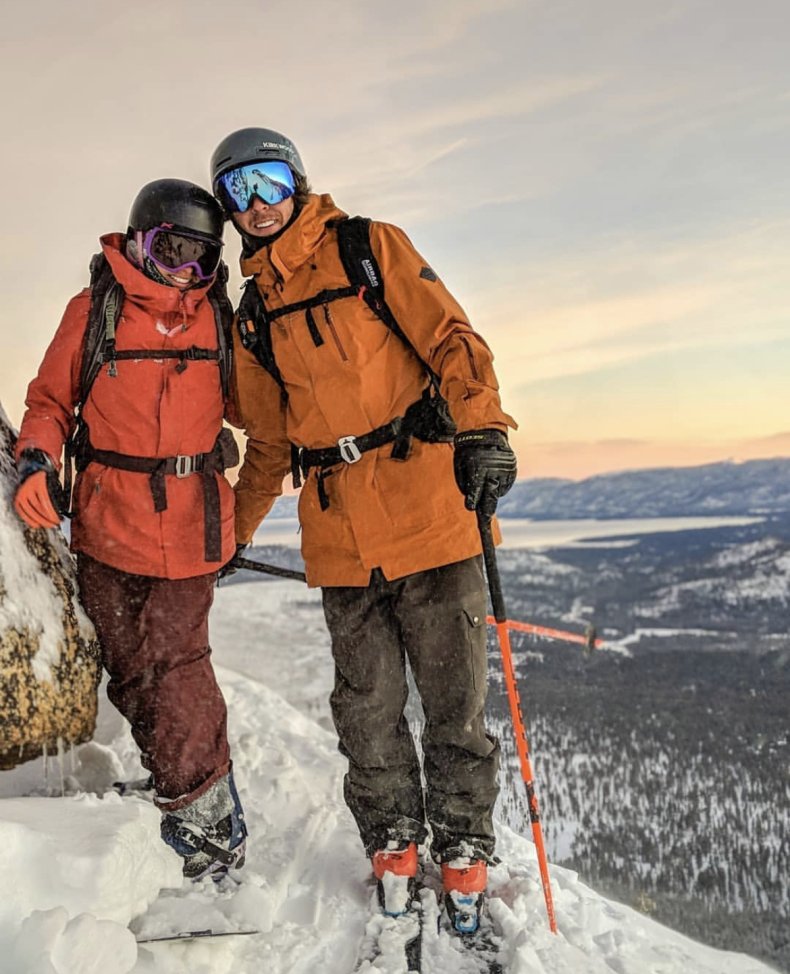 Your partner is your life line, so we had a brief conversation over the radio about what had occurred before Josh continued on to the safety of our rendezvous point where he could have his eyes on me.
I have used a particular analogy for the situation which I think describes it accurately. If you have a bowling ball hanging from a tree and you walk under it, there's a possibility that it will fall on you. That's dangerous. Once the bowling ball has fallen and is on the ground, the danger has decreased. An avalanche had happened, so at that point I wasn't overly concerned and I didn't think it would be a dangerous descent.
Unfortunately, as soon as I dropped down onto the slope, another avalanche was triggered. I had made a right hand turn and the avalanche broke behind me to my left and then spread. I remember looking left and seeing snow moving, then looking right and seeing that side of the mountain also releasing snow. It was only a few seconds, but I was able to see everything that was happening in real time and realize: I am in an avalanche.
If I had taken the original route we had planned, I don't think I would be here today. It was rocky and there was a river of snow moving fast on a steep face. Instead, I instinctively made a turn and ended up going straight off a large cliff.
I don't remember much, but I recall going off the cliff and immediately having a very unsettling feeling because I was looking down and the ground was more than 100ft away below. I was falling through the air and I remember thinking: this is it.
On impact I was knocked unconscious and we estimate that for the next five to seven minutes I was swept about 200 yards and, apart from my right hand, I was completely buried in snow. Of course, we had our avalanche rescue gear: transceivers, beacons, shovels and probes, but thankfully my cousin didn't need to use the transceiver or the beacon to find me.
Josh had seen the avalanche and watched as I took flight off the side of the cliff, but he hadn't seen me land. Although he assumed the worst after not being able to contact me on the radio, he was able to reach the area I had been dragged to in five to seven minutes and spotted a black speck which happened to be my glove.
He didn't know if I was alive and has told me since that he was expecting me to at least be paralysed because of how twisted my body was. I was also unconscious and not breathing at that point, so when he uncovered my face, he had to take two fingers to scoop all the snow out of my mouth. As soon as he did that I took a huge gasp of air and shortly after I began to regain consciousness.
I had a head injury so my memories are pretty hazy but I recall my cousin standing above me making a cell phone call, and thankfully the air ambulance service was able to land on the slope about 40 minutes later.
It took them a further 15 minutes to transport me through the avalanche debris to the helicopter and my last memory is being transferred onto it and hearing sounds of it preparing to take off. I awoke around 12 hours later in the intensive care unit (ICU) to see my girlfriend by my bed. She had found out what had happened to me from my cousin and had to drive for two hours to the hospital I was flown to.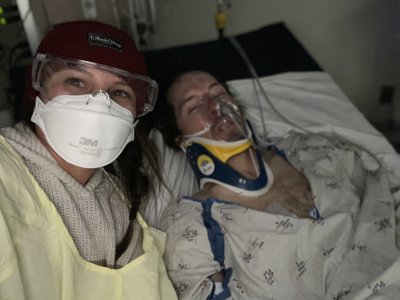 When I spoke to doctors the next day they didn't go into huge detail, but they did say I was very lucky to be alive considering my extensive injuries. I had fractured eight vertebrae, broken four ribs and dislocated one other, I had a small brain bleed, a punctured right lung and a bruised left lung. When the neurology, orthopedic and trauma teams checked up on me they all said that not many people survive an avalanche.
My injuries have been painful, but after 11 days spent in hospital, I was able to come home. Six weeks later, I am feeling really lucky to be able to move around pretty well. I'm in physical therapy and I still haven't been given the all clear but I use a recumbent bike and I'm able to get in the pool now my incisions have healed.
Right now, my injuries are preventing it, but I'm looking forward to getting back on the slopes. I'm excited and nervous. Skiing at a resort feels exciting, but I'm not sure how I'll be when I go to ski in the backcountry.
I'm not crazy. I understand that I'm extremely lucky. I've been skiing in the backcountry for more than 15 years and I know that there is a risk of avalanches. I just never thought it would happen to me. It's made me realize that I'm not invincible, not that I ever thought I was in the first place!
Since the avalanche I've had a couple of sit down talks with my cousin and talked on the phone. Simply put, I owe my life to him. If it wasn't for him I wouldn't be here. One of the messages I've been trying to share is that we all need to ensure we are educated and understand snow safety and how to use all our equipment. It's important not to give up on it once you've taken a safety class. A huge part of the equation is having a good partner on the slopes; someone you trust. Thankfully on that day I was with someone I could trust. He did everything he was supposed to.
I definitely feel like I'm extremely lucky, it's hard to put into words. I'm not sure I have the vocabulary to truly express the level of gratitude, thankfulness and appreciation I feel. Being 34, I hadn't thought about death too much; we tend to think of it as something that happens when you're old. But when you experience something like I did, you realize that life is fragile and we're not on this earth for a set amount of time. So, I do have a newfound appreciation for life and I feel very thankful to be here.
Although I don't dwell on it too much, I feel really grateful to be one of the people who has survived an avalanche, as some have been less fortunate. I was one of the lucky ones who was able to make it out.
Kyle Johnston lives in Lake Tahoe, California and runs KJ's Watersports. You can support the GoFundMe set up to cover Kyle's medical bills here.
All views expressed in this article are the author's own.
As told to Jenny Haward.