"Some escape the trap," wrote James Baldwin, referring to the Black residents of 1950's Harlem. "Most don't."
That's an excerpt from Sonny's Blues, widely considered one of the best short stories ever written. Baldwin was a gay Black man, one of the greatest authors of all time, who wrote especially powerful stories of his time, the mid-20th century, and the people who lived through it.
His stories appear in a lot of college fiction textbooks, as they should. I teach them regularly, working them into my syllabi in a short story or introduction to literature class at a small, private college in central Pennsylvania.
Yeah, I teach Baldwin, because I believe deep down in my soul that I should teach Baldwin, but I'm not completely comfortable doing it these days. That's unsettling, but a sign of the times.
I'm not alone. Make no mistake—many teachers and professors who follow current events feel the same sense of political intimidation when it comes to Black authors or Black history.
That's because Ron DeSantis, the Florida governor and presumed 2024 GOP presidential hopeful, is pushing a bundle of education policies on race which would significantly affect race-related curriculum, diversity programs, and hiring practices. He's serving red meat to a snarling Republican base which is hungry for someone similar to Donald Trump without all of Trump's heavy political baggage, someone who speaks their language and shows an eagerness to slay those woke lefties.
It's an ugly strain of politics, really. Vanity Fair correspondent Bess Levin appropriately dubbed it a "dystopian crusade to dictate the topics that can and cannot be discussed in schools."
In the classroom, it's impossible to know what turns a story discussion might take. It's impossible to know every student's temperament, preconceived ideas, and political leanings. Should I worry about an allegation of "indoctrination"? DeSantis spouts that term freely—and irresponsibly—and it underscores why my discomfort should be understandable.
Sonny's Blues is a beautiful story about a man struggling to understand and protect his aimless younger brother, a starry-eyed musician and recovering drug addict. So essentially, it's a story about understanding, something we need more of these days, not less.
The story is told from the perspective of Sonny's brother, a practical guy who teaches math at a Harlem school. In the end, when Sonny's piano playing dazzles the crowd in a darkened jazz club, the narrator finally sees value in his troubled brother's life, understands that "he could help us to be free if we would listen, that he would never be free until we did."
The setting—the "killing streets" of Harlem, as Baldwin writes—is relevant. One of Sonny's problems is the environment he grew up in—a drug-infested neighborhood with few opportunities. Writers call it a sense of place, and place matters because it shapes who we are.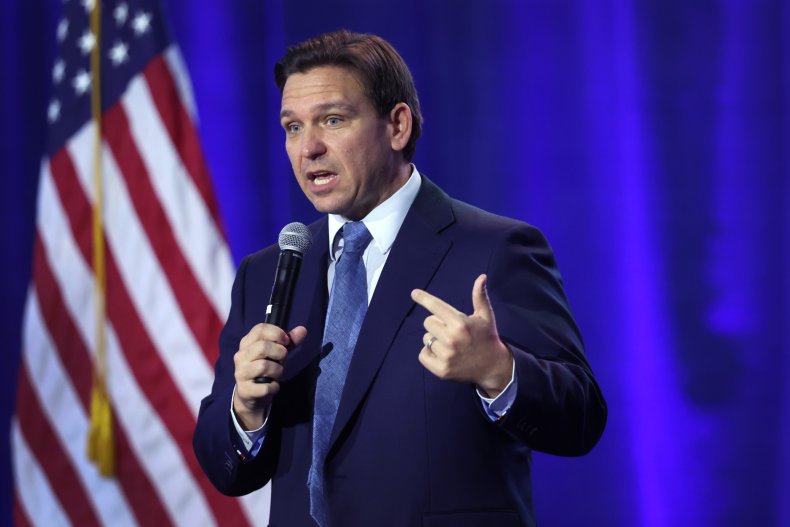 "We live in a housing project," Baldwin's narrator tells us. "It hasn't been up long. A few days after it was up it seemed uninhabitably new, now, of course it's already run down. It looks like a parody of the good, clean faceless life—God knows the people who live in it do their best to make it a parody. The beat-looking grass lying around isn't enough to make their lives green, the hedges will never hold out the streets, and they know it."
So in the classroom, can I say "systemic racism?"
DeSantis wouldn't want me to. The question is: How far would a President DeSantis go to stop it?
A chilling thought, isn't it?
I just wish I could explain to DeSantis and the MAGA base that the reason we teach diverse authors and Black history is that most often people of color and different identities have been excluded from a life of fairness and dignity. That's history, and the people who endured it provide the stuff of literature.
I want to introduce my students to a diverse group of authors. I tell them our reading list will include authors who are female and male, Black and white, gay and straight, living and dead, northern, southern, and western. Besides Baldwin, they include Alice Walker (another great Black writer), Tobias Wolff, Joyce Carol Oates, Tim O'Brien, Ernest Hemingway, and Raymond Carver.
I often ask my students if they like the stories we read, and I usually hear mixed results: yay, nay, and meh. But when I taught Baldwin this February, I heard something really encouraging—several students told me how much they liked it.
I'd like to tell Ron DeSantis that, too.
Richard Fellinger is an author and writing fellow at Elizabethtown College in Pennsylvania.
The views expressed in this article are the writer's own.