'I Testified in the Heard vs. Depp Trial. The Backlash Has Been Horrific'
I heard the news that Johnny Depp had won his defamation lawsuit against Amber Heard as the verdict was being read on June 1. I was very disappointed, first and foremost for Ms. Heard, who should have received much more of an outpouring of support than she did.
I have been a practicing psychiatrist for around 30 years and have previously provided medical malpractice expert witness testimony. But before the Johnny Depp vs. Amber Heard defamation trial, I had never provided witness testimony in any high profile cases.
I was asked to be an expert witness on this case in 2019, so I've actually been on the case for about three years and had been privy to every single detail of what's been happening for that period of time.
But when I signed on initially, the impression I had was that it would be a closed trial; there wouldn't be cameras and fans in court. Paparazzi outside the courthouse was never a problem, that's something I can handle, but the situation obviously took a different turn once the trial became a national, televised event. That said, I had a job to do and I did my job.
Before the trial, I had one 50 minute Zoom meeting with Amber Heard and I had lunch with her between sessions on May 23. She was very nice, very cordial and very polite.
I was very comfortable with the subject matter; I'm well versed on trauma and substance abuse and I was well versed on the facts of the case. But cross examination is something you're never fully going to be prepared for, because you don't know exactly what they're going to do or say. It wasn't as if I was stunned that I was going to be cross examined, though I was a little uneasy about being on national television. What I couldn't prepare for, was the reaction from the public.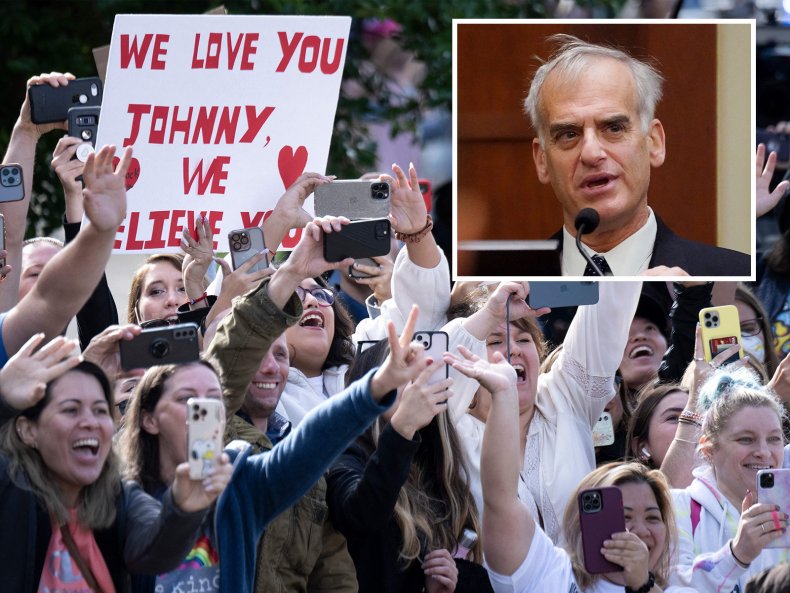 When I left the courthouse, I was told to leave when the witness after me was going, because the people in the gallery could not leave at that point. So, when I left, they could not follow me to my car.
I drove to my hotel and around an hour later, at about 4pm, my wife called me and said, "Listen, I don't want you to look at what's being said." I asked her how horrific it was, and she told me it was pretty bad. I'm not a social media expert, far from it, so I didn't expect the whole horrific post-trial backflow. It's been a little stunning for me.
The volume of it, from the personal attacks on who I am and what I present like, to what I look like and say, was obviously a little hurtful. I deal with people for a living, so I tried to understand where people were coming from. It's what a psychiatrist does. But the comments below the YouTube videos of me have been vile. And, some people have access to my work email, so I've gotten four or five charming editorials about myself
My WebMD page has now been closed to comments, but if you looked at the site beforehand there were probably seven or eight reviews and all of a sudden on Monday, May 23 and Tuesday, May 24 there were hundreds, so it was pretty obvious what had happened.
I'm an adult, it's not the first time I've been criticized, but never like that. On that Monday and Tuesday I had what I'd describe as an emotional concussion. It wasn't physical, I didn't get hit on the head, it was emotional because the feedback afterwards left me a little on the numb and dazed side. I slept a lot on Monday and Tuesday.
I was originally going to take a vacation to see my son in New York on May 25 and then come back to Virginia on May 31. Instead, I started the vacation a day early. Fortunately, I have had a lot of support from my family and even my patients have been emailing me, and the good news is that my residents and faculty members all support me, they texted me and had "We're With Dr. Spiegel" t-shirts made for me. That was comforting.
During my career, I have dealt with people who are not guilty of murder by reason of insanity and I've dealt with people who are psychotic and have threatened to kill me, and it has never fazed me one iota, but this did. You start realizing that it really just takes one person who is not seeing things right.
I don't think I was paranoid to the point that I was shutting the blinds, but my eldest daughter is still in my house in Virginia, and, as ridiculous as it sounds, I have a Pitbull. I love my dog, she's a great dog, but she's still a Pitbull at heart. This was probably the first time I ever thought in my life: Thank god I have a Pitbull. Am I glad that my Pitbull is there with my daughter? Yes I am. I don't think my dog would harm anybody, but she should be intimidating.
I would have liked Mr. Depp to get ahead of this and to have said, "Listen, I understand you are upset, but there are ways to express how to be upset." The fact that he hasn't probably says potential volumes about him. Ms. Heard hasn't come out and said anything either, but my opinion is that she is the most vulnerable person in this situation. If I had groupies and I saw them attacking and harassing someone they don't know, I would have said what I said during the trial; that there are ways to express dissatisfaction, and then there are ways not to. I think when Mr. Depp first noticed this behavior from his fans, he should have re-directed their emotions. While I still feel this intervention would be welcomed, his fans may be "disarmed" by the verdict in his favour. Though since the verdict, I have received a piece of derogatory mail to my professional address and one rude phone call that was fielded by my staff.
I have been almost totally offline since May 23 and I told my wife and my kids, before the trial, to get off their personal websites and social media platforms for at least a week before and two weeks after the trial. But it probably still is a little bit hurtful for them to see the attacks on me, and for the patients I've had relationships with for years.
There is potential for professional fall back. I don't think it's going to be that 80 percent of my patients will stop seeing me. But do I think some will, who I don't know well enough? They might. Some of my patients that have suffered from intimate partner violence (IPV) have reached out to me and have expressed that Ms. Heard's testimony was "cathartic," but I've never asked my patients what they think about the Amber Heard and Johnny Depp case, so there may be people who, if they think it's that important and they don't know me that well, may drop out.
I'm also applying for the position of permanent chair of the department at my med school. It's not like I think the comments from the general population would affect anything. I'm not going to lose my job. But will the whole circus around the trial make me look more, or less, like a serious academic? I don't know.
My thought has always been that before we choose a hero or a star, it's important to remember that we don't know them, we know their persona. That's why it's always better to pick a hero that you know, like a family member or a teacher. Then, you know them a little more than you know this person you've never spoken to in your life.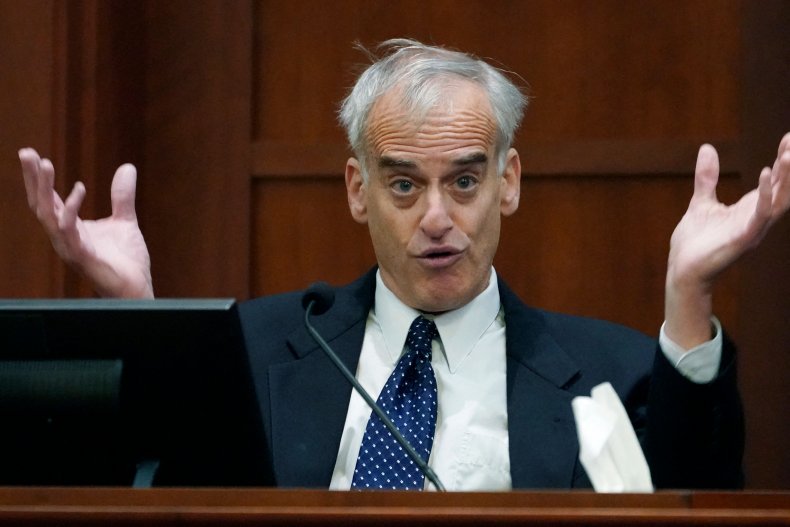 I would say to people who have attacked me that, just like they don't know Mr. Depp, they don't know me. This is my career, this is what I do. I'm an "emotions" guy, so I have no problem with people expressing emotion. But I have people expressing emotion that is hurtful and harmful, whether it be words or the ton of memes I've seen that are supposed to look like me when I'm testifying. I would ask people to remember that there are appropriate ways that you can say you are dissatisfied with my testimony or that it may have been short-sighted. I'm an expert at this. It's not like I saw one clip of Mr. Depp, and then said, "Oh, let me judge this."
Now, I wish Amber Heard emotional healing in a scenario where she was perceived by the general population as a "villainess." The trial was, in many ways, an excellent experience for me. If it had just been the work I did that led up to it, the trial and the cross examination, if it had ended in a bubble, I would have said I'd 100 percent be an expert witness in a high profile case again. Now, I'm 60/40 leaning towards "no."
Never in my life have I been the target of such voluminous amounts of hate, ever. I will process the emotion, but it will always be there; the knowledge that I was on the receiving end of such venom.
Dr. David R. Spiegel is a psychiatrist practicing in Virginia.
All views expressed in this article are the author's own.
As told to Jenny Haward.