'I Thought I Was Helping': Dad Won't Watch Son Despite Girlfriend's Wishes
Thousands of commenters were left dumbfounded after one father explained how he thought he was standing up for his girlfriend in a popular internet forum.
In a viral post published on Reddit's r/AmITheA**hole, Redditor u/SeattleWA5647 recounted a recent phone call between his ex-wife and his current girlfriend about childcare that ended with him hanging up on his ex. Titled, "AITA for refusing to let my girlfriend take my son after his mom begged me to?," the post has received over 8,000 votes and 2,600 comments in 11 hours.
Explaining that he and his ex-wife have equal custody of their 4-year-old son, u/SeattleWA5647 said that his girlfriend adores his son, and that he plans on proposing to her before the end of the year. But recently, the Redditor said his ex-wife, a nurse, has been calling his girlfriend and requesting that she watch the 4-year-old while she is at work.
"This occurred several times and although my girlfriend never complained, I just couldn't help [feeling] that my ex was taking advantage of my girlfriend's good nature and basically messing up our custody agreement," he wrote.
Days ago, u/SeattleWA5647 said his ex-wife was in the process of asking his girlfriend if she could drop their son off for a few hours when he decided to intervene.
Taking the phone from his girlfriend, the Redditor said he told his ex-wife to stop taking advantage of his partner and to find a babysitter. Adding that his ex-wife "begged" him to take their son, the irritated father was firm in saying "no" and hung up, much to his girlfriend's dismay.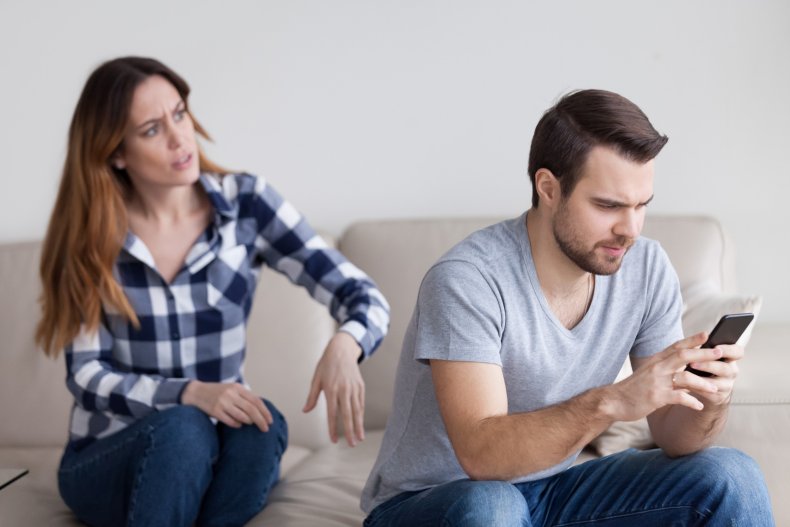 "My girlfriend looked upset with me and said that none of what I did was called for, that I should've let my ex-wife bring my son over," u/SeattleWA5467 wrote. "I asked if she was fine with being used as a babysitter and she said that spending time with my son is not like babysitting."
For nearly two years, the COVID-19 pandemic has affected the amount of time parents who are nurses spend with their children.
From the initial explosion of cases in early 2020, to more recent surges of the Delta and Omicron variants, nurses facing long hours and severe mental and physical consequences of those long hours have reported feeling burned out and unable to engage in high-energy activities with their children, according to Parents.
Predicting the retirement of 500,000 seasoned RNs by the end of the year, the Bureau of Labor Statistics reported that, in 2022, far more registered nurse jobs will be available than any other profession. However, amid a mass exodus that has seen 18 percent of healthcare workers quit their jobs, per Morning Consult, those who remain in hospitals and healthcare facilities face greater difficulties moving forward.
Along with fears that the line of work could put the health of families in jeopardy, rising childcare costs and the highest inflation rates since The Great Recession have created an even larger burden for parents across the country.
Still, u/SeattleWA5467 maintained that his refusal to take his son for a few hours was an attempt at setting boundaries between his girlfriend and his ex-wife — despite his girlfriend's claims that he blew the entire situation out of proportion.
Responding to the viral Reddit post, a majority of commenters sided with the original poster's ex-wife and girlfriend, and added that the original poster's actions ultimately affected his child more than anyone else.
In the post's top comment, which has received nearly 30,000 votes, Redditor u/_iamtinks expressed their dismay with the father's refusal to watch his son.
"I think there's something wrong," they commented. "You don't seem to have given any thought to your child's well-being - won't he be happier with you and [your girlfriend] instead of with a sitter?"
"Your ex is a medical professional, and we're in the midst of a pandemic," they added. "You seem more interested in exerting control...than actually building relationships."
Echoing those sentiments, Redditor u/Primary_Criticism929 disagreed with the original poster's claims about his ex-wife's relationship with her work, and said he spoke for his girlfriend without considering her ability to speak for herself.
"I'm not sure your ex is married to her job," they wrote. "She's a nurse during a pandemic."
"You made decisions for your girlfriend and just assumed she didn't know how to stand up for herself," they added. "You were rude to your ex and to your girlfriend in just one conversation."