Tonya Harding True Story: Fact vs. Fiction About Movie With Margot Robbie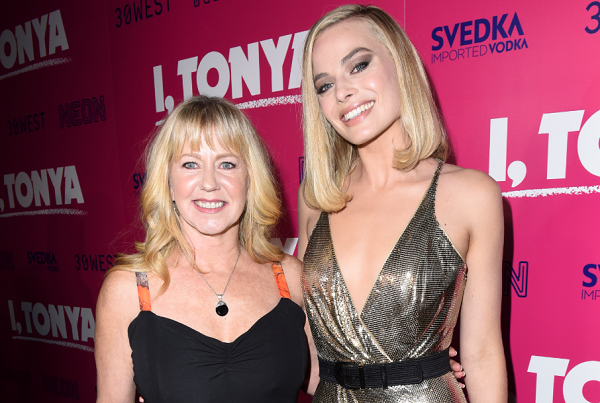 It's been 20 years since ice skater Tonya Harding became engulfed in the biggest controversy the U.S. Figure Skating Association ever saw. Fellow skater Nancy Kerrigan was clubbed in her right kneecap nearly two months before the 1994 Lillehammer Winter Olympics—and Harding was blamed for it.
The event sparked a media frenzy, and the media—from the tabloid TV show Hard Copy to the reputable New York Times—took Kerrigan's side. Nancy was the good American girl, pretty and graceful; Tonya was low class, aggressive and menacingly jealous.
Harding's side of the story is somewhat represented in the dark comedy I, Tonya; writer Steven Rogers interviewed her, and many others, for his "true-ish" screenplay.
Starring actress Margot Robbie, the film covers Harding's life before, during and after the scandal that ultimately ended her career. And the movie—at once darkly funny and heartbreaking—differs from the story viewers were fed back in 1994.
1. Harding and Kerrigan weren't archenemies: When Kerrigan started competing, not long after Harding was making a name for herself, the media would often pit the women against each other. But as I, Tonya points out, the skaters were friendly, even bunking together on the road during U.S. team competitions.
2. The case of Shawn Eckardt, Harding's unofficial bodyguard: During the investigation of the Kerrigan attack in '94, it was revealed that Harding's ex-husband, Jeff Gillooly, conspired with Shawn Eckardt to hire a man named Shane Stant to attack Kerrigan. Eckardt claimed to be Harding's bodyguard, which was not true; she didn't have one. Eckardt was merely a delusional friend of Gillooly's (he also thought he was a CIA operative).
3. The attack was never supposed to be physical: The media claimed physical harm to Kerrigan was always the plan. According to Gillooly, the idea was simply to send death threats to scare her before the Winter Olympics. In Gillooly's version, Eckardt took it one step further without his permission, paying Stant and an accomplice—a getaway driver named Derrick Smith—to travel to Detroit, where Kerrigan was practicing, and attack her.
4. Harding and Gillooly blamed each other for the crime: In the film, Harding denies having any involvement in, or knowledge of, Gillooly's plans and the subsequent attack. The Gillooly character says he tried to take the heat off Harding by admitting the attack was his idea. However, FBI interviews, conducted in 1994, have Gillooly testifying against Harding. He ended up serving six months in prison, less than Eckardt, Stant and Smith. Harding was sentenced to three years probation for hindering an investigation. She was also forced to complete 500 hours of community service and pay a $160,000 fine. She was also banned from skating for life.