'I Was Hated After 9/11, This Is How I Changed People's Minds'
Islamophobia has been around since long before I was born, but I experienced it for the first time at the age of 14. In the days following 9/11 my classmates told me and my friends, "You lot look like Osama Bin Laden" and, "Go back to where you came from." Even though our school was in Manchester, England, there was anger about what had happened in America. Some students believed all Muslims were responsible.
Then one afternoon, during an otherwise uneventful day at school, my classmates and I were pelted with glass and rocks. There were eight of us, of Pakistani, Turkish, African and Arab origin.
One friend had to be taken to the medical room due to his eye being cut. Another left school and went home because he was so angry and upset. It was a sad moment to feel as though you weren't wanted in school just because of your beliefs and an attack that had nothing to do with your faith.
I'd never experienced anything like that before—or thankfully, since. Yet such incidences are still common; 48 percent of Muslim Americans said they had received some form of discrimination in 2016, according to Pew Research Centre.
My wife Melissa has experienced a different type of Islamophobia since she converted to Islam at the age of 13. People stare at her for an uncomfortable amount of time and she has been told that she is a traitor to British society for wearing a headscarf.
More than a third of people in the UK believe Islam is a threat to the British way of life, according to a report by anti-fascist group Hope Not Hate. In the U.S., Islam is one of the least well-regarded religions in America, according to a 2019 Pew Research Centre study. And I can understand why. Often, all you see of Islam in the media is negativity and a lack of clarity on Islamic teachings. If bomb goes off and the perpetrator is non-white, Islam is often stuck to the top line in a matter of minutes. Yet the teachings of Islam have nothing to do with violence and terror.
After repeatedly seeing such portrayals on my TV screen, in newspapers and online, I felt it was time to show the truth about my faith. So I took to social media and created "The Young Imam," for which I won the Community Person of the Year Award at BAFTA in March 2022.
I'm one of Britain's youngest Imams—basically a Muslim priest. Growing up I wanted to be a police officer, a teacher and at some stages, a social worker. Then one morning at the age of 17, I told my mom that I wanted to serve my faith. The connection I had to the mosque, regularly attending prayers and taking part in youth activities organized by the community, played a huge part in my decision to become an Imam. The motto of my community is "Love for all, hatred for none" and I strive to live by that on a daily basis.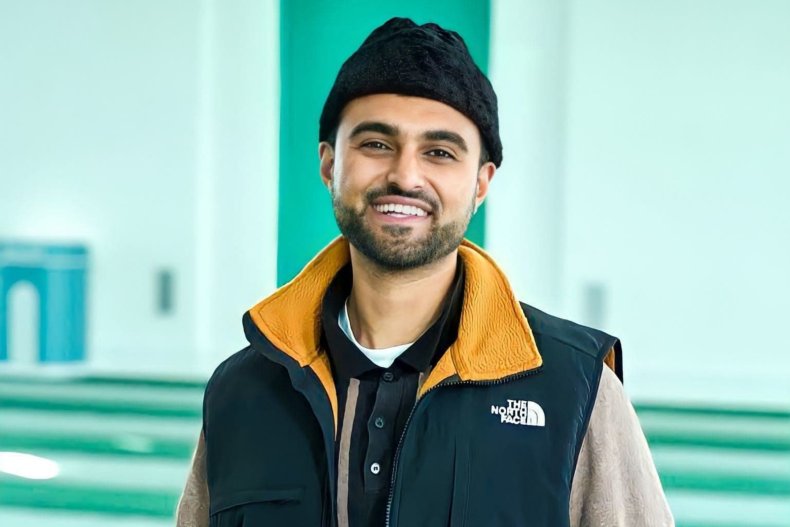 I knew that social media could change people's perceptions if I showed how normal my life was; as a young Imam, a father, a coffee fanatic and a gym goer, I could connect with people on a human level. In addition to giving a snapshot of my life through my Instagram stories, Snapchat, Twitter and YouTube, I make short videos which are about 20 seconds long, addressing misconceptions around Islam—from what does "Allahu Akbar" really mean, right through to helping people achieve positive mental health.
At the beginning I was nervous about the reaction to me putting my life out there for the world to see but I feel my content is being well received. The other day someone tweeted that they're not Muslim but they always come to my channel for the positivity. Teachers have messaged me to say that they use my content in lessons, which is heart-warming because it means young people are seeing a different side to Islam.
Slowly, attitudes towards Muslims are getting better. Maybe not as fast as I would have hoped after 9/11, but some change is better than nothing. I've recently returned from New York, where I worked with the United Nations on a year-long project that hopes to tackle violent extremism. I hope moving forward we can unite on our commonalities and rebuild the trust between us because that is the way to creating a harmonious, tolerant and peaceful society.
Sabah Ahmedi recently won the BAFTA award for Community Person of the Year. He is on Instagram at @theyoungimam
All views expressed in this article are the author's own.