'I Waited 96 Years': Dozens of Women Born Before Suffrage Are With Hillary Clinton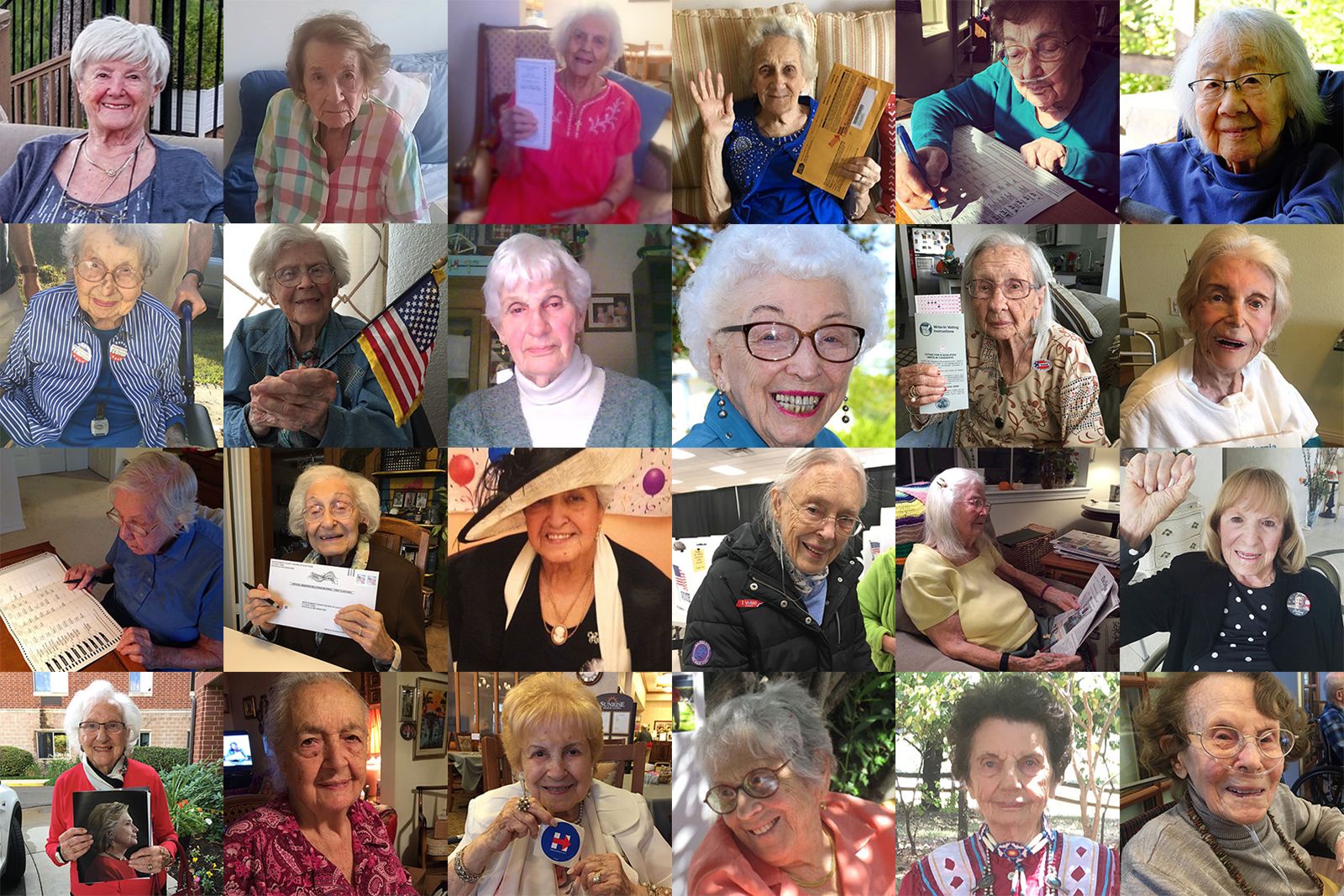 There's no doubt 2016 will be considered a historic presidential election. In July, Hillary Clinton became the first female nominee for one of the major political parties, and on Tuesday she may become the first woman elected president of the United States. This achievement carries a special significance to a small segment of the American population: women who were born before the 19th Amendment granted female citizens the right to vote. Now, 96 years later, these women are voting to put a female candidate in the White House.
When Sarah Bunin Benor posted a photo on Facebook of her 98-year-old grandmother, Estelle Liebow Schultz, with her absentee ballot, it went viral. "When I was marking my absentee ballot for Hillary Clinton," Schultz was quoted as saying, "it occurred to me that this wish is even more poignant, because I was born in 1918, two years before women achieved the right to vote. To see such an accomplishment in my lifetime is momentous."
Many of the commenters, Benor says, were moved by this particular circumstance. A friend, Tom Fields-Meyer, suggested they create a larger project based on Schultz's photo. Along with Benor's mother, Roberta Schultz Benor, and Fields-Meyer's wife, Shawn, they launched the website "I Waited 96 Years" on October 16.
From that one photo of Schultz—a former assistant superintendent of the Compton Unified School District in California who has two children, three children and four great-grandchildren—the project has ballooned to include more than 120 women ages 96 to 105. Submissions have come in from women who have cast absentee ballots and early votes, and Benor expects a slew of additional stories to come in on Election Day from nonagenarians and centenarians at the polls. The submissions have come from all over the country, from women who've been homemakers, teachers, nurses, engineers, scientists, dancers, interior designers and more. Many of them are immigrants or children of immigrants. Benor says that while the voters represent certain kinds of diversity, the team has been working to fix "a severe underrepresentation of African-American women."
"I've been struck by the excitement that these women are feeling," says Benor, a professor of contemporary Jewish studies at Hebrew Union College in Los Angeles. "Some of them are not particularly excited about the fact that this is the woman running for president, but most of them really are and talk about what a watershed moment this is," she says. "Some people talked about how their mothers were suffragettes, and they feel like this vote is in honor of their mothers. And a few wrote about going to polls with mother in that first election where women could vote and how special it was."
The website's "Meet the Voters" section includes portraits of dozens of women, who each share their age, where they're from, a few details about their lives (like where they grew up, what kind of work they did, etc.) and a quote about their historic votes.
Molly Hirshfield from Highland Beach, Florida, for example, said that "voting for Hillary means women can aspire to the highest office and have the freedom to be whatever their talents and hard work allow them. I hope to see Hillary become Madam President before I turn 100 at the end of November." Gladys Hindes, 96, from East Lansing, Michigan, said, "I get goose pimples all over knowing that I can vote for a woman!" Margaret Thompson, 100, from Stockton, California, said, "I am voting for Hillary Clinton because she has years of experience. She has been pushing for women's rights and really the rights of everyone, and because of that I think we can trust her. I am voting for her because I want the world to go forward, not back."
Some of the women weren't afraid to unleash their sass, which they often directed at Clinton's opponent, Donald Trump. Elizabeth Pula, 97, from New York City, said, "I am happy and proud to cast my vote for the first woman to become President of the United States of America. Also my vote will be cast against a Neanderthal who has never read a book." On the other coast, Louise Rucker, 99, from Redwood City, California, said, "I believe that Hillary has a steady, fair mind and she will be a terrific leader. I would like a woman running the country. Also, Trump can kiss my a--. Wait a second, on second thought, I don't want him near my a--."
Though the country has come a long way since these women were born and since women began voting, the sexism Clinton has experienced throughout her campaign and Trump's unmistakably sexist remarks and behavior have helped demonstrate how much still needs to change. Electing a woman to be president could help, Benor says. "This is a historic moment and a wonderful opportunity for women and men and also an opportunity for everyone in the younger generation to see that anything is possible for women."
For Schultz, whose photo became the cornerstone of "I Waited 96 Years," it originally seemed unlikely she'd be able to cast her historic vote. A year and a half ago, she was diagnosed with a heart condition, and doctors said she had six to 12 months to live.
"We never expected that she would make it to this election," Benor says. "She said, 'Well, I want to live at least to vote for Hillary Clinton in primaries.' So she did that. Then she said, 'Well, now I have to live to vote for her in the general election.'" Now that that's been accomplished, Benor says, "she's saying, 'Well, now I have to live to see her inaugurated.'"