'I Was Afraid of the Bees': Thousands of Honeybees Removed From Vacant Property
Neighbors in an Atlanta neighborhood were on edge for weeks because of a massive honey beehive that was home to thousands of bees. Now, they may breathe a sigh of relief because the hive was removed.
"I'm afraid to come out of the house sometimes," Matthew Sease, who lives next door to the property, told CBS46. "I never went by the house because I was afraid of the bees and getting stung."
He continued and said that the hive was first built and started growing daily since the spring. CBS46 reported that the hive was found inside and outside of the house and bees swarmed the yard, as well as neighboring yards.
In July, the United States Department of Agriculture wrote that bees and other pollinators are vital to the food production system. However, the population of Western honey bees has faced a decline.
"The total annual value of U.S. honey bee products and services sold is approximately $700 million," the department wrote. "Honey bee pollination increases crop production and quality for a wide variety of foods, including fruits, nuts vegetables, legumes, oilseeds and forage crops."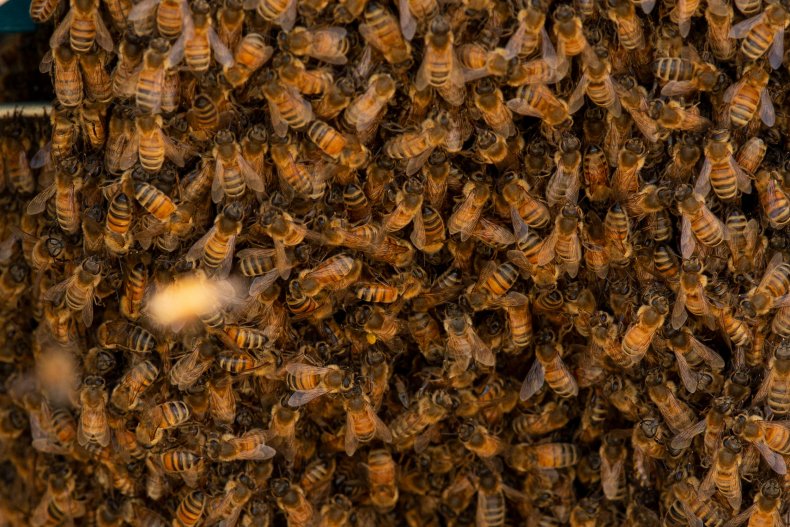 There are several factors that may attribute to the decline of bee populations, according to the Department of Agriculture, including pesticides, habitat loss and diseases. Focusing on pollinator health, the department noted, has helped 2.8 million honey bee hives across the country.
"The honey bee population has been struggling in recent years so that's why it's more important that we're doing the right thing for the honey bees and that's not killing them if we do run into problems," Director of the Metro-Atlanta Bee Keeper's Association Dave Marshall told CBS46. "Somebody could try to kill them on their own but it's really not a good idea you want to have the experts come out and check."
The property owner hired a bee removal service to remove the bees just before the weekend. Sease told the outlet that about 98 percent of the bees were removed.
To make sure a colony is not reconstructed, experts will continue to monitor the house.
Other homeowners found themselves responsible for removing beehives.
Newsweek reported in August that a woman found 450,000 bees living inside the walls of her house.
Sara Weaver and her husband embarked on a multi-day removal process involving general contractor and beekeeper Allan Lattanzi.
Lattanzi relocated three colonies of the bees to his own farm and told CNN that they were "docile," considering they lived in the house for some time.
"Normally when I pull a slate tile off a house I'm instantly covered in very defensive bees attacking me, but most of these girls were pretty docile—throughout the entire process I may have only gotten stung five or six times," he said.