I Was a Chief Ethics Lawyer in the Bush Administration, and I Believe Anthony Scaramucci | Opinion
It has happened—again.
A former associate of President Donald Trump exposes him for what he is: a narcissistic liar.
This time, it is Anthony Scaramucci, who in 2017 served as communications director for the White House for all of about a week. Scaramucci previously sang Trump's praises during the 2016 campaign and helped get him elected. He also loudly—and in expletive-laden sentences—attacked Trump's critics and loyally defended the candidate and president.
But, like many Trump associates, he has changed his tune. Scaramucci has said many things about Trump in the past week. He now calls Trump a liar and the "Mad Night King" and even compares him to the Reverend Jim Jones, the cult leader who led hundreds to their death in Jonestown, Guyana, saying, "It's like a hostage crisis inside the White House."
So why should we believe Scaramucci now?
The answer is simple: Because he is saying what just about everyone else who knows Trump and has worked with Trump is saying—that Trump is a narcissistic liar.
Scaramucci joins a long list of people, including former Secretary of State Rex Tillerson, who is rumored to have called Trump a "moron"; former Trump attorney Michael Cohen, who testified before Congress about his involvement with Trump in a criminal conspiracy; former White House staffer Omarosa Manigault-Newman, who also spoke out regarding Trump's untruthfulness; and even a well-known White House spouse, conservative New York City super lawyer George Conway, who comments in interviews and on Twitter about Trump's narcissism and unfitness for the presidency.
Trump's obsession with himself and lack of respect for others, as well as the truth, predates his presidency. Many people who worked or associated with him in New York have said the same thing: his lenders (including the holders of almost a billion dollars in worthless casino bonds), his tenants, his unpaid tradespeople and, of course, the women who have had the misfortune to encounter Trump everywhere from beauty pageants to nightclubs to a dressing room at Bergdorf Goodman. Trump is completely self-centered, thinks nothing of the rights of other people and is a liar, they've said. In the words of former New York City Mayor Ed Koch, "I wouldn't believe Donald Trump if his tongue were notarized."
If Trump's two ex-wives, Ivana Trump and Marla Maples, were free to speak, they might say the same thing. But nondisclosure agreements, loaded with cash incentives and deterrents, shut off that avenue of communication years ago.
Just about everything Scaramucci says about Trump is corroborated by others, including the White House staff members who gave off-the-record interviews to the authors of two books about the White House, Fire and Fury by Michael Wolff and Fear by Bob Woodward.
But Scaramucci was fired, so he must be bitter. Right?
We've heard that line over and over again about other former Trump officials who criticize the president, but it is not convincing.
Other presidents have asked people to leave their administrations for many reasons, even if not with the speed and high turnover rate of Trump. With few exceptions, these officials who resigned or were "fired" remain steadfastly loyal to the presidents they served.
President George W. Bush's former White House staff, of which I was a part, remains steadfastly loyal to him. Same for his senior agency appointees. Even where we disagree with President Bush on policy, we respect him now, as we did then, as a compassionate, thoughtful, hard-working and honest person. Even the very few Bush administration staffers who left on less than amicable terms are proud to have served in his administration.
Not so for Trump.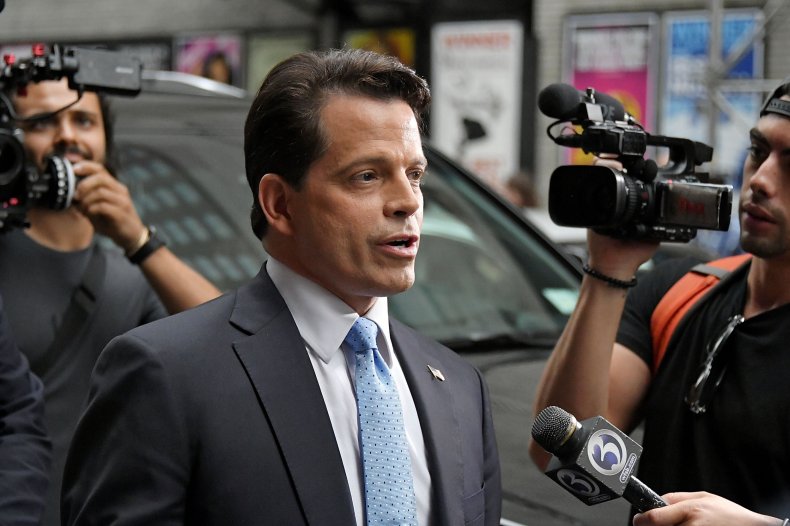 Former Trump administration officials are piling up on the already very long list of people who have dealt with Trump and supported him, only to end up broke, sexually assaulted, with their careers ruined or in prison.
Scaramucci also was fired for a reason that—in the grand scheme of things—is trivial. He used obscene language in a press interview. Perhaps in an ordinary administration obscene language might be a firing offense. Nobody wants potty talk in the White House.
But in the Trump administration, Scaramucci's language pales in comparison to the blatantly offensive and often racist diatribes of men like Steve Bannon, Sebastian Gorka and Stephen Miller, the last of whom still works in the White House and is driving Trump's disastrous and cruel immigration policy. Scaramucci is a choir boy compared with this crew. Their language—along with the president's—routinely demonstrates hatred of fellow human beings.
So let's welcome Anthony Scaramucci to that ever-expanding company of ex-Trump loyalists who have come to realize that Trump is loyal to nobody but himself. We can all say, "We told you so," but we can also be thankful that you are now doing what you can to bring this national nightmare to an end.
Richard Painter is professor at the University of Minnesota School of Law and served as chief White House ethics lawyer in the George W. Bush administration. He also hosts the weekly Politics Podcast. Follow him @RWPUSA.
The views expressed in this article are the writer's own.