'I Was Coming to Bury My Son': 27-Year-Old Wins COVID Battle After 5 Months
Fabian Granado's father accompanied his son out of the hospital on Tuesday, more than five months after he jumped on a flight from Texas upon hearing his child was hospitalized in Florida with a serious case of COVID-19.
Fabian, a previously healthy 27-year-old, contracted COVID-19 in August while training to become an underwater welder. With his condition quickly deteriorating, he was admitted to the hospital on August 1, where he'd be for the next five and a half months, two of which he spent in a coma.
"I came to Florida from Texas thinking I was coming to bury my son. When I got here and saw the condition he was in, I saw there was a real possibility he was not coming home alive. That's the worst experience that any parent can go through," Rene Granado, Fabian's father, told The Florida Times-Union.
Rene spent every day by his son's side and Dr. Joseph Shiber, director of ECMO services at the University of Florida College of Medicine – Jacksonville, told Newsweek that Fabian's father was an integral part of his recovery. He called it "incredible" to see that level of love a father has for his son and credited Rene with not only supporting his son emotionally but encouraging him to continue fighting and doing the difficult things that were necessary for him to recover.
Fabian told the newspaper that before he got sick with COVID-19, he thought he was "invincible." He never imagined that he'd be hospitalized if he contracted COVID-19, but suddenly he was short of breath and couldn't stop coughing. He added that during his hospital stay, his heart stopped "a couple of times."
Knowing that his son would live gave way to questions about how long he would live. At one point, it was believed Fabian would need a lung transplant, but he didn't qualify and if nothing changed when extracorporeal membrane oxygenation (ECMO) ran out, he would die.
It wasn't until early December that Rene could breathe a sigh of relief because doctors were confident his son would not only live but be able to do so with his own lungs.
The 27-year-old wasn't vaccinated when he got sick despite his father's urging that he get inoculated. He told the Times-Union that he doesn't think he would have suffered "nearly as much" if he had been vaccinated, and encouraged other people to get vaccinated to avoid going through the same experience he did.
"Getting me up just to sit up on the side of the bed that was a big win for me it took me a while," Fabian said in an interview with First Coast News.
Shiber agreed with Fabian's assessment of the impact his decision not to get vaccinated had on his life. The doctor said he "absolutely" believes Fabian would have had a less severe case if he was vaccinated because he's never put a vaccinated patient on an ECMO machine. He's also never signed a death certificate for a vaccinated patient.
Once Fabian was able to get vaccinated during his hospitalization, he did, according to Shiber, and the 27-year-old plans to get the booster dose when he's eligible.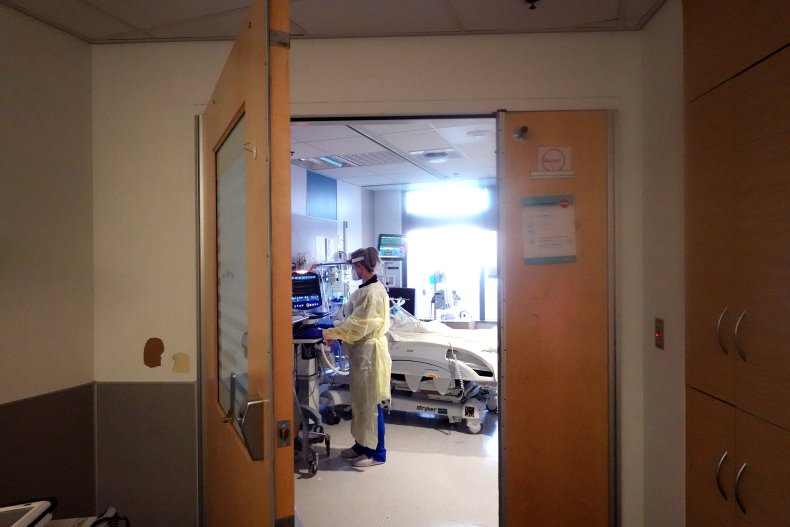 When Fabian was hospitalized, Delta was the dominant variant in the United States and vaccines provided a decent amount of protection against infection. That level of protection against infection dropped significantly with Omicron, which became the dominant variant in December. However, vaccines continue to reduce a person's risk of becoming seriously ill with COVID-19.
A study conducted by the U.S. Centers for Disease Control and Prevention (CDC) found unvaccinated people were 23 times more likely to be hospitalized with COVID-19 than their vaccinated peers. The study examined data from Los Angeles County and found unvaccinated people were still more likely to contract COVID-19 than those who received their booster dose.
Vaccination rates are higher among older demographics but more than 75 percent of Americans between the ages of 25 and 39 have received at least one dose of the vaccine. However, only 65 percent are fully vaccinated and only about 50 percent of Americans over the age of 18 who are eligible for a booster dose received one, according to data from the CDC.
Rene Granado attributed his son's survival to the power of God, health care workers and the ECMO machine he was hooked up to. The machine pumps and oxygenates blood outside the body, giving a patient's heart and lungs the ability to rest. Without that program, Rene told the Times-Union that his son "wouldn't be here right now."
However, getting the ECMO machine wasn't an easy task. Rene told Newsweek the hospital had three machines and several people needed them. So, as Fabian's advocate, he saw it as his job to paint a picture for the hospital that would get his son selected for an ECMO machine.
"I could talk to doctors and nurses and try to garner some compassion for my son. I had to speak for him and explain that this is a healthy, young man with great potential and you just can't see it because of the state he's in," Rene said.
At one point during Fabian's hospitalization, Rene saw doctors and nurses perform CPR on a patient with an ECMO machine. When a nurse finally told him that it wasn't Fabian in that bed, Rene was relieved, but then immediately started praying for that person and their family because it was "somebody else's son about to die."
Shiber was "pleasantly surprised" that Fabian was able to be discharged, but not entirely shocked. He said Fabian maintained his positive outlook even through the very difficult times and had the support of his family and the hospital staff.
"It was the right person, right attitude and right support system that was able to go through such a long experience," Shiber said. "Some other patients might have lost hope and when that happens, there's no way to win anymore."
His son leaving the hospital is nothing short of a miracle, according to Rene, and the hospital celebrated his discharge with an honor line. While one of his nurses was sad to see Fabian leave because he became a favorite patient, she told the Times-Union that it's "very encouraging" to have a patient walk out of the hospital with "all the bad news going on."
Update 02/02/2022, 5:51 p.m. ET: This article has been updated with comment from Rene Granado.
Update 02/02/22, 2:50 p.m. ET: This article has been updated with comment from Dr. Joseph Shiber.
Correction 02/02/22, 7:29 p.m. ET: This article has been corrected to note that Fabian is 27 years old and that he entered the hospital on August 11, not August 21.