'I Was Told I Had Hours to Live After Contracting COVID'
I work at a grocery store and had been going to work every day during the pandemic. I don't know where I contracted COVID-19 but I developed a cough and had a few COVID symptoms in early November, so I stopped one morning at a clinic in Benton, Arkansas where I live and got tested to make sure. I had no underlying conditions that I knew of at the time, although my daughter Rebekah will say that I probably did, but I don't go to the doctor often.
I tested positive for COVID-19 on November 9 and I quarantined straight away. My daughters Rebekah and Nicole kept calling and checking on me, but on November 14, they said that I was sounding worse.
I was coughing and really tired, I guess I wasn't getting enough oxygen because I was starting to hallucinate. I thought someone was in my house and I kept telling my daughters to call the police because I was seeing this person who wasn't actually there.
Rebekah came over to my house and said I had to go to the doctor; she ended up calling 911 and an ambulance came to take me to hospital. I don't remember getting into the ambulance at all and after that, the next thing I remember is when I left the Intensive Care Unit (ICU) at Saline Memorial hospital in Benton, Arkansas. I was there for 15 days.
I went in on a Saturday at about 1.15pm and by that evening I was already on a ventilator, which scared my family. When Rebekah called the hospital the next morning to check on me, she was told I wasn't doing well and was completely relying on the ventilator. A doctor called my family all week and kept them updated on my condition, which was not good, but they weren't able to see me at all in person. I was completely on my own.
My family was told I had COVID-19 pneumonia and congestive heart failure and the next doctor who treated me said that the outlook was not good. My family then needed to make a decision: I could be taken off the ventilator and would likely die very quickly or have surgery to even breathe and need constant care afterwards. I was in a very bad way. They made the hugely difficult decision to take me off the ventilator and were able to go to the hospital and sit outside my room on the Sunday after Thanksgiving. They watched as doctors took me off the ventilator, and apparently I opened my eyes. At that point my family thought I was at the end of my life, as the doctor had explained that after I was taken off the ventilator I would likely only live for a few more hours.
Apparently I raised my hand off the side of the bed and waved at my family, which they were not expecting. As they had to leave a while later, they were told they would be contacted if my condition worsened so they could return. My oxygen levels remained good throughout the night and on Monday the hospital was able to call Rebekah to say I was still doing well. Then, on Tuesday morning, my daughter Nicole got a call before she took her kids to school saying that I was being moved from the ICU to the ICU step down unit because I was improving. If I got better throughout the day she was told I would be moved to the hospital's COVID unit. When I was moved there, the doctors were shocked that I had come out of a serious situation so well.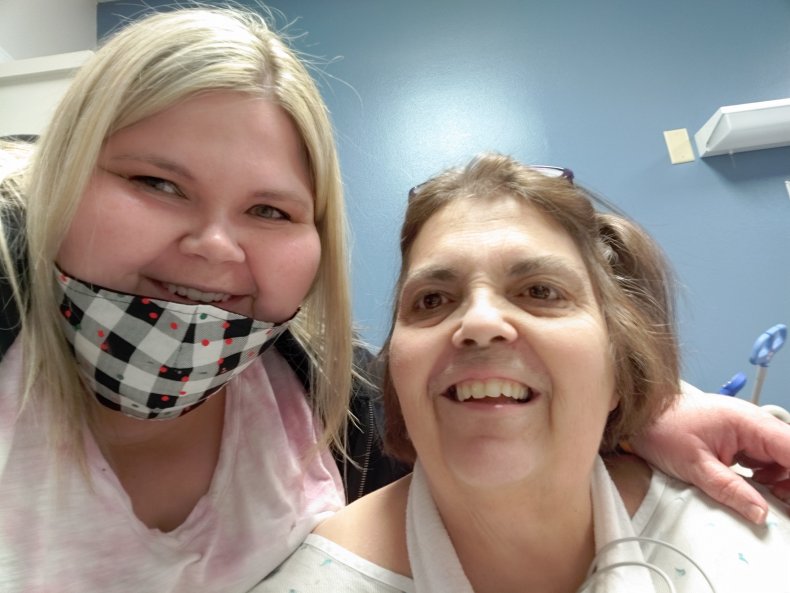 But I don't remember seeing my family when I was taken off the ventilator or waving at them. I don't actually remember anything until I was in the COVID unit when the nurses began helping me to eat; they had to feed me because I couldn't even raise my arms.
A physical therapist began to help me move my arms, but I couldn't sit up at all. I was in a private room so I didn't see anything but that room until they took me on December 10, bed and all, down to a floor where I began to receive physical therapy. I wasn't able to stand up at that point so there was uncertainty about whether I would start walking again or not.
December 10 was also the day my daughters were able to come and see me, they could rotate and each see me every other day. My daughter Rebekah's birthday was actually the same day, so she told her sister she was coming to visit me first as her birthday present.
I took two little steps right before Christmas and one of my daughters recorded that, because we thought I had really achieved something; just taking those two little steps. From walking with the help of parallel bars I then moved to a walker and continued working on my recovery every day. I was in hospital for Thanksgiving, Christmas and New Year and then on January 4, I moved to a rehabilitation facility in Benton called Alcoa Pines. The ride from the hospital to that facility was the only time I had been outside since November 2020. The first day I arrived at that facility I walked seven feet with a walker and by the day I left to go home on February 4, I could walk 90 feet.
It was a little scary coming home at first because I knew I would be more or less by myself. But my daughters come and check on me and my dad lives next door. So he comes back and forth; we're really close. I can get up and move around with my walker but I still have a way to go and I cannot return to work before April 1.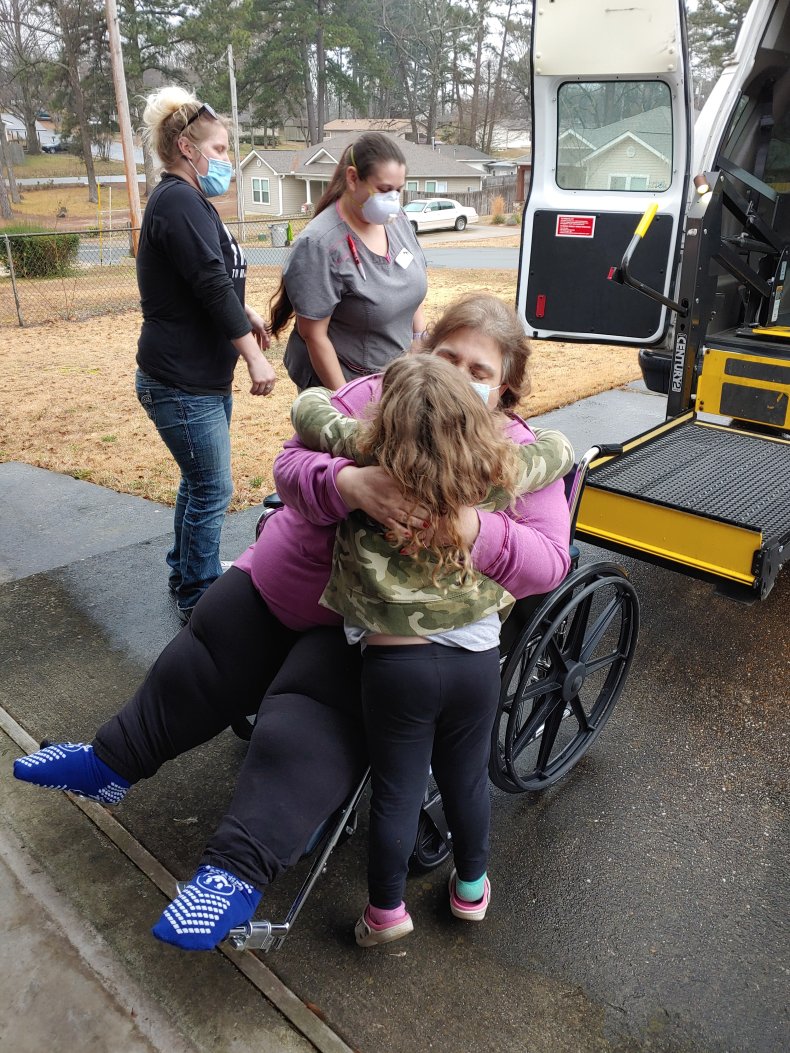 I thought people were making COVID-19 sound worse than it was until it happened to me. It is bad. And it was hard for my family not being able to see me. They were relieved, excited and happy when I finally came home.
It's also been very stressful emotionally. I had to spend Christmas in a hospital. I'm 62 years old and I've never missed a Christmas with my family and I went those 11 and a half weeks without seeing my 90-year-old father.
I remember when I was starting to learn to walk again, the therapists would tell me not to give up. But there were days when I wanted to give up. I'm 62 years old and I had to learn to walk again and I had no use of my hands. I was just like a baby, I had to start all over again.
I didn't even know that I was so ill when it was actually happening. It was only when Rebekah was finally able to visit me that she told me I wasn't supposed to have made it. Everybody started telling me what a miracle I was. I guess God wasn't ready for me to go yet, I must have something left to do.
Rhonda Withem lives in Benton Arkansas where she continues to work on her recovery. You can donate to the GoFundMe to help with funds towards her medical bills here.
All views expressed in this article are the author's own.
As told to Jenny Haward.