'I Was in The Jamaican Bobsled Team That Inspired 'Cool Runnings''
I joined the Jamaican Army straight out of school and spent 18 months at the Royal Military Academy Sandhurst in England and a year in Manitoba, Canada where I learned to fly. It was after I returned to Jamaica to fly helicopters for the army that Colonel Roderick Kendrick Barnes asked me to try out for the first Jamaican bobsled team.
The Colonel was a military man and a great sportsman; his son John Barnes would become one of the best soccer players of his generation for England. Two men who knew Col. Barnes, George Fitch and William Maloney, wanted to create a Jamaican bobsled team and had told him that they needed athletes, and someone with good hand eye coordination to drive the sled. This was in August in 1987, the Winter Olympics were in February of 1988.
It was very brazen, but Col. Barnes said he knew the right men. It was explained to me straight away that because I flew helicopters I may be able to drive the sled. But I had no idea what a bobsled was at all; I think I had seen a 15 second clip, some years before, of one going down the ice. I had thought it was insane.
How the first Jamaican bobsled team was formed
At the trials when we first came together, people started dropping out once they figured out what bobsledding would be like. Devon Harris, Michael White and myself were eventually selected from the army, along with civilians Freddy Powell and Sammy Clayton. Later we added Caswell Allen.
Then off we went, first to Lake Placid in Maine to an ice hockey rink to try out running on ice, and then about a month later to Calgary, Canada to practice on real ice for the first time.
Soon, we had to go to Europe to compete in qualifying races, but by this time we had run out of money, because George Fitch was funding the whole effort and had lost a lot in the Black Monday stock crash of October 19, 1987. We were sharing rooms, sometimes four to a room, and ended up selling T-shirts and sweatshirts wherever we were. As the day went on we could tell how good our supper was going to be based on how many we'd sold.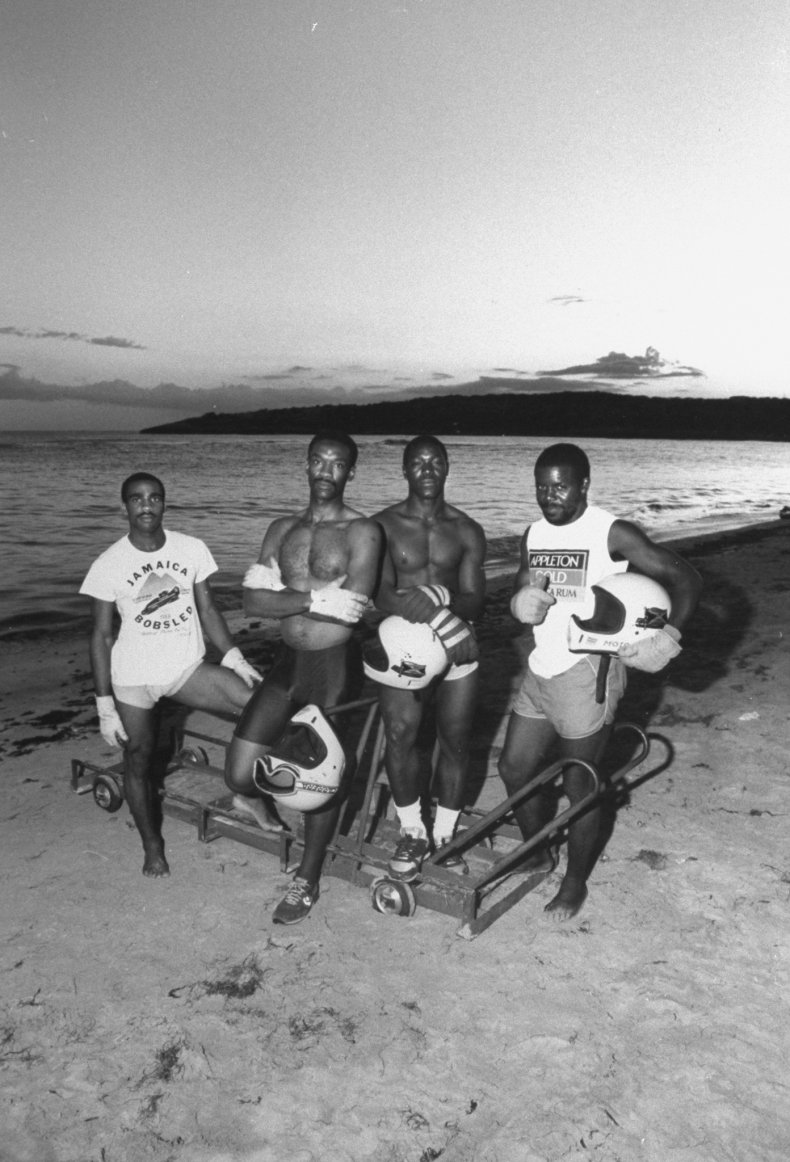 Just before Christmas 1987 we had to compete in a race in Austria and a few days after that George called us and told us we were in the '88 Calgary Winter Olympics. We were working really hard, it was some sacrifice, so for it to result in something was a relief. The Jamaican Tourist Board then came in with some money and it became a big story around the world.
But I was under no illusions; this was a very ambitious attempt. My plan going into the Olympics was to show up, put in a good race, and just execute at the highest level I could. We spent the month of January 1988 in pre-Olympic training at Lake Placid, on one of the most difficult tracks in the world. But about two weeks in, the other driver, Sammy Clayton quit the program.
Then the other guys came to me and said that with a four man sled, four of us would be able to compete at the Olympics instead of two. I was willing to try, so I called George, who agreed and arranged a four man sled for us at Lake Placid. We started practicing on it, but we didn't actually have a four man sled of our own.
The 1988 Winter Olympics
When we arrived at the Olympics in February, people were going crazy over us; a team that, in my estimation, hadn't done anything up until then. I was really puzzled and I'm sure people had reservations but no one was rude or unwelcoming and I never felt anyone was putting any obstacles in our way.
We were actually a worldwide sensation, so the families of athletes were asking them to get an autograph from the Jamaican bobsled team. World champions and Olympic medallists were coming up and asking us to sign autographs.
Michael White and I competed in the two man race and finished 30th. Then George found a four man bobsled for us that the Canadians had stored away and were willing to lend to us. It was a bucket, but we fixed it up as best we could and started practicing on the ice. On the first day of training, Caswell Allen fell off the sled and hurt himself at about 3pm. My brother Chris Stokes had traveled to Calgary for the games as a spectator. He was standing close by and because he ran 100m track in college, somehow, by 6pm that day he had Olympic accreditation. After three days of training my brother raced with us in the Olympics.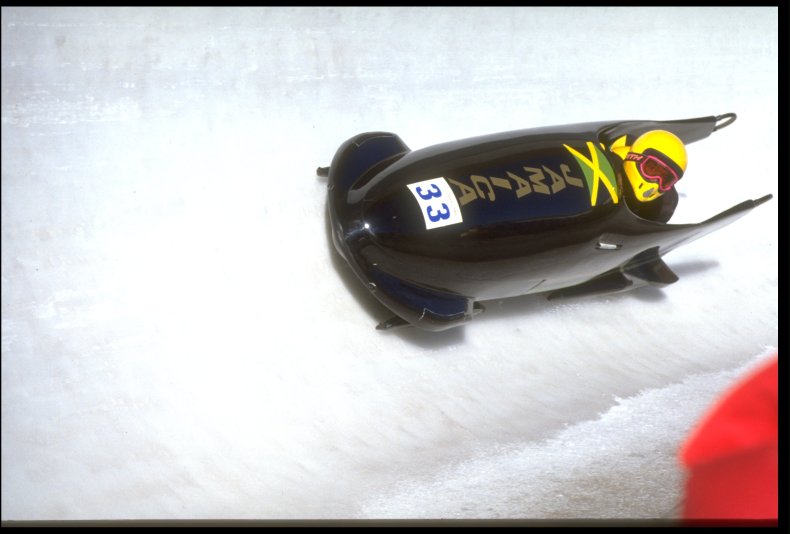 The first day of the four man race was a disaster. The sled wasn't in good condition and thanks to a technical malfunction, I ended up falling headfirst into it. I did some maneuvering and managed to get around, but everything was confused, like a comedy routine. Then we had the second race which was a little better, but not much.
On the morning of the second day of races, I slipped and fractured my collarbone. A physio used a spray to anesthetize the area, but when I arrived at the start line, George was there, pacing around shaking his head. He told me that our coach wasn't going to be there. It was unnerving, but I pulled it together.
We set off and with my brother Chris on the back of the sled, we actually had the seventh fastest start of the event. But we were all sitting very badly, so it was difficult to steer properly. Around curve nine we started "porpoising," the front of the sled was moving up and down. I knew we were going to crash and my first thought was: "Not at the Olympic Games." There were millions of eyes on us.
As we crashed, I hit my head and briefly had a "life flashing before my eyes" moment. From that point on there was nothing I could do, I just had to relax and watch the ice go by as we slid to the finish line. You don't pick up a bobsled after a crash. Ours weighed around 660lbs; you can't put it up on your shoulders.
So that was '88. We were disqualified from the four-man competition because we crashed.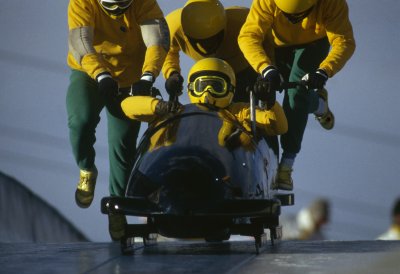 Afterwards, back in Jamaica we were very well received. I was fearful because Jamaicans are accustomed to a high standard in sport, but most people were excited that we had got into the Winter Olympics and competed on ice. We were considered somewhat heroic for that. Of course, the rest of the world was relieved that we were alive and just very excited that we had tried.
How The Story Became Cool Runnings
George had always had the idea that he wanted the story of the Jamaican bobsled team to become a movie, but that crash made the movie certain. It really put an exclamation mark on the whole story.
So, George talked then to Michael Ritchie, who was the director of the movie Downhill Racer. Michael was interested, and paid for the script rights. The athletes who were in the four man sled at the Olympics spent about four hours on a conference call with George and Michael; Michael asking all sorts of questions so he could write the story. Nothing happened for about a year, but at some point George called me and told me that Michael had sold the script to Disney.
In Winter of 1991, I was in Calgary racing and training, when George called me and said that a producer from Disney was coming to talk to me over breakfast. Her name was Dawn Steel. Breakfast turned almost into lunch; she just said "tell me what happened." So I talked and talked. I never saw her again, but after a little while I heard there was going to be a movie.
I believe Cool Runnings was filmed in about six weeks on location in Calgary and Jamaica in early 1993. Several of the '88 team members and some of the management were on set but I had real trouble understanding how our story would appeal to people. And, I was working really hard to right the wrongs of '88, so I wasn't paying much attention to the movie.
That's still the mode I was in when Cool Runnings was released in October 1993. I was at the premiere in Jamaica. John Candy wasn't there, the rest of the cast were; Leon Robinson, Malik Yoba, Doug E. Doug and Rawle D. Lewis were there. I actually invited Malik to my house and he came by for dinner. He was an excellent guy.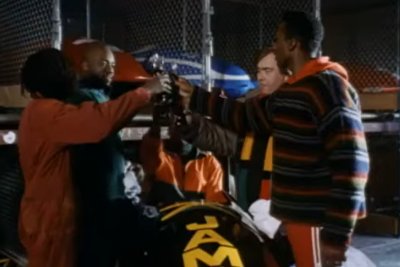 In the end, the producers weren't able to recreate the crash, so they had to find a way to use the actual footage from the '88 Winter Olympics. So that's actually my head in the movie.
Aside from the many differences in plot, the real life experience was harder; it was tough and gritty. It wasn't much fun and there wasn't much laughing. I personally was very driven because I recognised the kind of mountain that was in front of me, so I was not particularly nice to the rest of the team. As far as I was concerned, I was the ranking officer there and I needed to get things done.
So I didn't like the movie at first. I do understand that it wasn't a documentary about me, but I didn't like some of the way it portrayed what I thought were my efforts. Over time, I have revised my opinion. I didn't know Dawn's story, which was fascinating. She was the first woman to head up a major Hollywood movie studio. And, Cool Runnings was John Candy's last movie, so there's a lot of legacy around it and it's a movie that has stood the test of time.
Everything changed for the Jamaican bobsled team the day Cool Runnings premiered. People were kicking down the door to sponsor us. Eventually we signed with Red Stripe and went off to Lillehammer in Germany for the '94 Winter Olympics where we finished 14th. Were it not for Cool Runnings, we would have not have got that money or that result.
The 2022 Jamaican bobsled team and Cool Runnings the sequel
I retired from competing after the 1998 Winter Olympics, but I was involved in the team that coached the Jamaican Women's bobsled team, who qualified for the 2018 Winter Olympics in PyeongChang. After that, the coaching team turned their attention to building a men's team and found Shanwayne Stephens, who was in the British Royal Air Force (RAF) and had some experience of bobsledding, so he became the team's driver. He has done well, it's an outstanding achievement to get to Beijing.
There was a decision to hold the 2022 Winter Olympics in Beijing, which went through the International Olympic Committee process. Once that's decided, there are thousands of athletes who make it there, and many of these people have debt that they have incurred. To cancel an Olympic Games when people have put in time, effort and money would, to me, be an extremely unfair thing to do. I think the human rights situation there should be highlighted, but not by the athletes in Beijing.
The Olympics Games are also a huge opportunity for networking between countries in a more informal way, so in my opinion, the fact that we have diplomats boycotting these Games is unfortunate. It will reduce the opportunities for people to have conversations and we will be worse off for that.
It's going to be tough for the Jamaican bobsled team because the standard is very high and the rest of the teams are very experienced. To medal in an Olympic Games or get your best performance, you have to be very lucky. You have to be at your peak and be ruthless about controlling the few things that you can control. So, I would advise the new Jamaican bobsled team to enjoy the experience. I never enjoyed being an Olympic athlete, I was never in a position to enjoy it. But they know what they need to do; Shanwayne knows what he needs to do. If they can position above 20th that would be excellent. Getting to an Olympic Games is an achievement, all they need to do is their best.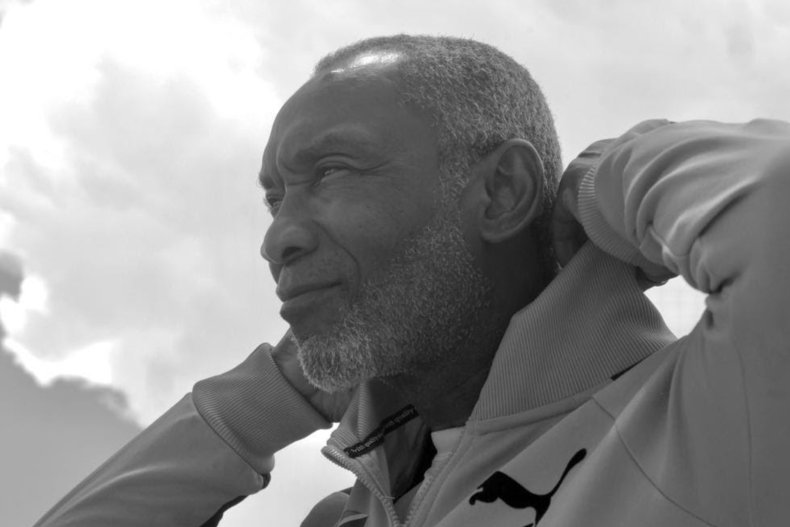 But my personal opinion is that Cool Runnings shouldn't be remade, it should be left as it is. I do think a sequel should be considered, but it would have to be a creative team to craft the right story, and a producer who has a diversity of experience and can pull together something that is worthy of the original. I would probably do a cameo in a sequel for the right price, but the original should stand there for all the people who made it. And, that it's still being watched every day of the week—let it run.
Cool Runnings has a life of its own. I'm happy to have been involved in inspiring it, but it's gone way beyond me. It really is a cult classic. Cool Runnings will always get a laugh out of people and an emotional reaction. It stills show the spirit of Jamaica. Jamaicans are bold, confident people. Now, I can see that in the movie when I watch it.
Dudley 'Tal' Stokes is an athlete and entrepreneur and founding member of the Jamaican bobsled team. He represented Jamaica in four Winter Olympic Games between 1988 and 1998. Find out more at dudleystokes.com. You can follow him on Instagram @talsto360live.
All views expressed in this article are the author's own.
As told to Jenny Haward.