'I Was Lorena Bobbitt' Lifetime Movie Release Date, Cast, Trailer and What You Need to Know About the True Crime Story
Lorena Bobbitt became a worldwide household name in 1993—and now her story is the subject of an upcoming film on Lifetime. Bobbitt made headlines when, after years of alleged abuse by her husband John Wayne Bobbitt, she cut off his penis with a knife.
When is I Was Lorena Bobbitt airing on Lifetime?
I Was Lorena Bobbit will air on Monday, May 25, at 8 p.m. ET on Lifetime.
Who is in the cast of I Was Lorena Bobbitt?
Narrated and executive produced by Bobbitt, the film stars Dani Montalvo as the eponymous lead.
Montalvo was recently seen on Jason Segel's Dispatches From Elsewhere and NBC's Manifest.
Portraying John Wayne Bobbitt is Luke Humphrey, who will next be seen in Netflix's Tiny Pretty Things. He also had a role in the 2017 Star Trek: Discovery series.
Other cast members in I Was Lorena Bobbitt include Niamh Wilson from Degrassi: The Next Generation and Lindsey Connell, recently seen in Spinning Out.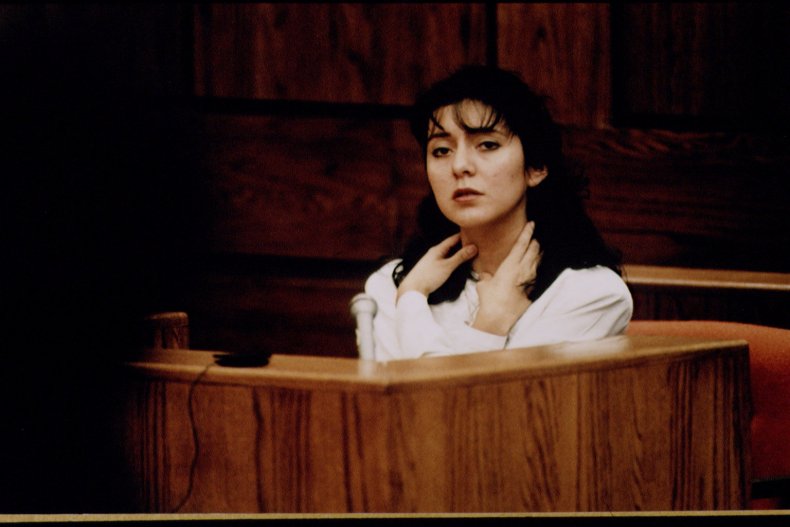 What will happen in I Was Lorena Bobbitt?
On June 23, 1993, Lorena Bobbit cut off her husband's penis while he slept with an eight-inch carving knife. She drove to the nail salon where she worked and threw the severed appendage out of her car window.
I Was Lorena Bobbitt follows the events that led to this infamous moment and the subsequent media circus that followed.
The film aims to explore the truth behind what was reported in the tabloids at the time.
"Now I get to tell what that monster did to me," Bobbitt says in the trailer, which can be watched above.
The official synopsis reads: "Lorena tells her story, and hers alone, for the first time with Lifetime. This film follows her journey from a wide-eyed, immigrant bride to a battered wife into an unlikely media sensation."
At the time, a distraught Bobbitt said she was raped by her drunkard husband after years of physical, sexual, and emotional abuse.
"I think it's really important that we are releasing this film now," Montalvo, who plays Bobbitt in the movie, told Fox News.
"Now more than ever. I think people are listening. People are starting to realize, 'Hey, women—they might be onto something. They might be telling the truth. They might all have this one, awful, horrible thing in common. And there's something that we can do about it.'"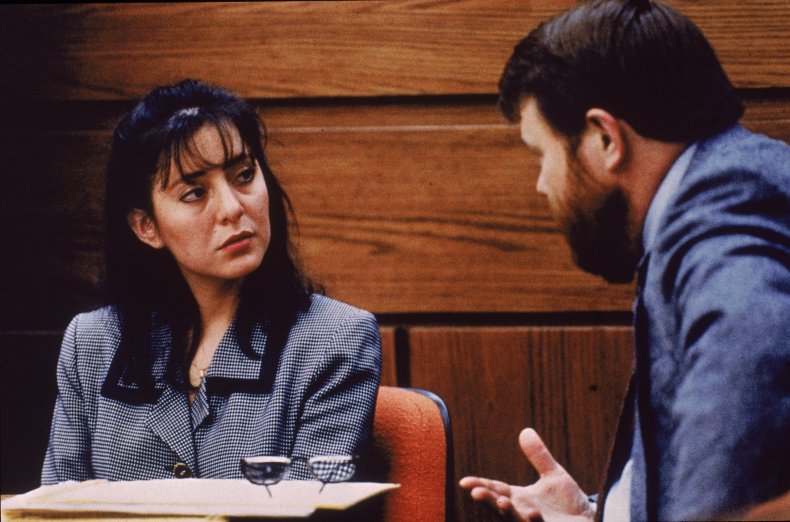 Bobbit added: "For some reason, the media was just infatuated about the cutting of this penis instead of what actually is the essence and the core of the story. The story was about domestic violence, domestic abuse, sexual assault... the media just missed this window of opportunity to tell [that]."
A true-crime docuseries on the events, titled Lorena, aired on Amazon Prime Video in 2019.
Lifetime will also air a PSA for the National Domestic Violence Hotline and the National Coalition Against Domestic Violence featuring Bobbitt during the broadcast.
I Was Lorena Bobbitt premieres Monday, May 25, at 8 p.m. ET on Lifetime.
'I Was Lorena Bobbitt' Lifetime Movie Release Date, Cast, Trailer and What You Need to Know About the True Crime Story | Culture