'I Was Robbed at Knifepoint During a Zoom Lesson With a Student'
I was awake at about 4.30am on the morning of November 23 because I was so nervous about starting full remote learning with my students. I'm a special education teacher in Cleveland, Ohio and that Monday was actually my first day of fully remote teaching after a mixture of in person and hybrid teaching this year. Working with my students online is completely different and they often learn much better in person, so I did have nerves.
My second online student of the day has a mom who is also a special education teacher, so she popped on screen and I asked her if she'd like to hear the student and I read a book together. As we began, I heard glass shatter and a huge crash. I live with my husband and our 17 month old son and they had left about 20 minutes before, but I have two dogs so I just thought that they had smashed through my china cabinet.
I recall jokingly telling the mom of my student that I thought someone was breaking into my house. But as I left the office and turned on my landing to go downstairs, I met with a man coming up the stairs with a knife in his hand. I was in complete shock and my first thought was: "Where is my son?" As soon as I remembered he was out of the house my second thought was: "What's the easiest way to get this man out of my house without getting harmed?"
The robber told me to get into my bedroom, which is right next to my office, and get on the ground. As I was lying there, I was just thinking about the fact that my student and their mom were listening to all of this happen—they would have been able to hear as the robber told me not to move or he would cut my throat. I could hear him grabbing items from around my room, and suddenly he asked for my wallet and my keys. These were downstairs, so I asked if I could move and the robber followed me downstairs.
I realized then that my wallet was in a diaper bag with my husband, but this man still wanted my car keys. In order to grab them I had to reach over a baby gate that was closed to keep my German shepherd and Great Dane boxer in the basement, ironically so they wouldn't run up and bark during my zoom meeting. Instead of grabbing the keys, I opened the baby and gate and one of the dogs came to my side and the other dog rushed the robber into my kitchen.
In the next few moments, he ran past me to get away from my dogs and I ran past him into the kitchen, grabbed a pair of scissors and chased him to the front door. He hesitated, so I decided to chase him as far away as possible. I live next door to my in-laws and I remember yelling over and over again: "Help me! Help me! This guy has just robbed me!" I knew they were working from home and was hoping they'd hear me.
A quarter mile down the road was a house where a contractor was working on the roof, and there was one other contractor holding the ladder for his co-worker. The guy holding the ladder came down the driveway, saw me chasing the robber and went to tackle him. I recall telling him he shouldn't because this robber had a knife, so he picked up a dog bowl and went after the guy, until the robber dropped everything he had taken from my home and moved off towards the main streets.
Luckily, another neighbor then got into her car, found a couple of Cleveland police officers and altered them to this robber. The police soon found the suspect and arrested him. I'm aware that the whole incident sounds like something from Law and Order or CSI—something that sounds so crazy that you think it could never actually happen to you.
My husband then came to pick me up from that spot in the street and took me home, by which point around 45 minutes had passed. The first thing I did when I got back to my house was head to my office; my student and his mom were still on the Zoom call. They were emotional and I was emotional but I was able to tell them everything that happened, that I was fine and that the police had arrested the suspect.
Naturally, they were pretty shaken up because they'd stared at an empty chair for 45 minutes—but they never got off the Zoom call. They called the police and waited for me to come back and check in. They're a very kind family. Can you imagine what they went through? I knew the whole time that I was OK, but all they could hear was dogs barking, yelling and then silence.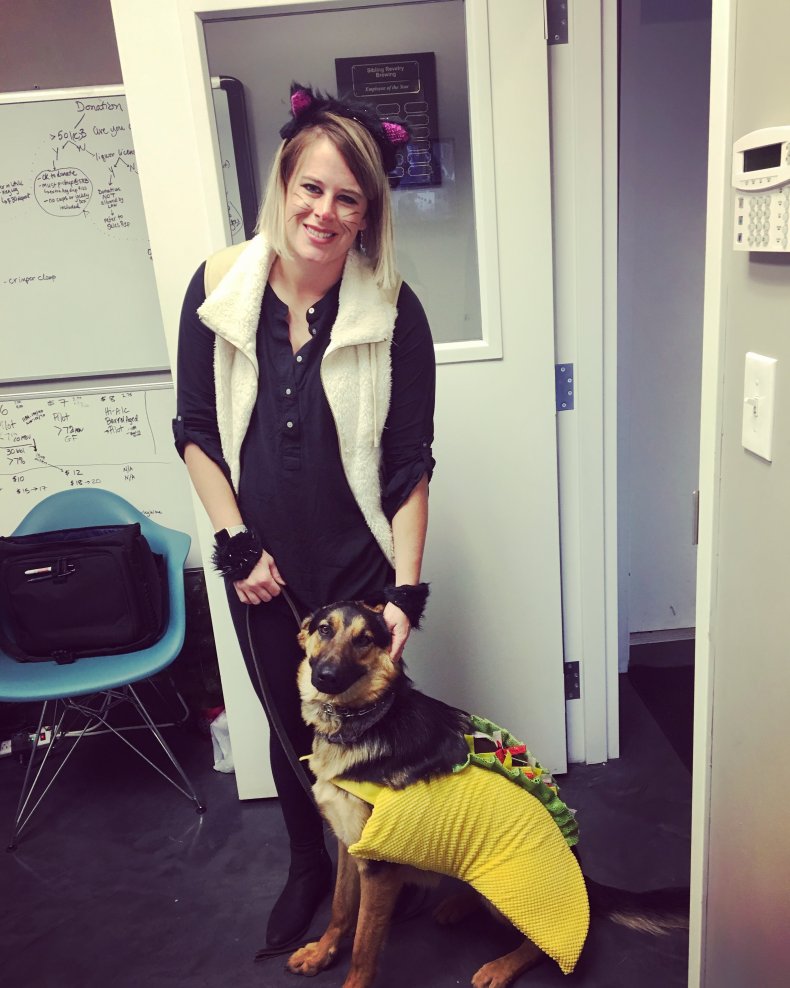 The guy who tried to rob us didn't make it away with anything in the end. We initially lost my husband's gold wedding band when the thief dropped the items on the street. But the contractor who helped me actually went back out and found it and brought it back to us.
My husband is very stoic, so he was worked up, but his way of coping is to ask a lot of questions until he was comfortable that I was safe. Both he and I were just really happy that the baby wasn't in the house.
We actually live in a very nice, quiet neighborhood—there isn't a lot of crime locally so this incident was definitely a shock. I think I reacted the way I did because my instincts just kicked in. When we got downstairs and I knew I had the protection of my dogs and was in my kitchen, all of my instincts told me that I could get in control of the situation. I think people just act on their individual instincts in these scenarios.
I've always been a person who is hyper aware of what is going on around me, but about four or five days after the incident I saw a who looked like he was taking packages off porches in our neighborhood. I was alone at home with my son and I called the district police, which I probably wouldn't have done before. But I feel it's my duty to look out for the neighborhood in case this person was looking to do something similar to what happened to me.
The community here has been very loving and sweet. I'm in the neighborhood Facebook group and I had a lot of support through there. A couple of neighbors dropped off a bottle of wine which was very well received, and I was given a couple of signs that said "I love you neighbor" from the local kids around.
I've put them on my refrigerator and every time I look at them it just makes me remember that there are more good people in the world than bad. It feels good that for every bad person there is a neighborhood full of good people who are willing to help out a stranger.
Amanda Zupancic is a special education teacher at Kirtland Local Schools in Cleveland, Ohio. She lives in Cleveland with her husband and their 17-month-old son.
All views expressed in this article are the author's own.
As told to Jenny Haward.