'I Watched It on TV!': Video of Trump Fan Arguing Election Was Stolen Viewed Over 900K Times
A video of a supporter of former President Donald Trump arguing that the election was stolen because "I saw it on TV" has been viewed more than 900,000 times.
On Friday, two rally attendees—Rita Ward and an unidentified man—spoke to CNN in the parking lot of the Brownwood Hotel & Spa in the Villages, Florida, where hundreds gathered for the start of Republican Representatives Marjorie Taylor Greene and Matt Gaetz's "America First" tour.
Asked by a reporter whether they "genuinely believe that the election was stolen," both attendees said: "Yes."
"It is horrible. Is it horrible that we would even be in the situation to think that," the unidentified man said.
The reporter said that their beliefs were "false."
"No, it's not," Ward shot back. "Why would they have all those ballots hidden under tables? Why did that man drive that truck all the way across state lines with ballots?"
Ward responded with a raised voice when the reporter insisted "that's all proven to be false."
"It has not! I watched it on TV!" she said.
At time of publication, the 37-second clip had been watched more than 936,000 times since it was shared to Twitter by CNN correspondent Donnie O'Sullivan at 10:56 a.m. ET. It has also garnered more than 14,500 likes, nearly 2,500 shares, and over 1,900 comments.
The rally marked Gaetz's first public appearance since he made headlines about a month ago for being under federal investigation over alleged sex trafficking. Gaetz has strongly denied the accusation.
"I'm a marked man in Congress," he said at the event. "I'm a canceled man on some corners of the internet. I might be a wanted man by the deep state. But I am a Florida man. It's good to be home."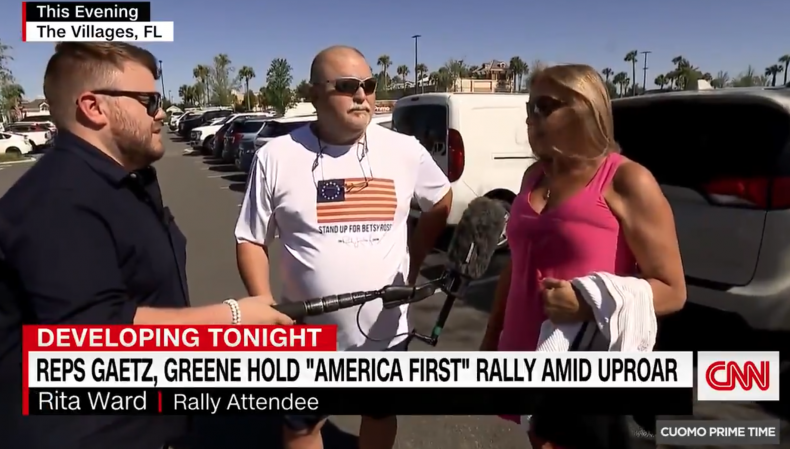 The event mimicked a Trump rally, though the former president wasn't in attendance. Attendees cheered loudly as organizers played songs that were frequently heard at Trump campaign rallies, including "Macho Man."
During his address, Gaetz called Trump the "undisputed leader of the Republican Party."
"We send a strong message to the weak establishment in both parties," he said, according to Time. "America First isn't going away, we're going on tour!"
Gaetz added: "We're all about inviting people's input and their thought process to the political right, but when somebody's fundamental view is that we don't need to work on election integrity, we don't need to worry about the crisis at the border, we can find four more countries to invade before lunchtime tomorrow, that person should not be the spokesperson of the Republican Party,"
Newsweek reached out to the White House for comment. This story will be updated with any response.