'I Weigh 170lbs More Than My Boyfriend': Couple Shares Unique Love Story
Everyone daydreams of falling in love with someone who is "their type." But life is full of surprises and soulmates come in all different shapes and sizes.
Liza Thomas, 25, is 170 pounds and two inches taller than her boyfriend, Brandon Gim, 26, and the couple couldn't be happier.
In 2022, U.S. jeweler Shane Co. surveyed 1,000 adults and the results found one in two Americans say body type is the most important attribute when looking for a lover. The results also found 39 percent of women favored a man who was 6 foot or taller.
But for Liza and Brandon, physical attributes aren't at the forefront of their minds. However, it hasn't always been this way for Brandon who admits he didn't like larger bodies before meeting Liza.
The nurse had never considered dating a plus-size woman before, especially having grown up in a Korean family, where women weigh 127 pounds on average, according to Statista.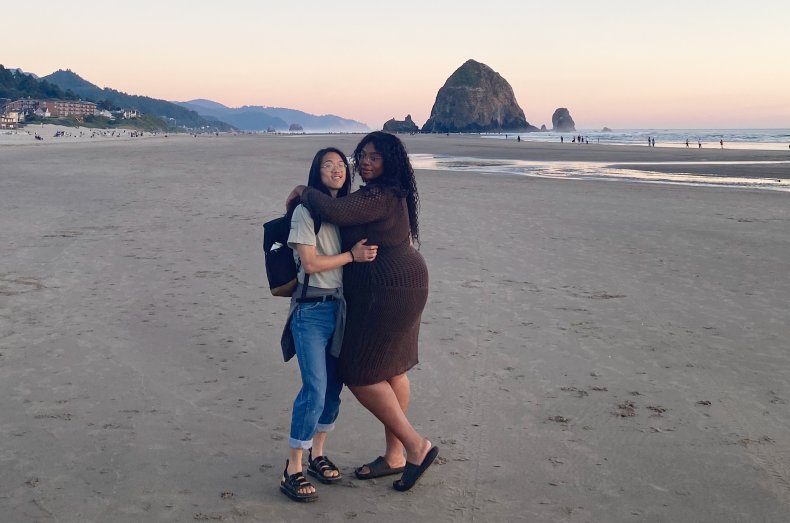 Speaking to Newsweek, Brandon said: "Korean beauty standards aren't open to diversity. Women are hounded to be thinner even when it's not healthy and doesn't empower them to be their best selves. I've always been attracted to Liza's sense of humor, values, personality and how she moves in the world.
"The physical attraction came along as I had to do some un-learning myself," he said. "I had to start to practice appreciating the beauty in different people that isn't always celebrated by traditional media. Now, I don't have any inhibitions when it comes to appreciating Liza."
Brandon is 5'11 and weighs 130 pounds, while Liza is a size 20 and weighs 300 pounds.
"It isn't every day you see a mixed-weight couple. I weigh 170 pounds more than my boyfriend," student chef Liza told Newsweek. "You don't see couples like us in the movies or out in public so I guess it is only natural for people to stare.
"We understand it is unusual to see a skinny guy with a big girl. Never mind from different ethnic backgrounds too," she said. "Once we saw an Asian guy and a black girl and even we were shocked. Society isn't used to seeing couples like us but I think it is slowly but surely changing because of social media."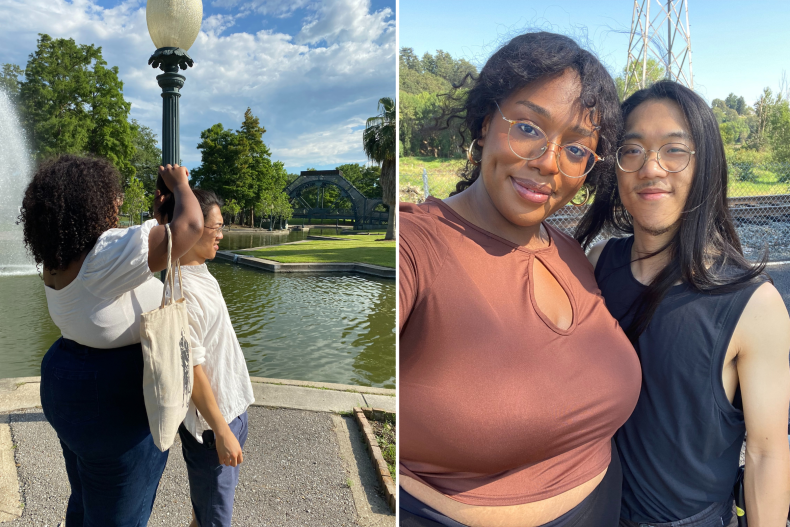 They certainly aren't the only couple with a weight difference. Previously, Newsweek shared an article about a man who used to keep his girlfriend a secret because she weighed 396 pounds. But now the couple is happy to showcase their affection for one another online.
On TikTok, the hashtag "mixed weight" has 17.3 million views. Liza, who posts under the handle @oliverdalst0n, uses this tag frequently when sharing clips with her boyfriend. One video that shows Brandon standing shirtless next to Liza received 505,400 views in which she pretends to take part in a challenge that involves switching clothes with a partner.
Liza is now comfortable enough to poke fun at their differences but she was once insecure about them.
"We do get a lot of weird looks and it used to bother me a lot. But I have developed a thick skin," she said. "I am with the person I love so I don't mind anymore. Sometimes, there are rude comments from trolls online that insinuate I am going to break the bed, but I just ignore them."
'Focusing on Physical Attributes Alone Is Shallow'
Treva Brandon Scharf, a Los Angeles-based relationship coach, told Newsweek a set type doesn't necessarily hold singletons back from finding love. But a closed mindset certainly does.
"Being rigid about attributes, not only limits your options, it closes you off to potential matches. Keeping an open mind and dating against type can lead to some unexpected surprises, not to mention real love that's not based on looks—which by the way, wears off after a while," said Scharf, the author of Done Being Single: A Late Bloomer's Guide to Love.
The aforementioned Shane Co. survey revealed that 28.8 percent of Americans have no preference for any features, and 1 in 10 respondents said their partner doesn't have any of their ideal physical characteristics.
"Focusing on physical attributes alone is shallow and entirely misleading," Scharf said. "Chemistry is key, but the hot blondes you're always attracted to, or the guys with six-packs you seem to gravitate to, can end up being complete duds. However, having a 'standard' for the kinds of people you date does serve a purpose. Looks matter, but so does the character, so give it equal weight. Along with the hot bod, look for a good heart and soul."
Liza and Brandon hope their story encourages people to be open-minded when looking for love.
"Confining potential partners into a box can be very limiting," Liza said. "Our story proves that love has no limits and an open mind may help people find something beautiful as we have. There may be backlash or weird stares if you go against the 'norm' but none of that matters if you are happy."
Scharf advises people who have a problem with "mismatched" couples to ask themselves the following questions:
Why the judgment?
Why does it bother you?
Why are you begrudging two people who may look "mismatched" to you, but are actually a perfect match for each other?
She added: "They say love is blind, but for people who go on looks alone, I say it isn't blind enough."