'I Went Into Labor at 21 Weeks': Mom Shares How Her Baby Fought to Survive
No parent wants to think about giving birth months before their due date, but prematurity affects one in 10 infants in the United States, according to the Centers for Disease Control and Prevention (CDC).
For this first-time mom, her nightmare became her reality as she began to experience lower back and stomach cramps 19 weeks too early. Unbeknownst to her, it was contractions.
Lydia Swortzel, 36, went into labor at 21 weeks with identical twins after seven years of infertility. Lydia and her husband Steven Reece, 40, from Winston, North Carolina, spent over $50,000 on fertility treatment. However, their double joy soon turned to sorrow when Swortzel, a finance manager, lost one of the twins and had to watch the other fight for his life.
Premature Birth
A premature birth is one that occurs before the start of the 37th week of pregnancy, but in some cases, babies arrive much earlier. An extremely preterm baby is born at or before 25 weeks of pregnancy, but most fetuses born before 22 weeks aren't considered viable.
Some neonatal intensive care units (NICU) do not have the resources for medical intervention for babies born earlier than 24 weeks.
Swortzel told Newsweek about when she was rushed into the hospital where an ultrasound confirmed something was "seriously wrong."
"I could tell by the sonographer's face that it was terrible, as they looked at the screen and went to get a doctor," she said. "Baby A was in the birthing canal while in the amniotic sac, but Baby B was fine. I couldn't stop crying as they rushed me to the emergency room. I was so scared I was going to lose my babies."
Swortzel explained the amniotic fluid was leaking, but medics tried their best to keep both babies alive.
At 21 weeks, there was a zero percent chance of survival for the twins.
"It was the most nerve-wracking and scariest experience of our lives," Swortzel said. "I stayed in the hospital for two-and-a-half weeks. They put my bed in a position where I was tilted with my feet up for the entire time. I wasn't even allowed to get out of bed to go to the bathroom.
Fetus Viability
"We were lucky enough to be at a hospital with a high-level NICU unit where they could resuscitate babies from 22 weeks and older but every day counted," Swortzel said.
Newsweek discussed fetus viability with an obstetrician-gynecologist and maternal-fetal medicine specialist.
"Viability is not a black and white concept and while, in some hospitals, neonatal evaluation for resuscitation can be offered as low as 22 [weeks] and 0 [days] gestational age, we consider pregnancies at this gestational age as 'periviable' given those outcomes are uncertain with regards to survival and survival without moderate to severe neurodevelopmental impairment," Sarah Cross, who works for Yale School of Medicine, told Newsweek.
Swortzel's position prevented the arrival of the twins for three weeks. At 24 weeks, she was able to have two corticosteroid injections, which are anti-inflammation medicines that help the baby's lungs mature before birth.
Two days later, on January 29, 2021, the couple's world turned upside down as Baby A's heart rate dropped and Swortzel was forced to push.
"Baby A's leg was out of the birth canal and there was nothing more they could do to prevent his birth," she said. "He lost too much oxygen and all of the amniotic fluid. He was likely going to have health issues because of that."
Sadly, Baby A who was named Winston passed away after 20 minutes. Swortzel was unable to process her devastating loss as she went into labor with Oliver straight after.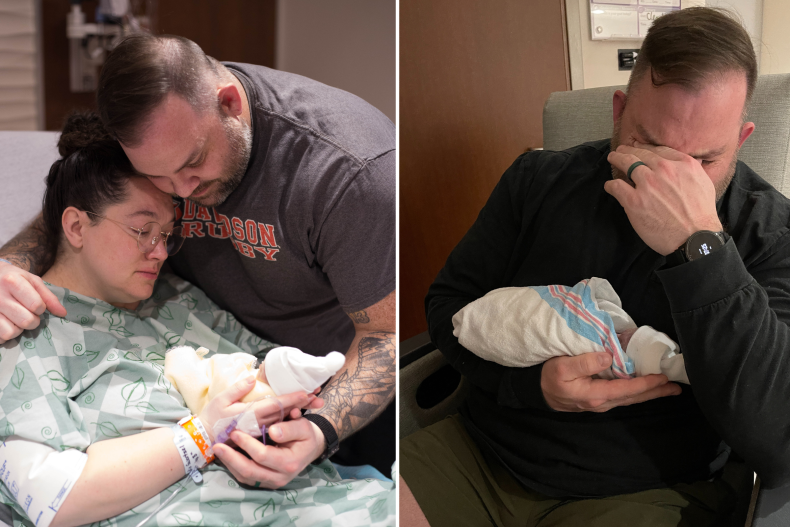 She recalls being in "complete shock" and describes the birth of her son Oliver as traumatic.
"It was so hard for me to comprehend what was happening," Swortzel said. "The nurse brought Oliver over to me and he was wrapped up in a plastic bag. I was able to give him a kiss and then they incubated him. We were mourning, in shock, and concerned about Oliver all simultaneously."
She added: "At one point, I was in disbelief. I couldn't believe it happened to us. All the check-ups before 21 weeks were perfect and everything was fine."
The couple spent a night with their first-born Winston in a hospital-provided grieving room.
Holding back the tears, Swortzel recalled the heartbreaking battle her infant faced during 123 days in the NICU.
On two occasions, Swortzel and her husband were prepared to say goodbye to their little boy. But, Oliver refused to give up and his determination to live inspired his parents daily.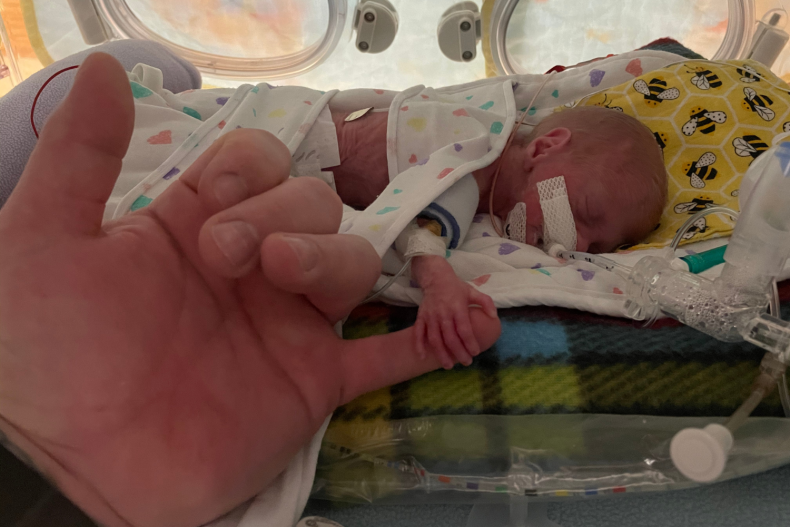 At one point, Oliver who was 1 pound 3 ounces at birth dropped to 450 grams, which is the same as an American football.
"When babies are born very prematurely they may be too small for the smallest breathing tube and even if they get a breathing tube they may have insufficient lung development to allow oxygen exchange into their blood. Unfortunately, there are many other complications that also may arise for a preterm infant," Cross told Newsweek.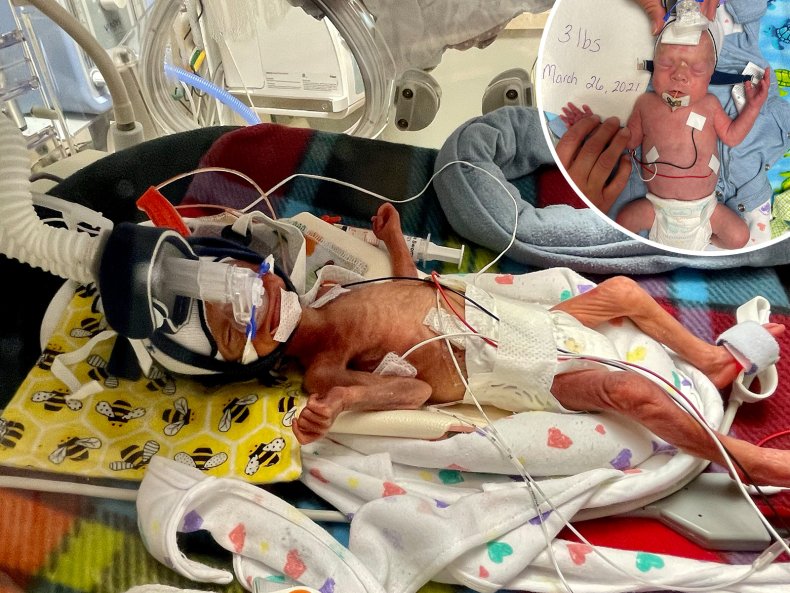 Cause of Premature Birth
Swortzel was told the reason she has an incompetent cervix which means the narrow passage forming the lower end of the uterus was not strong enough to carry the babies full term.
Newsweek reached out to an emergency physician at Ken Perry, MD, who has delivered premature babies before.
Perry said: "In a situation where the cervix is not as strong, or in medical speak "incompetent", the cervix is not able to keep the pregnancy within the uterus. Prior to full term, the cervix can thin out and actually start opening. Because of this, the baby is able to slip out of the opening especially if the baby is small enough because of prematurity.
"There are some things that can be done for women with an incompetent cervix to keep the pregnancy. The most common is called a cerclage. This is a process where a gynecologist will actually sew the cervix closed until the pregnancy is full term.
"It is difficult to know that a patient needs this procedure, however. There have to be some signs of cervix incompetence such as bleeding. An ultrasound can often diagnose a thin, less strong cervix which can then lead an obstetrician and gynecologist to determine if a cerclage is necessary.
'I Felt Like There Was No Hope Until the Day He Came Home'
Oliver's right lung collapsed three times, but this was just one of many complications. He also contracted sepsis, a life-threatening condition, twice, along with a grade 1 brain bleed and a hole in his heart.
"His lungs were so fragile but he never gave up," Swortzel said. "I felt like there was no hope until the day he came home."
Oliver was discharged on June 1 and the couple was finally able to relax as a family.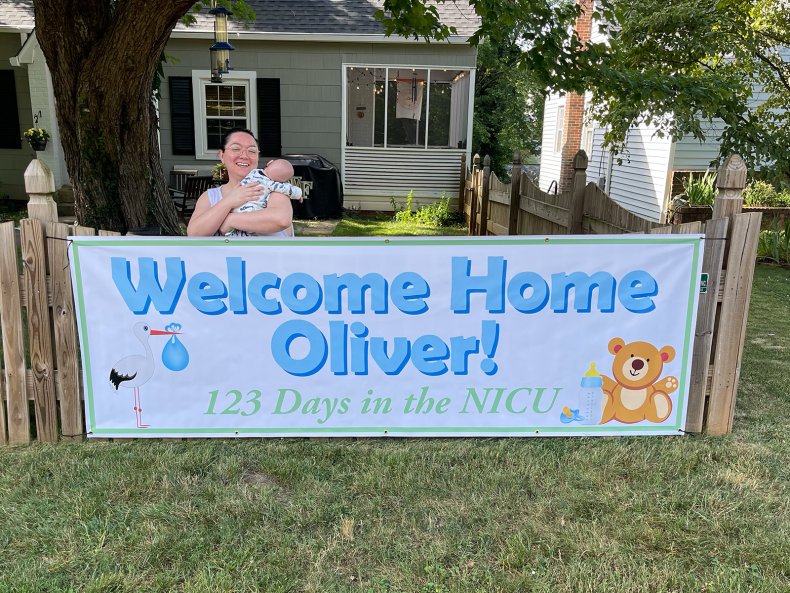 "The last two years have been traumatic, but joyful. I don't wish NICU on anybody. It is traumatic. We have blocked it out," Swortzel said. "When he came home on June 1, it was like it didn't happen."
She added: "They said he will have a cognitive issue because of the brain bleed and is very likely to have cerebral palsy. But he is monitored by specialists and there aren't any indicators of disabilities. He amazes me every day. He is smaller than the average 24-month-old as he measures the same as a 20-month-old. However, that doesn't hold him back, he is walking and holding things."
"It's crazy to think he was once given a 30 percent survival and now he is a happy and healthy 2-year-old," Swortzel said.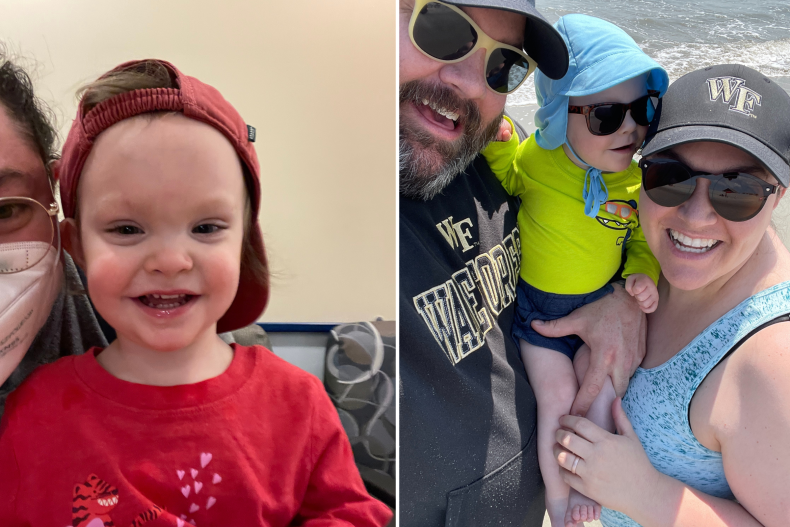 Incjandacn aks
asnca